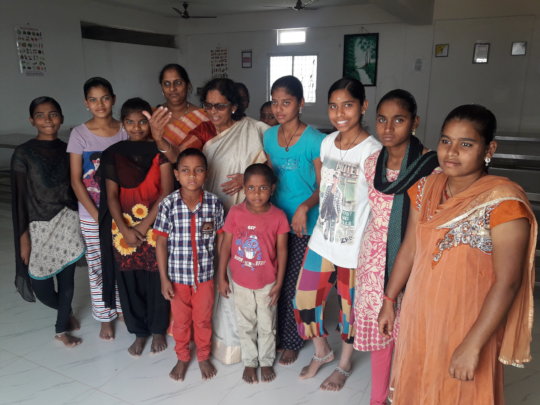 Thank you very much for your support to our children over the years. Our children just finished their annual examinations and have gone home for summer break.
The school restarts in the month of June.
This March, 13 Sphoorti children appeared for STD X Board examinations and are hoping for a very good result. Some of our children have appeared for Engineering Entrance examinations.
Shanti, Sireesha and Vani scored more than 90% in their Intermediate examinations.
Entire campus has been covered with security cameras.
Narasimha wins Ullas Scholarship instituted by Polaris Co. He stood among the top ten in the country.
Swapna, Rajeswari, Rohini and Manisha have been chosen to participate in Anveshana 2018, a Science fair organized by Agastya Foundation. Rohini, Swapna and Rajeswari win prizes in the Competitions.
We raised 1000 sweaters in Nov/Dec and distributed to more than 5 Children's Homes in TS and AP. Harshita gets selected for State Level Science Exhibition and Competitions 2019.
Harshita, Nikhita and Keerthi received appreciation from Dr. MV Reddy, Collector of Medchal district for their projects in Mandal Level Science Competitions.
Our children Archana, Rohini and Swapna win the first prize in Krushi Annual Science Fair 2019.
Thanks again for making the lives of our children more meaningful. Your kindness has been creating success stories year after year..