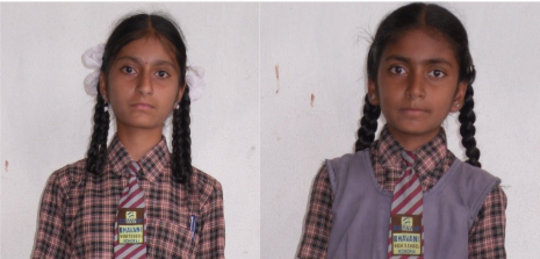 Dear friends,
Greetings from Sphoorti Foundation !!
We are proud to share with you that FOUR of our children secured admission in BHAVAN's DEGREE COLLEGE, Sainipuri, Hyderabad. This is a huge achievement for all our children as the College is among the best for Undergraduate Studies. This was possible because of the generosity of people like you. A BIG THANK YOU !!
Continuing with our efforts to help girl children in distress go to school, we have been able to get substantial support from our well-wishers. In the recent times, we have come across some girl children who are from highly vulnerable backgrounds - mostly from the interior tribal areas and have little exposure to either the standard rural or th urban atmosphere in India. These girl children were also the first generation school goers from their communities. In fact, these children are the ones who have got an opportunity to interact with children from normal backgrounds.
After a careful assessment of their conditions, we decided to support a few girls. In association with a local organization, we have secured a place to stay and a school to attend. The school is a regular English Medium school.
To help you understand what kind of constituency we are working with, we will present a case study here.
Two sisters Usha (STD VII) and Sandhya (STD V) had (still ahve) great dreams. Usha wants to be a Cardiologist and Sadhya Rani wants to be a Scientist.

They belong to a tribal family in a tribal hamlet near Mondrai, Warangal District. As is the standard practice, her father used to earn through preparing Illicit Country Liquor which is very harmful to health. His wife used to work as a coolie of farms. He got used to drinking Gudumba and for years, he subjected his wife and daughters to domestic violence. Because of incessant drinking, all his internal organs got damaged. He had to sell his 2 acres of land and spend all his savings on the treatment. In spite of their efforts, the family members could not save him and he died after 22 days in Coma.
Soon after the father's death, local loan sharks approached the family and tried to take away the girls for bonded labor. The local community leaders and Police officials approached us for help. We placed the children in a local residential school and sponsoring their living and education expenses.

A small effort on your part makes a huge impact on the lives of children like Usha and Sandhya . Education brings a permanent change in lives of such children. They can grow into healthy and responsible women and mothers. This will have a long term effect on their communities.
Please extend a helping hand to the most deserved. Together, we understand that an investment in the lives of children is a wise investment in our collective future.
Best Regards,
Team Sphoorti
info@sphoorti.org
Links: