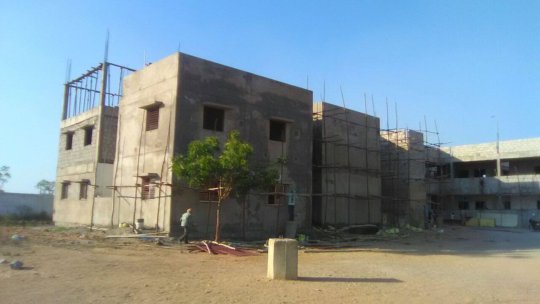 Dear friends,
Thank you for your continued support to our campus project. We have reached the final stages of our Dundigal campus project.
In the recent months, we have accelerated the construction of the rooms upstairs. We are happy to inform that we are setting up the following:
1. A library with at least 1500 books being sponsored by a US based nonprofit
2. A Computer lab being sponsored by Hexagon India.
3. A sickroom being sponsored by a gentleman from Hyderabad.
4. Kitchen by Lebara Foundation (UK)
We have 2 families which stay on campus. They have shifted to the staff rooms built over the last few months.
We have installed 6 CC Cameras all over the building in the Ground Floor. We have also installed grills for all the windows on both the floors.
As more rooms get ready, we are planning to add at least 40 girl children in the next few months. The entire structure can support at least 200 children with common facilities like a study room, 20 bathrooms etc.
All outstanding issues with local authorities and community members have been sorted out.
Once the construction of the structure is complete, we will plan additional facilities like Street Lights, Water Recycling Plant and Solar Power. In the next six months, we will also make the entire campus look beautiful by engaging a professional Landscape artist.
At the end of the day, we want to make sure our children are proud of their abode. And a Big Thank You to everyone helping our dream come true. With this kind of support, we hope to reach a stage where smiling faces of a 1000 kids can be seen in one campus.