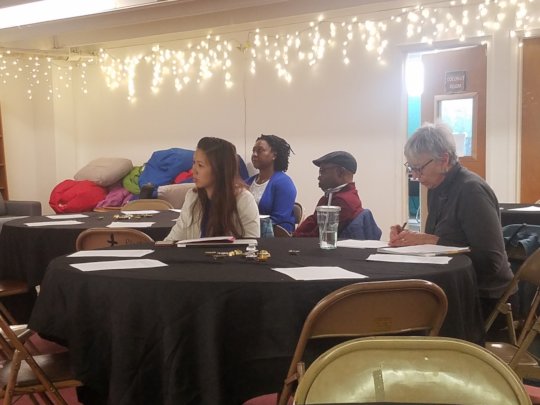 March 19, 2019
Dear Partner,
We are ever grateful for all your support and commitment to making sure that Restoration Project Resource center continues to keep up the good work in our community. Thank you for helping us serve our community and survivors by providing them education tools and socio-economic empowerment.
A couple of weeks ago, we launched our SAFE (Survivor Awareness & First Encounter) Program to: provide tools for protection of at risk/vulnerable girls, and lead impact in prevention of trafficking through monthly awareness clinics/training (see attached picture). Please help us sustain this program.
We are coming close to the end of our 2nd financial literacy class. So far 4 women are being empowered with tools to manage their finances through this class. Our Microsoft class was put on hold because the inclement weather didn't permit its participants to attend classes. We hope to start in April, 2019 as the weather is expected to have improved. We are also working on plans to add Data Entry training/internships to our Skills Development program.
With your continued support, we will continue to provide avenues for victims and survivors of human trafficking and domestic violence to heal, and become productive members of society. Here's what two of the participants of our program said:
"I want to thank who make this program possible. I hope this program continue". "…I learned how to improve my credit score and what to do if I want to register my business". We are still working on helping these two get life coach training on how to start their own small business to make them economically self-sufficient.
With your help, we have raised $1,350, a progress from our last report, THANK YOU! Please continue to support our project so we can sustain our programs. Remember, your donation help us provide an array of services on one platform; it also helps us to raise awareness. Insufficient funds may negatively impact survivors, which is what we hate to see. If we stop providing any service for lack of funding, we increase survivors' fear and mistrust for society and systems. There is power in numbers! Be part of this good work, DONATE!!
Please help us achieve the goal of bringing our women to an unimpaired state and provide tools for leadership roles in the fight against human trafficking.
Invite your family, friends and colleagues to support our Project at: https://www.globalgiving.org/projects/restoration-project-resource-center/
Like us on Facebook at: https://www.facebook.com/restorationpi/
Twitter at: https://twitter.com/restorproject
THANK YOU that we can count on you. Feel free to contact me at eookupa@restorationpi.org.
Edith Okupa
Executive Director