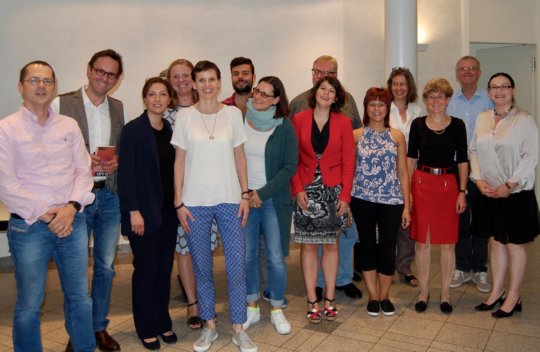 1. Surveys on ethical dilemmas:
As announced in our last report, we have implemented a new section on our website where we run online surveys on ethical dilemmas. The first survey performed was a case study about somebody witnessing their boss submitting false travel expenses and what one should do in a case like this. The results of the survey have been published on our website. The case study as well as the survey and the results are also being used in classes on ethical competencies.
2. Once again, we organized a "PhiloBrunch", now with Martina Münch-Nicolaidis: "Ethics in Extremely Difficult Situations – Innovative support for mourning children and youths", our forum for exchange on practical aspects of ethical questions in a brunch atmosphere.
July 22nd is characterized by mourning in Munich; exactly one year ago, where a young man ran amok in the Olympic shopping center and that shook the state capital. This PhiloBrunch was held to commemorate this event on the topic of mourning; our guest was Martina Muench-Nicolaidis, founder of the YoungWings Foundation.
Suffering can best be overcome by helping
Angela Poech, professor at the Munich University of Applied Sciences and a member of the board of Ethica Rationalis, told the participants about the emotions that the memory of this tragedy caused in her (sadness, anxiety and a feeling of helplessness). After that, she spoke about how the victims were helped, and what positive feelings condolence and support can lead to (optimism, gratitude, compassion). She came to the realization that "suffering can best be done by providing help".
Martina Nicolaidis has been following precisely this maxim for more than 15 years with her YoungWings Foundation for young people who are dealing with the loss of a partner or parent. This work is her vocation. After loss of her own husband at a young age, she herself had to experience what the such a loss means. Therefore, she wants to help people who have experienced similar hardships. After losing her husband at the age of 28, Martina established a self-help group, since no group had yet been set up for an exchange among young widowed people.
With this organization, she has truly stuck a nerve, because there are organizations that specialize in the acute crisis intervention, but none that provide support in the long term. Especially since there are many more young people are affected by this situation than most suspect. For example, in Germany there are presently e.g. 80,000 full and half orphans. Ms Steindorff-Classen, professor at the University of Munich, confirmed this gap by reporting on her own experience: she took a young convicted man into the CONTEXT program, who was marked by a heavy, traumatic destiny to spare him from prison.
However, neither she nor her team are specialized in this. Nevertheless, they took up the challenge, since there is no suitable support for situations like this in Germany.
Bereavement counseling means being able to endure the pain of others
The topic of mourning touched the guests very much, and they also used the opportunity to get tips for their private environment. When asked how to best help mourners, the expert replied: "The most important thing is to be there for the person, to go to him again and again: "The challenge is to endure"(for we feel helpless). Much has already been achieved if, for example, simply making coffee or to take over cooking for a week.
Responsibility through social work requires professional action
To work on the subject, a case study was distributed: The core of this study was whether a dubious contractor is allowed to accept a high donation in order to support the work of a social institution. The discussion was very controversial, and there were several suggested solutions from "accepting the donation" to "weighing the alternatives to funding the organization", "analyzing the contractor's intention" to the clear "rejection of the donation". In this context, Martina Muench-Nicolaidis explained that "social entrepreneurship is also a business" and that we all will be measured based on our decisions. Therefore, value-based decisions are very important ("and being aware of ones values"). In this context, a participant argued that the acceptance of this donation even comes close to the abuse of the association concerned (image improvement).
Social responsibility is also based on the individual's gut feeling
The question was raised as to whether and how organizations can demonstrate "regret" at all after a case of misconduct. The plenum developed that from a company perspective, one building block is the establishment and implementation of effective long-term compliance programs, but also the elaboration of the causes of the offense. From an individual point of view, it was more a question of which actions followed the regret - in the sense of a repairing the damage done. Likewise, sincerity is important and the question should always be: "What is acceptable for me?". A decision for a particular reaction should not be taken "when my stomach tells me something is wrong with it.For nothing is more dangerous than the "separation of head and belly". Later, Angela Poech explained that what we call an "abdominal feeling" has been verified in neurosciences as an autonomous nervous system, and is most closely related to what we call "emotional intelligence"; from the point of view of psychology, one would speak of "intuition", whereby intuition is nothing other than the ability to evaluate large amounts of (reflected) experiences in milliseconds.
Everybody can make an important contribution
The guests were very touched and enthusiastic about meeting with Martina Muench Nicolaidis. This was demonstrated not only by the fact that this Event attracted more participants than usual, but also in the valuable feedback to the Question "What do I take with me?".
The participants were very much impressed by the openness of Marina Nicolaidis. Even the most personal questions were readily answered.
She is a strong personality, and the well-being of her team is her top priority.
Thus, despite all of her success, she remains very down to earth and does everything in her might to make sure her employees are well. One participant (a businesswoman) took the impulses especially to heart and noticed that she had more responsibility for her team than she had realized; and she wondered how she could measure up to this.
In closing, Mrs. Nicolaidis stated that she was delighted to have been able to speak "with so many great people in an safe environment".
She mentioned that she was especially looking forward to deepening new contacts, aiming to close the mentioned gap between crises management and long-term interventions.
All participants agreed that the PhiloBrunch has not only provided an impetus for everyday life, but also supports networking and cooperation of participants, making the world a tiny bit better.
Links: