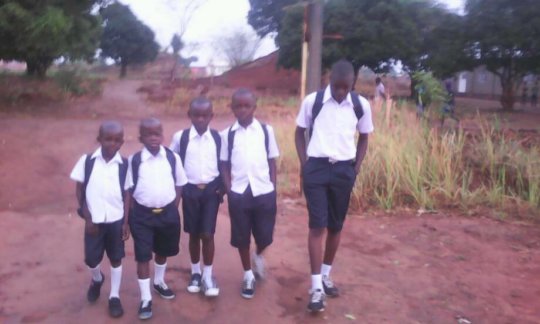 This month, our young girls and boys in the care of Kimbilio went back to school to continue their studies. Throughout the summer holidays they have continued to read and study as well as enjoy lots of playtime. Now was the time to return to their classes. We are incredible proud of how hard working each child is and their enthusiasm for learning is wonderful.
Education in D.R. Congo is held in high regard. It is seen as a way out of poverty and a way to change lives. Unfortunately, many families cannot afford the state funded education which still requires school fees to be paid, as well as exam fees. Many parents of street children often say that the additional cost of education is one of the reasons that their child has ended up on the streets.
Kimbilio helps children living on the streets of Lubumbashi work towards achieving their dreams of becoming a teacher, a pilot, a hairdresser or a doctor in many different ways.
We have a robust and safe reintegration procedure, where when a child is welcomed back to their family, Kimbilio can offer to help with school fees. We have seen the benefits of this, as last year two children that had been reunited with their families returned to ask for help with college fees.
We have apprenticeship programs and projects for those children and young people who are less suited traditional education. Most recently we have set up a Young Mums' Hair Salon where young women can learn how to provide for their small families. All of the young mums on the first cohort of training had been street children.
If we are waiting and trying to find a child's family, they will often stay at Kimbilo's Transit Homes, where tutors come to visit and teach them the basics of how to read, mathematics and art.
And when a child cannot be reunited with their parents, Kimbilio supports and nurtures them at Maison Kimbilio and they are able to attend a local school. We had much excitement and celebration this year when one of our older boys from Maison Kimbilio was awarded the Diplôme D'état (the nationally recognised diploma of education). This was a first for Kimbilio!
As you can see, providing a loving home for street children goes way beyond a roof over their heads. It means nurturing them and providing the opportunities which will allow them to flourish. That's what your donation does - Thank You
Next year is Kimbilio's Tenth Anniversary and our plan is to complete the first stage of construction of our own school, supported by the local Anglican Diocese. This school will see children from all backgrounds learning together which we hope will help to some of the prejudices that street-connected children face. You can find out more about the project on our GlobalGiving page here.
Thank you again. We wish you a happy Autumn!