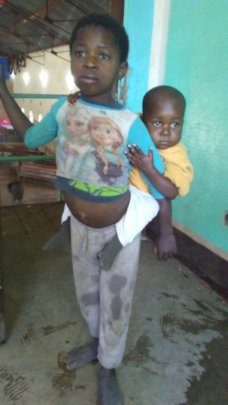 Children can find them on the street for many reasons. Sometimes a parent has died suddenly or they might have been separated from their parents when fleeing violence in another area. Some children are falsely accused of witchcraft or abused at home and for some their parents cannot afford to continue to look after them. The pressures on families are immense that often they make challenging choices and the impact on these young lives is immeasureable.
In May this year a little girl came into Centre Kimbilio, our outreach centre, to ask for help. Her two year old brother was carried carefully on her back. The girl told staff that their parents had had an argument and had abandoned them on the streets.
Kimbilio was able to give these children a loving home. Due to his age and the strong bond he has with his sister, this little family is being cared for together at Transit Filles (the girls' transitional home). With local social workers, Kimbilio staff are making enquiries in the area to endeavour to find the parents and, if possible and safe, to work towards reuniting them with their precious children.
Until then the children are settling in to their new home with new friends and carers. They are enjoying being part of a family and being cared for.
So thank you. Your support not only pays for the transport back to their families or a social worker to assess the family situation, but also for food and transitional accommodation for the children and so many other ways in which Kimbilio continues to support children like these. Please don't forget us on July 18th when GlobalGiving will be running their Rewards Bonus Day. There will be $120,000 in matching funds and bonus prizes available for charities taking part. It runs from 9:00am to 11:59pm EDT (that's 2pm to 4:49am GMT) on Wednesday July 18th. See www.globalgiving.org for full terms and conditions. If you are able please consider supporting one of Congo Children Trust's projects:
https://www.globalgiving.org/donate/27733/congo-children-trust/
Merci Beaucoup!