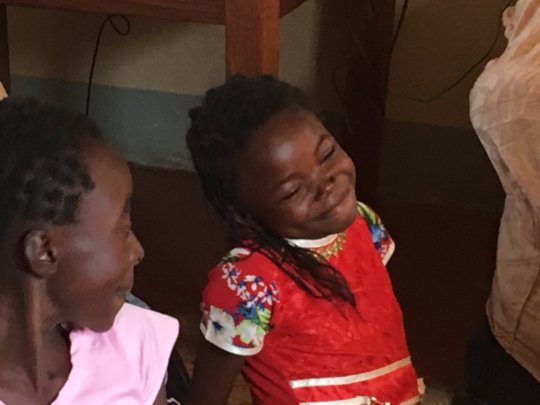 While the UK team was visiting our colleagues in Lubumbashi, we had the opportunity to meet the children (and play lots of games with them too). One little girl was quite quiet, and fairly new to the transit house. She also had the biggest smile, shy but full of fun. We'll call her "Abigail" for this email.
Carine, an experienced carer at Kimbilio, tells "Abigail's" story. Social services had found her wandering the streets and brought her to Centre Kimbilio. Carine says that the team were pleased as she was quite young and vulnerable and it was good to get her off the streets as soon as possible. They found out that the little girl had been sent by her step-mother to get coal, but had lost the money on the way and was now scared to go home.
She was reluctant to give her address, and when she did it was the wrong one. Carine explained that this often happens and the team then work hard to build the child's trust. However, she still does not seem able to remember her address. This could be down to a lot of things, including fear for her own well-being, retribution for losing the money or simply that she is lost.
As frustrating as this is not to have the full story, Carine knows that "Abigail" is 100 times better off at Kimbilio than on the streets. So although the team haven't been able to reunite her with her family just yet, they will continue to work to try to find out the whole story. And in the meantime "Abigail" has just moved to Maison Kimbilio, to live with the foster family and other former street girls at Maison Janet Bokwa.
"Abigail" has (and will continue to) benefit from everything that Kimbilio has to offer. It might not work out straight away but the Kimbilio staff are commited to doing the best for the children no matter what.
Thank you for supporting Kimbilio!
PS. At Maison Kimbilio, we're building a school where former street children can access education alongside their local friends. As the new school year gets into full swing, we are looking forward to taking part in again in GlobalGiving's #GivingTuesday event on the 3rd December and the Year End Campaign over the holiday season. We'll be focusing our fundraising for this period on the school building but we'll let you know more about it nearer the time.