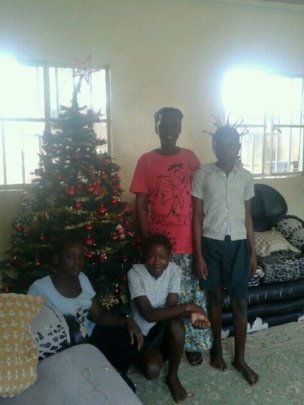 First can we just say a big thank you for your generosity and support this past year, especially around the Year End Campaign and Giving Tuesday. It is appreciated greatly as we go into the new year. Never more has the name Kimbilio (swahili for "safe place") meant so much. The streets are becoming more dangerous as the unrest surrounding the presidency continues:
http://www.bbc.co.uk/news/world-africa-38479196/
This also means that the staff on site are spending a lot more on food staples such as flour to feed the children. Despite all this, Maison Janet Bokwa continues to give the girls a safe place to grow and flourish, to be educated and nutured into strong members of the community. This only happens because of your support.
Your generosity really does make a difference in the lives of the children you support. Happy New Year from all of us at Congo Children Trust and Kimbilio!
If you have any further questions about Kimbilio, please dont hesitate to contact me: eva@kinbiliocongo.org
Real life doesn't always have the clear endings that we wish for, life is messy but beautiful. Not every child we support in Kimbilio's outreach centre can be re-integrated with their family immediately. Please click on the link below to see one such story. The film shows how Kimbilio impacted one child's life in supporting him to begin his journey to be able to communicate his story and connect with others. We hope one day that BouBou is re-united with his family, but if that isn't possible we will still be there for him. This is made possible through your support, thank you! Please continue to remember us in your charitable giving.
Links:
We start this update with some very good news, Maison Janet Bokwa was officially opened this summer! It was a truly joyous occasion and a real sign of the busyness to come.
Since the opening of the girls' long term home, they have been thriving. The photo shows some of them on their first day of the new school year, looking forward to lots of learning!
We have also partnered with the US based organisation First Step Initiative (FSI) in Maison Janet Bokwa to bring local women and Kimbilio carers an exciting new venture. FSI are providing training to learn how to sew using a machine. On completion of the course, each person will receive a sewing machine. We hope this enables them to set up a business in their own communities and to filter the knowledge to their own networks of friends. The project relies heavily on using these resourceful women's ingenuity to help enhance and support the local community. We hope to be able to share more of its success with you over the coming year.
We're sorry that we haven't kept you up to date as much as we wanted to, but as you can see we have been keeping busy. Your financial support is what enables these success stories to happen and we thank you so much for it. The cost of continuing to run the girls' long term house, for education, food, clothing and other necessities, is a continual need. Please continue to remember Kimbilio in your charitable giving. Thank you again!
WARNING: Javascript is currently disabled or is not available in your browser. GlobalGiving makes extensive use of Javascript and will not function properly with Javascript disabled.
Please enable Javascript
and refresh this page.