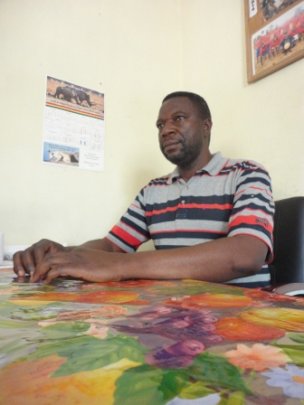 Thank you for all your support throughout this year. We wanted to take this opportunity to let you hear directly from Jean Bosco Tshiswaka who is the Director of Kimbilio. He writes:
"Dear Friends of Kimbilio,
I am writing to thank you so much for your support to our work at Kimbilio in 2018.
I had really hoped to meet some of you this year in England, but unfortunately the High Commission again refused to give me the visa. That does not prevent me from expressing my deep gratitude to you for all that you have done to support me and Kimbilio's work.
Your support has allowed us to help many children and to assist many families of these vulnerable children including:
An average of 43 children among them 38 boys and 5 girls per day at the Day Centre (Centre Kimbilio)
31 children currently living in our four houses, including 15 girls and 16 boys
33 children have so far been reunited with their families this year, among them 10 girls and 23 boys
23 children being supported through financing their school fees
Also, thanks to your support we have managed to start a program of enabling and equipping vulnerable young mums through a teaching hair salon; as well as continuing to support the mothers of some children reintegrated to their families by training them in our sewing program.
We have worked hard this year and 2018 has been a good year for us at Kimbilio, but we still have some challenges to improve our work for these children, especially during family reintegrations. Some children's families refuse to take them back and will accuse them of witchcraft. Some families are so poor that the children refuse to stay in the families and prefers to go back in the street where they can find small things to eat. So it is sometimes difficult for us to meet all these cases and to welcome more than our capacity. At this time we have more children on the streets of Lubumbashi, many coming from Kasai region where they had faced violence, hunger and disease.
Once again thanks for your good will to help us to help this vulnerable group and we hope that you will continue with such generosity.
Yours Sincerely,
Jean Bosco TSHISWAKA
Director of Kimbilio"
We are so thankful for Jean Bosco and his wonderful team at Kimbilio. They work tirelessly for the wellbeing of those children connected to the streets in Lubumbashi. Next year, we hope to continue to grow in meeting the needs of street-connected children. Our hope is to complete the first stage of our primary school in the grounds of Maison Kimbilio. We aim to make it a flagship school, well known for the care and attention in helping each child achieve their potential where stigmatized street-connected children will be educated alongside local children. For more info about this please visit our GlobalGiving page here.
So for this #GivingTuesday and #YearEndCampaign with GlobalGiving, we are asking our supporters to commit to sharing our stories of Kimbilio with a friend or a colleague that is interested in supporting a small grassroots charity. Your continued support and enthusiasm are so important to us.
For both these campaigns we will be focusing on our school project so if you are able to give at this time of year, please consider Congo Children Trust especially on #GivingTuesday which is the 27th November. On this day all donations will be matched with an Incentive Fund. The Incentive Fund will be distributed to participants proportionally based on final fundraising totals.
And if you regularly give one off to Congo Children Trust, why not explore recurring giving each month? During the Year End Campaign, new recurring donations up to $200 per donor per project started during the campaign will get an additional 100% match from GlobalGiving on the initial donation as long as it remains active for at least four consecutive payments.
Full terms and conditions for all of these ways to give can be found on the GlobalGiving website. Giving Tuesday begins on 27th November and the Year End Campaign continues from 28th November to the 31st December 2018.
Thank you again for your continued support and may we take this opportunity to be one of the first to wish you Happy Holidays and a Peaceful New Year.