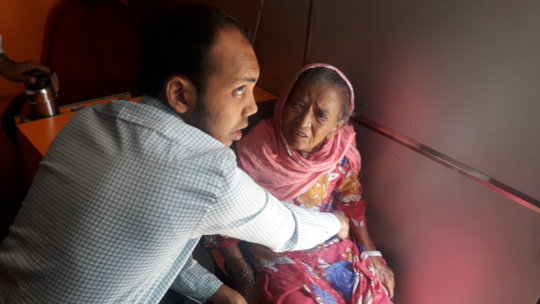 We thank GlobalGiving and all other donors for extending their support in all our efforts.
We are glad to inform you that with your help and support, we are continuing to provide health care facilities to the marginalized and homeless population of Hyderabad.
During this quarter we are very happy to inform you that we reached to around 18056 patients and successfully provided them relief from their respective health concerns
The areas that were covered during this quarter were Arsh Mahal, M M Pahadi, Bahadurpura, Bandalguda, Usman Bagh, Falaknuma, Ghouse Nagar, Noori Nagar, Ismail Nagar, Hakim Pet, Kunta, BT Nagar, Attapur, Alam Bagh, Tappa Chabutra, Banglaguda and Jupital School.
Apart from several health issues such as diabetes, blood pressure, anemia, digestive problems, acidity, skin and dental issues they have additionally attended to few air borne diseases such as asthma and pneumonia.There were also heat related issues such as heat stroke, headache, sun burn, urinary tract infection, etc. Also cases of food poisoning and chicken pox were reported.
Each patient was given to have access to doctor's consultation and medicines and tests were done as per as the recommendations on the prescription at free of cost.