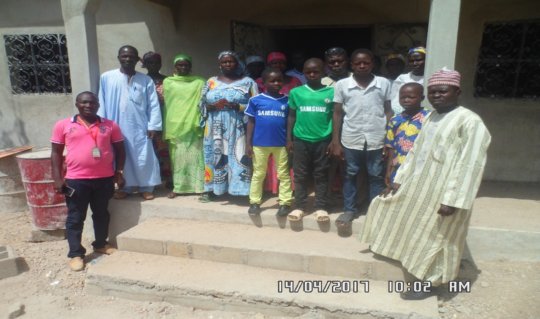 EXPANSION OF THE NETWORK AEFA CAMEROON
From Wednesday 12th to Saturday 15th April, after an application from the association of vulnerable women of mayo-tsanaga to reinforce structuring and technique. It is a young association found in Mokolo, Mayo-Tsanaga division in the Far-North region of Cameroon. It consists of 24 members created in 2012 and legalised on the 2nd of February 2017 with principles to assure the protection of children in need of help, to reduce the impact of HIV/AIDS, to improve the socio-economic conditions of vulnerable people, promote the young girl's education and fight against early marriages.
The day of Wednesday 12th April 2016 was made for preparations, choosing of meeting premises and mobilisation of members.
Thursday 13th April was the day of questions related to associations in life. After meeting at one member's house, the president of the association, at ZIMANGAYAK neighbourhood, a member from the GlobalGiving AEFA Cameroon, the member presented EFA. It was installed in Cameroon since 2006 by American Peace Corp in Cameroon. After a brief pause we discussed matters of active associations in life and some challenges. At 5pm the meeting was closed under the supervision of chief of social affaire service of Mokolo rural council with feedback successes giving known since 2009.
On Friday April 14th 2017 at the same premises the secretary general of AEFA Cameroon, entertained the members on techniques, document organisations and activity planning by for the association.
It was then when the president's unanimous voice presented a written letter to the members with aim of integrating to EFA and assistance seeking. The workshop ended at 5:30 pm and we the EFA staff sympathised with infected orphans with cordial leave.
On Saturday April 15th we left the hotel at 9:03am for Maroua to arrive at 11:05am. We were accompanied by some vulnerable women association members of Mayo-Tsanaga.
WITNESSES
President
"We thank a lot AEFA for answering us positively. We are unspeakable. We thank a lot AEFA CAMEROON and Global Giving"
Secretary General
"We learned a lot during the two days' encounter, we are confortable and we shall better manage our activities. Thanks to AEFA Cameroon."
Member
"The two days' encounter gave me hopes since I could not I imagine that people like AEFA members could eat with us and share together our problems. Thanks to the counsels I am more strong and done away with complexities. Thanks AEFA Cameroon."
Member 14 years old student
"My parents are death of AIDS, I sick and I am abandoned. Thanks to this association I take drugs, it gives me hope to face my future. Thanks AEFA Cameroon."