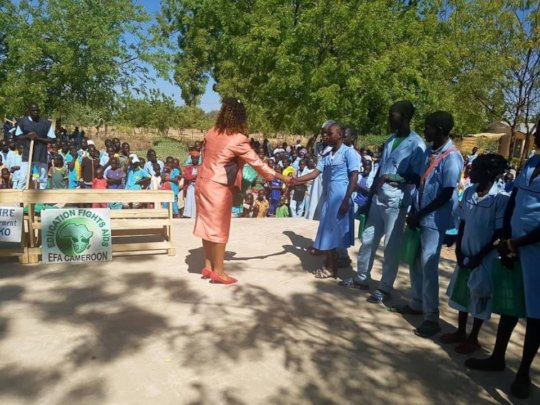 Date: December 20, 2019
Venue: Kongola Bilingual High school Maroua
Strategies used : Classrooms sensitization by Peer Educators with the aid of image boxes, Sessions of brainbox games.
Topics : - What is HIV, AIDS and STIs - The different means of transmission - Prevention modes - The importance voluntary testing - The positive life - Mother to child transmission prevention - Caring for People Living with HIV/AIDS by the community.
Introduction : Following the request of the Coordinator of the Gender and Development Club of the Government Bilingual High School Kongola Maroua and the Principal of the same school, EFA Cameroon who is faithful to the fight against STIs/HIVAIDS in the youth milieu through education, accompanied a group of four (04) trained Peer educators to sensitize students to mark the end of the first semester. Results Achieved: Sensitization Sessions: 345 students sensitized, In 04 classrooms; with of 198 boys and 145 grils.
Brainstorm Games :
Participants who gave correct responses were rewards and among them was a supervisor who answered a difficult question.
MEN: 01

WOMEN: 00

BOYS: 08

GIRLS: 06

TOTAL: 15

Questions asked and responses helped us to understand that there is till a gap in terms of information on STIs/HIV/AIDS in most of the educational institutions of the region.
The best students of the institution were congratulated and awarded prizes (T-shirts, Packets of books, pens) and academies.
. Sketch group members of the school also received gifts from us.
Need expressed by Teachers :
- Which team shall come again;
- Girl child education should also be addressed.
Positive Points :
- Students were available and attentive.
- The school administrators were welcoming.
- Administrators and students expressed total satisfaction.
Difficulties Encountered :
- The activity is a mixed one which came at the beginning of a holiday and as such many teachers did not take part sensitization sessions.
Appreciation
We are grateful to:
ü Global Giving for their permanent financial support;
ü The Principal of LYMAKO and his collaborators for their warm welcome;
ü Gender and Development Club Coordinator for the initiative taken;
ü GENDER AND DEVELOPPEMENT Club President of LYMAKO;
ü The 04 Peer Educators for their availability;
ü « Radio CAMPUS » journalist for his active participation.