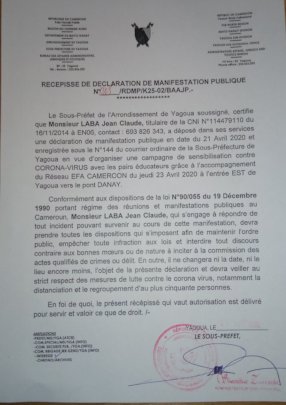 INITIATIVE OF AJUPS/EFA CAMEROON WITH THE SUPPORT OF GLOBALGIVING
Upon the registration of the first cases of COVID-19 contaminated people in Cameroon, in March 2020 EFA Cameroon engaged in an outreach toward her network of associations of People living with HIV/AIDS in a bit to fight against opportunistic diseases and minimize the spread of the global pandemic in the Far North Region, Cameroon. With the help of GlobalGiving, sensitizations were carried out and sanitation items were distributed to them. It is in the same line of action that a member of EFA Cameroon Hamadou Bayegued was assigned to through one of the associations in Yagoua take aid to the association AJUPS and the community. Activities Realized Upon obtaining an authorization for public manifestation from the Divisional Officer the following activities were realized:
- Members of AJUPS Yagoua were sensitized and trained to raise awareness on COVID-19 and best practices to limit its spread.
- An intensive 3 days' awareness raising involving the Sub-Divisional delegation of Youth and Civic Education, the Yagoua Regional Hospital and the Yagoua Youth association. The Yagoua market was covered.
- Distribution of sanitizing items (buckets, cartoons of soap, hydro- alcoholic sanitizers and printed jackets) to AJUPS, Youth Association and the Sub-Divisional Officer's office.
TESTIMONIES
- "We appreciate EFA Cameroon and GlobalGiving for this technical and financial assistance towards this activity; this activity which we just carried out has revived the Yagoua town and thanks to the support of EFA Cameroon and GlobalGiving, we as an association are engaged to continue raising awareness in the communities of our subdivision in order to win the war against COVID-19" President of AJUPS Yagoua
- "This is an activity of civic responsibility and citizenship which enters the domain health and I solemnly applaud AJUPS, EFA Cameroon/GlobalGiving for having organized this sensitization which is a necessity for the entire youth population of Yagoua" Sub-Divisional Delegate for Youth and Civic Education Yagoua
- "At first I only heard baseless comments on Corona Virus, but thanks to your efforts I am now edified and sensitized on the dangerous disease. I can protect myself and other people from getting contaminated and more to that, I have gotten a free mask and a bar of soap; a million thanks to the organizer" Martine Yagoua town dweller
- "we thank you AJUPS and your people (EFA Cameroon and GlobalGiving) for involving the Regional Hospital in this activity which is indispensable for the population of Yagoua in the fight against COVID-19. This activity of AJUPs and its partners falls directly in line with our public health activities under the coordination of District public health at a moment when the entire health family is on the alert, us applauds and encouragements to you and we count you as one of our allies and invite you to extend you effort deep into the communities." Dr NLEND Interim Director of the Yagoua Regional Hospital
- "I congratulate and encourage AJUPS, EFA Cameroon and GlobalGiving for this significant move which falls directly in line with government directives. I invite AJUPS to continue the work in the communities. You have my entire support" SOUAIBOU ZOURMBA S.D.O of Yagoua
Future Activities
- AJUPS Yagoua: with the sanitization materials received, AJUPS would use part during their routine meetings and the other part for community outreach.
- EFA Cameroon: COVID-19 aid would be taken to AJUPS Memolo and Kousserie to help them prevent opportunistic diseases and the prevent the spread of the virus.
- AJEPS Maroua is already in possession of sanitation items and EFA Cameroon shall accompany her to be more active in the public and to vulgarize best practices to prevent the spread of COVID-19 and equally help other infected or affected by HIV/AIDS in Maroua town in particular and Diamare at large.