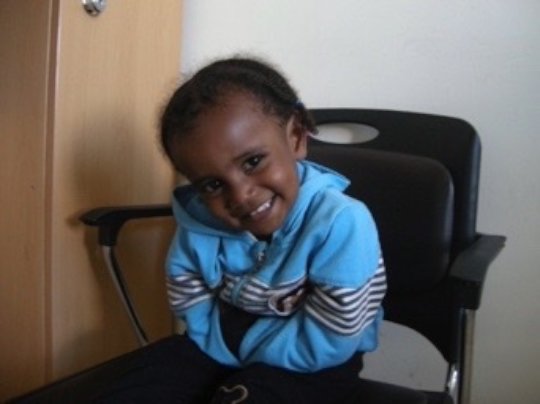 We are grateful for your partnership and for all the donations you have made for our beloved patients! Your kindness touches the lives of many people from cities and rural areas with love and compassion. Because of you we've provided free surgeries for numerous patients who wouldn't have been able to pay for and recieve the care otherwise. I want to share with you a story about one of our patients, Ruth, who's surgery was fully funded and provided on January 14, 2021.
Ruth is a two year old baby girl and the fourth child from her family. She is gentle and so charming, a bit shy and most comfortable when her mom holds her. Ruth is the only child to her mother, Sable. Ruth's mom supports her child by selling tea and coffee on the street and sometimes struggles even to pay for their basic necessities. Ruth's father is a solider and hasn't been heard from in 2 years. They don't know for sure if he is alive.
Sable came to us extremely worried about Ruth who had developed swelling on the lower right side of her abdomen. When she learned that Ruth would need surgery she fell to the floor in despare knowing that she would not be able to pay for it. We assured her that the surgery would be donated but even then she was suspicious and confused. However, once Sable met the staff and received warm greetings with bright, smiling, loving faces her heart felt relief and happiness.
She said "The social worker called me by name when I entered the room and told me that she heard a lot about me and Ruth and that she is happy to have us in their hospital. I was surprised by the smiling bright face and by the fact we are noticed even before we get there. The nurse also smiled at us and talked to us and we felt happy. They make us feel at home. Then we saw Doctor Frehun Ayele. He talked to us with amazing compassion and warm face. With this all love we got, I assured my child will heal in this center. It was the very surprising and amazing event and feeling I experienced and I felt encouraged and I praised the Lord."
Ruth had several tests and she was admitted. Her surgery was successful and her swelling is gone.
Afterwards Sable told the nurses "Now there is no fear, no more desperation. I am psychologically healed. I just can't express what God did for me and for my baby. When I think about it my tears comes in my eyes. All those testes, medications, the places you facilitated for me to stayed in with my baby and its experience, transportation, and food was free. I was not worried about that. All these support provided for us and it was a miracle for me."