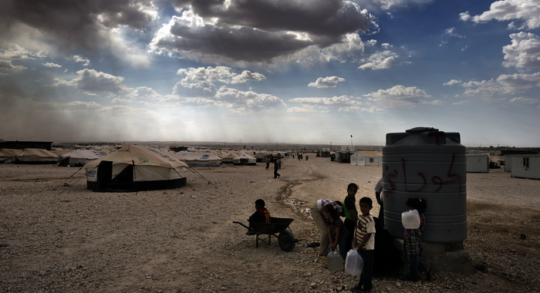 Boundless need - sparks of hope in Jordan
Jordan is one of the countries particularly affected by the Syrian refugee crisis. More than 655,000 refugees from Syria are registered in Jordan. According to United Nations estimates, there are about 139,000 more people who are not registered. The majority of the refugees live outside the two large official camps Za´atri and Azraq in host communities. In addition, there are about 78,000 Syrians who are in no-man's-land between Syria and Jordan and hope to cross the border.

Many refugees have been in Jordan for six years now. They couldn't take much with them from their homeland and their savings have long since been used up. Only a few have a work permit and the rental costs are high. That is why most refugees depend on humanitarian aid to meet their basic needs. Their life situation is becoming increasingly precarious. Although the borders are effectively closed and Syrians are barely coming, it is becoming increasingly difficult for the refugees living in the country to finance the expensive life in Jordan. In their desperation, more and more refugees are considering returning to Syria or embarking on a life-threatening journey to Europe.

Diseases caused by cold weather

The bad and especially in winter completely inadequate housing situation often leads to illness. Mould in the walls, inadequate hygiene and lack of insulation often cause respiratory infections, diarrhoea and fever, especially in children. In winter, many households are not prepared for the icy temperatures and snowfall. There is a lack of warm blankets, clothing and heating material.

Together with our partner International Orthodox Christian Charities (IOCC) in Jordan, we are carrying out a project that helps particularly needy Syrian refugee families and Jordanian host families to survive the winter and improve their livelihoods. A total of 220 families receive electronic vouchers, which they can exchange for blankets, winter clothing or heating material as required. In addition, "cash for rent" supports 120 families in renting for three months. Some needy families also receive building materials to repair their makeshift shelters and protect them from the cold.

Vocational trainings

To give families a perspective and a livelihood, refugees can also participate in vocational training in an IOCC centre. Various basic technical skills are taught, for example for employment as a bricklayer, plumber or electrician. With this knowledge, the refugees can increase their chances of earning their own income.


Your donations make our work possible. Please continue your support.
Thank you so much, yours
Michael Tuerk
The current situation
At the edge of the Afar Plain you meet a group of older men. Thin and marked by hunger, they try to collect the maize they planted last summer in a field. But the result is frustrating, not even a third of the usual harvest has grown. Livestock numbers have fallen dramatically and many cattle will not survive for the next few months. Clemens von Heimendahl, Head of the Regional Office Africa, was there to get an overview of the situation in talks with those affected.
Following the repeated lack of rainfall in some regions of Ethiopia, the food situation in the East African country has deteriorated dramatically. A network against famine has published an early warning and analysis on food insecurity, according to which some 5.5 million people will urgently need humanitarian aid between February and May 2018. Residents in the southern and south-eastern regions of the country are particularly affected. To get water for their families, women have to travel extremely long distances to the nearest well. The water sources still available are threatening to dry up under the persistent drought. In addition, the quality of the water has steadily decreased.
Relief measures
The project contributes to the survival of families affected by the drought. For example, 3,708 families, around 22,248 people, will receive drinking water and water treatment tablets for two months. Each person spends 7.6 litres of water per day, which corresponds to international standards. The distributions will take place in seven districts of the Dheka-Suftu district in the south of the country: Qansah-dere, Dungoya, Bundaqaran, Waradey, Bur-Alan, Hareriga faratada and Awbare.
So please support our work in Ethiopia with your donations. It's so important also against the background of the low media attention regarding the hunger and thirst-situation in East Africa.
Thank you so much, yours
Michael Tuerk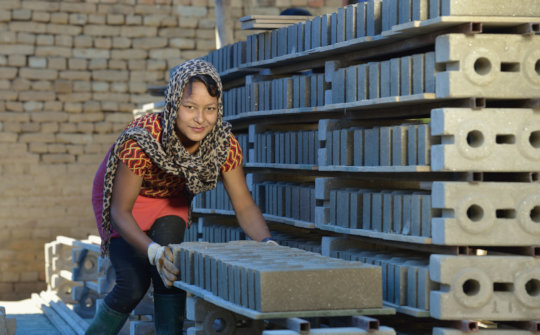 Dear Donors,
The consequences of the devastating earthquakes of 25 April and 12 May 2015 are still visible in Nepal. The reconstruction projects of Diakonie Katastrophenhilfe are ongoing and showing progress. So far, Diakonie Katastrophenhilfe has provided more than 8.2 million euros for assistance in Nepal. So far, around 635,000 people have benefited from the measures.

Never before had Nepalese people experienced a natural disaster of such magnitude: 8,500 people lost their lives and millions became homeless. 600,000 houses collapsed, 288,000 were badly damaged. Debris mountains and ruins shaped the picture in the villages. Fields were devastated, aftershocks and landslides made the situation worse. Many people slept outdoors and did not know what to feed on.
Help could start quickly

Thanks your donations Diakonie Katastrophenhilfe was able to respond immediately and begin emergency aid within just two hours. Thus, in the first two weeks after the earthquake, 100,000 people were provided with basic necessities, after six months, there were already 400,000. In addition to food, water, cookware, hygiene articles and blankets, Diakonie Katastrophenhilfe distributed tarpaulins, corrugated iron and other building materials as well as tools for first shelters and repairs in twelve districts. This protected people first before the monsoon, then before winter.
We are now closing this project because we inserted all the project funds in running projects.
Thank's again for your support of the nepalese people. Let's hope that such a catastrophe will not happen so fast again.
Yours Michael Tuerk
WARNING: Javascript is currently disabled or is not available in your browser. GlobalGiving makes extensive use of Javascript and will not function properly with Javascript disabled.
Please enable Javascript
and refresh this page.