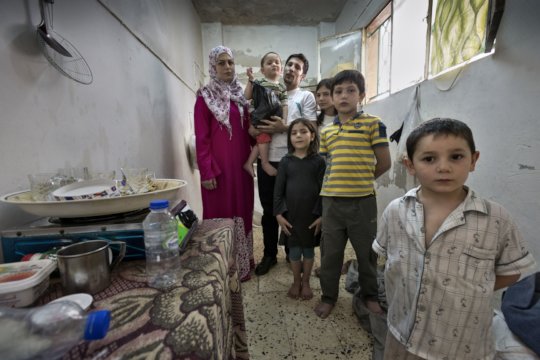 Jordania is one of the countries particularly affected by the Syrian refugee crisis. More than 655,000 refugees from Syria are registered in Jordan. According to United Nations estimates, there are also about 139,000 unregistered refugees. The majority of the refugees live outside the two large official camps Za´atri and Azraq in host communities. In addition, there are about 78,000 Syrians living in the no-man's-land between Syria and Jordan who hope to cross the border.

Many refugees have been in Jordan for six years now. They could not take much from their homeland and their savings have long since been used up. Only a few have a work permit and the rental costs are high. This is why most refugees are dependent on humanitarian aid to cover their basic needs. Their living conditions are becoming increasingly precarious. Although the borders are virtually closed and Syrians are hardly able to follow them, it is becoming increasingly difficult for the refugees living in the country to finance their expensive lives in Jordan. In desperation, more and more refugees are considering returning to Syria or embarking on a life-threatening journey to Europe.

Our partner DSPR is on the ground to establish different measures to support the refugees (a.o.t):
- Food security: distribution of food packages and vouchers for food, distribution of hot meals
- repair of hygiene and sanitation infrastructure, distribution of vouchers for hygiene articles, implementation of hygiene training courses
- Health and Nutrition: free medical treatment days, health and nutrition sessions for beneficiaries, maternal care courses, health referrals, prophylaxis, community health education sessions
- Protection/ psychosocial well-being: Psychosocial counselling, especially for women, youths, children and traumatised refugees
- Early Recovery/ Livelihoods: Workshops on Start your own Business (SYOB), Women's economic empowerment courses (e.g. in a safe place), vocational training in various sectors, Business Startup Kits, Cash for Work activities, basic and advanced business trainings
As you see our focus is on immediate and emergency aid measures, as they are geared to securing the survival and basic needs of conflict-affected people. In addition, other planned measures as early recovery/livelihoods and education, are aimed at long-term effects, as they strengthen the self-help capacities of the beneficiaries.
To covert all these measures, we are urgently dependent on you support. Please keep on giving people in Jordania, Lebanon, Syria and Turkey a perspective for a dignified life.
Thank you so much, yours
Michael