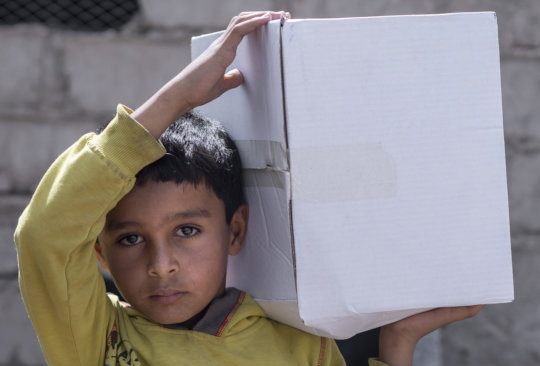 It is the biggest humanitarian crisis in the world: The conflict in Yemen, which has been ongoing since 2015, has plunged the country into immeasurable hardship. Out of a population of 30.5 million, more than 24 million are dependent on humanitarian aid - that's 80 percent of the population.
Shabwa: Help for more than 50,000 people
In the administrative district of Shabwa, too, the need is great. Almost half of the population has neither a water supply nor access to sanitary facilities, and many suffer from hunger. Together with its partner organization Yemen Family Care Association (YFCA), Diakonie Katastrophenhilfe is rehabilitating five drinking water facilities and repairing the associated pipes. 1,500 families receive vouchers for water containers so that they can transport clean water to their homes.
In addition, water filters are distributed and local water committees are trained to monitor water quality and maintain the technical facilities. In addition, hygiene kits are distributed, particularly needy families are provided with their own latrine and volunteers are trained as hygiene advisors.
To improve the food situation in the project area, 900 families participate in a cash-for-work program, and another 300 families receive cash assistance to cover their food needs. A total of 52,500 people benefit from the project, which was implemented with the support of the German Federal Foreign Office.
Donor conference for civil war country: "The current need is frightening".
With a donor conference for Yemen, the United Nations wants to collect donations today to alleviate the current famine as much as possible. Michael Frischmuth, continental director for Asia at Diakonie Katastrophenhilfe, commented:
"The acute need in Yemen is frightening and deeply concerns us. According to the United Nations, the number of malnourished children could rise by more than 20 percent over the course of the year compared to the previous year - 400,000 children are at risk of starvation. We expect the international community to make substantial commitments today to ensure the survival of hundreds of thousands of people in Yemen. Last year, donor countries provided only about half of the funding requested by the UN. This mismatch between need and aid must not be repeated under any circumstances."
This is why your support is absolutely required. Please donate so that we can continue our relief measuresr in Yemen.
Thank you so much
Yours
Michael Tuerk