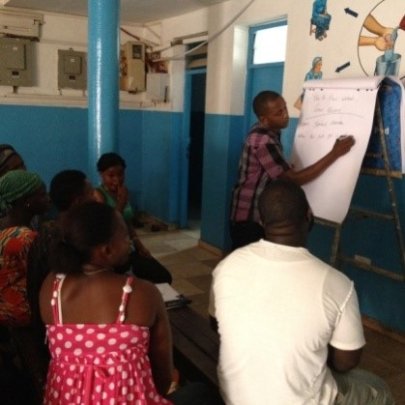 Although the Ebola outbreak has officially been declared over, it is essential that we continue to address the issues caused or highlighted by the outbreak. We are focusing on rebuilding trust in the healthcare system and improving access to it in the communities we serve.
We are working with an advocacy group called Tok fo Pikin Welbodi to reach out to the community and deliver vital messages on how to keep communities safe from a resurgence of Ebola, how to access healthcare and how to tackle some of the most common preventable illnesses. Over the last few months we have been engaging with Tok fo Pikin Welbodi leaders on how to transition from Ebola response projects to projects that support more longer term health improvement initiatives. We will keep you updated as this plan is developed.
We are currently supporting the design of a project to tackle Tuberculosis (TB) in Eastern Freetown. Working with the Jenner Wright Clinic (JW), we will build a structure to be used for the screening and treatment of TB patients. The existing TB room is located in an area where other treatment takes place. As TB is an airborne disease, it poses a high risk to other patients. The average monthly number of TB patients at JW is 75 and this number continues to increase. This facility serves as one of the key referral TB treatment facilities within Eastern Freetown. The structure will accommodate at least 10 patients at a time and office space for the TB focal point in the facility.
We look forward to keeping you up to date as this and other projects progress. None of this would be possible without the fantastic support of Global Giving and those who donate through it – thank you!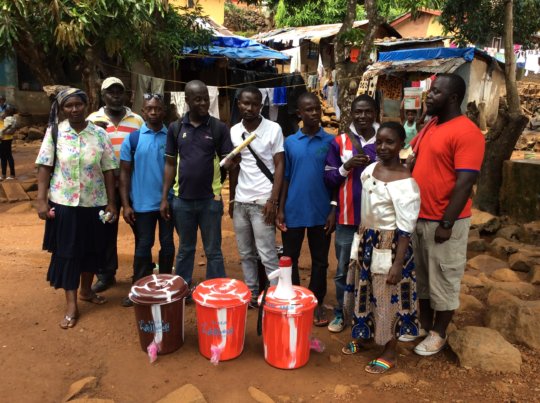 The worst of the Ebola outbreak is over and, on the 17th of March 2016, Sierra Leone reached 42 days without a confirmed Ebola case, however, this is the second time the country has had to pass this marker and, on the same day of this declaration, Guinea announced new confirmed cases. The need to remain vigilant is as important as ever. Now the outbreak is over our efforts have shifted to helping the country stay free of the disease through ensuring that standards in the facilities are maintained and communities continue with preventive measures.
Over the last year your support has allowed us to focus on getting vital messages into the community at a time when trust in the healthcare system was severely damaged. In the coming months we will use the generous donations from the Global Giving community to work with community health facilities and the local community to deliver projects that not only protect against a re-emergence of Ebola but will also deliver long term, life saving benefits to communities in desperate need.
One of the lessons learnt from the outbreak was that infection was all too easily passed on. We have focused on tackling this in facilities though training, mentoring and supplies and in the community with taps, equipment and advocacy. Now we will take this a step further through a waste management project that will teach communities how to minimise the risk of passing on diseases such as Ebola and tackle some of the major causes of child and maternal mortality including malaria and diarrheal diseases. We have identified 47 mosques, 20 churches, 35 primary schools and 120 youth organizations within the communities in which this project operates and we plan to invite two or more members from each of these groups to attend interactive community dialogue sessions. We will reach a total of 345 influential community stakeholders with health promotion messages on waste management and child health.
As well as a period of intense work to ensure Ebola does not resurface, we will also be using this milestone to reflect and plan the next stage of the response. Tok fo Pikin Welbodi with guidance from the Welbodi Global Giving Project team will be finalising a 12 month action plan and we look forward to sharing this with you all when it is complete.
Thank you to everyone that has supported us over the last 18 months, we could not have achieved what we have without you. The next stage of this project will present new challenges, however, we are confident with your help we can help Sierra Leone remain resilient and Ebola free.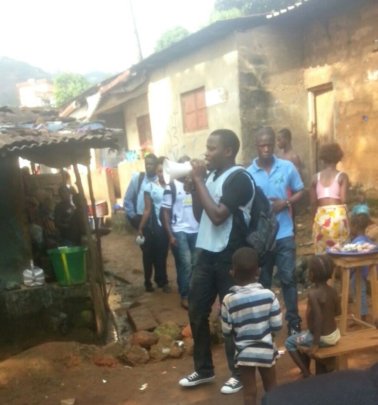 Despite notable gains in the fight against maternal and infant mortality, a recent UN report has ranked Sierra Leone as having the highest maternal mortality rate in the world. The ranking comes at a time when the country is coming to terms with a deadly Ebola Virus Disease (EVD) outbreak that has further severely disrupted the basic healthcare service delivery system in the country. The government, NGOs and other development partners have come up with innovative strategies to improve health care in this country and one such strategy is the national immunization campaign. With support from health sector development partners, the Ministry of Health (MoH) introduced the Maternal and Child Health (MCH) week (Mami en Pikin Welbodi Week) in 2013 as a national campaign that is undertaken twice a year with the aim of improving the health status of women and children in Sierra Leone. With the emergence of the EVD outbreak in 2014, this nationwide event, like many other health care services, was hugely disrupted and thousands of under-five children failed to receive lifesaving vaccines in a nation where the under five mortality is 217/1000 live births.
During a health partners' coordination meeting attended by Welbodi staff, the MoH requested all health partners to support them in making sure that it achieves its target of reaching 90% of under-five children and pregnant women in the national vaccination exercise. Among the key areas the ministry requested support in were social mobilisation, logistical support and training of vaccinators.
Thanks to funds from GlobalGiving, Welbodi Partnership responded to the request of the Health Ministry by supporting Tok fo Pikin Welbodi (Speak for Children's Health) to conduct a three-day social mobilisation exercise which included house to house visits and radio panel discussion all within communities in the east of Freetown. The aim of the exercise was to reach a minimum of 10,000 homes with messages related to the vaccination campaign and also promote other positive health seeking behaviours that can contribute to improving the lives of women and children. The team also dispelled myths and misconceptions that the exercise was a mass EVD vaccination campaign. An estimated 20,000 families were directly reached in the three-day exercise and throughout the project period. It was observed, among other things, that most of the communities had received no prior information about the vaccination exercise and many others thought it was a massive EVD vaccination drive. The two-day radio panel discussion attracted a number of calls from listeners and the panellists were able to appropriately respond to relevant questions related to the exercise. Among the key services provided during the November 2015 MCH week were:
Administration of Oral Polio vaccine
Vitamin A supplementation
Albendazole administration - deworming
Defaulter tracing for immunization (targeting children less than one year and referred to health facilities)
Identification of malnourished children using the Mid Upper Arm Circumference (MUAC) system
Antenatal care (ANC) for pregnant women
Following the completion of the nation-wide vaccination exercise, the president in his speech to parliament cited that "over 1,475,000 children 0-59 months were vaccinated against Polio which represented 98.8% coverage and over 206, 000 women of child bearing age have received at least two doses of tetanus toxoid vaccine". As a key partner in Sierra Leone's healthcare service delivery, we are proud to play a part in this success.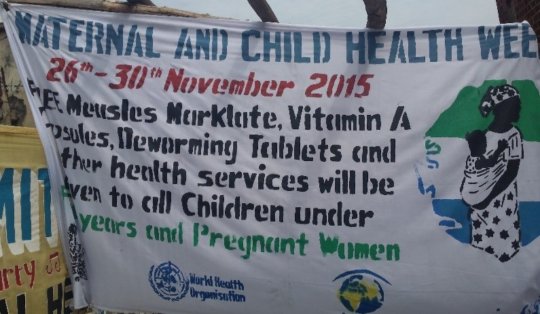 WARNING: Javascript is currently disabled or is not available in your browser. GlobalGiving makes extensive use of Javascript and will not function properly with Javascript disabled.
Please enable Javascript
and refresh this page.