Hello, and a big shout-out to all our Donors:
I wish you could have been at the annual Horse Show to see the culmination of a year of hard work. Our youngest student (having begun at the age of 18 months) made incredible progress and now guides his horse around the obstacles in the arena.
Another who had been riding with us for 7 years, graduated to riding at an advanced level barn with a well known instructor. She is working on Olympic medals for her future.
Children come through the program gaining confidence, strength, and maturity, and along with all of us, grow older. What a priveledge it is to see the changes, and the wonderful balance horses bring to all our lives.
This past year we've served over 50 riders with 70% receiving scholarships because of your generousity.
You made it HAPPEN!
Our vocational education program is gearing up for the beginning of a new school year. Students at risk who live on the spectrum, will be returning to hone their working skills....fence repair, stable management, and field and forest development all take a turn in the curriculum of teaching how to care for our herd through the four seasons of the year.
With your continued support we can continue to offer quality programs to our clients on the spectrum, and a comfortable and safe home for our therapy herd.
Thank You!
Links:
Over the past three months BITS ETC has experienced a significant shortage of staff and volunteers to fulfill all rquirements of the Global Giving contract. Illness accidents and loss of staff has seriously affected our ability to file reports in a timely manner.The coinciding of Autism Awareness Month made these shortages especially vexing. Our service delivery, however, was not affected. Indeed, funds raised on the Global Giving website have been applied as they come in, to keep our riders "back in the saddle."
Three days left in the month, and we are pulling hard to complete all necessary paperwork to keep our appeal going strong. Only with your help can we recover from these set-backs and get our fundraising back on track to make our goal of $30,000,00 for autism scholarships this year.
Please enjoy Chris's story, and share the news of the good work done at BITS ETC with your friends. Your $30.00 donation (ten dollars a day for each of the three days remaining in April) will go a long way in supporting our clients with Autism.
Christopher S. enjoys his time here at BITS (thanks to you, at no charge to his family,) in a program that teaches life and job skills. Through all four seasons of NH, he comes for two hours, once a week to help us care and work with the herd. This will aid in his eventual transition from high school to life after graduation.
Horses have many lessons to teach, including patience perseverance, and practicality. You can help Chris succeed with a donation to BITS Autism Scholarship fund.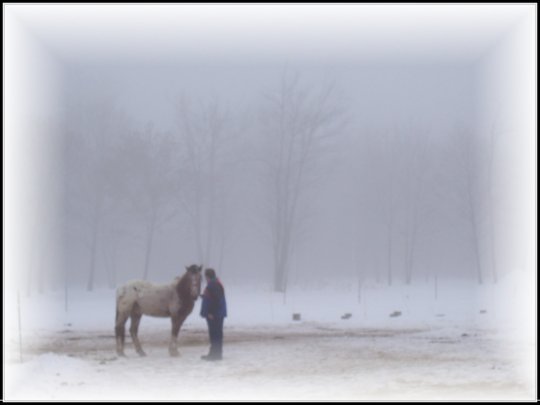 Links: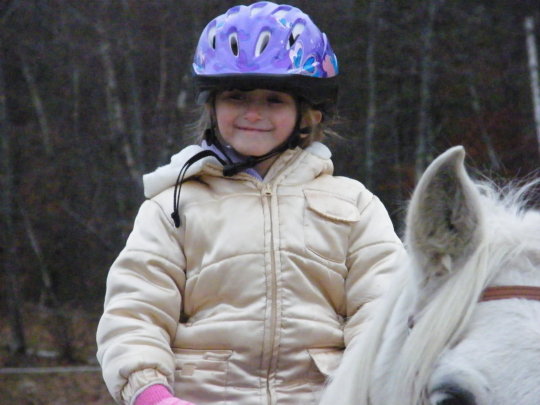 At this time of year I like to take an accounting of our riders, and last week spent a bit of time out in the barn. Riding a horse may seem like a nice pass-time on vacation, or as a little diversion from everyday life, but for some, this 'ride' can take them to places they never thought they would ever be. John, who lives on the Autism Spectrum, enjoys his ride each week, and has actually said his first word while riding on Gideon, the BITS ETC therapy horse. "Walk on"---and his horse moves forward, carrying him to a place where words have meanings--and he can communicate!! His mom, overjoyed and crying, left nearly speechless herself at the breakthrough she witnessed.
Alice told her horse "trott"---and away they went, around the ring, with Alice balanced in the saddle---sitting straight, and ready for anything. The pressure that bouncing on the horse provides to her joints lets her feel her whole body as it moves in space, calming her sometimes incessant movements to a quiet confidence on her horse Rosie.
"Daddy, I'm bigger than you!" exclaimed Bobbie, perched on our big horse, Disco. His father looked up as he walked next to his son during the lesson. Seeing the world from a high place, rather than in his wheelchair ( always looking up at others) gave him a new perspective on his own abilities to negotiate his chosen path in life. Dad told us he joins in with his peers at school now, ready to try new things.
With your help, people on the spectrum find joy and progress at BITS ETC. Rather than just a pony ride, it's so much more in the life of both children and adults.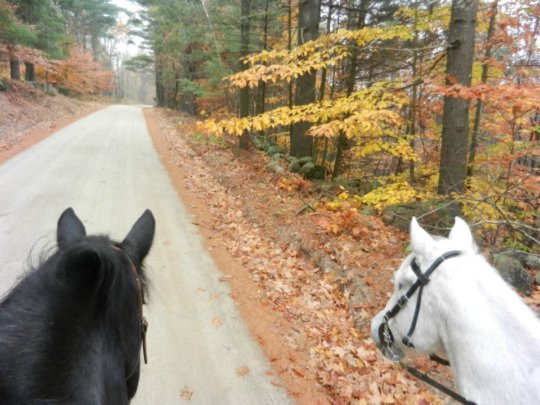 Links:
WARNING: Javascript is currently disabled or is not available in your browser. GlobalGiving makes extensive use of Javascript and will not function properly with Javascript disabled.
Please enable Javascript
and refresh this page.