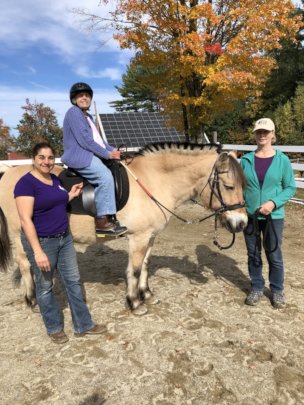 Later this month many in the US will gather together for a day of thanks. Families and friends will share time, a meal, memories of past years, and set aside the day to give thanks for things in their life that are good. It is fitting to shine a light on this day, and encourage a feeling of gratitude amid the usual hectic flow of daily life. But here at BITS I realize more and more that we get to experience days of Thanksgiving all year long, because of you, our donors, volunteers and supporters.
Global Giving donors are volunteers! Voluntarily giving of your treasure so others can treasure the experiences we, together, provide. Volunteers come in all sizes and shapes, all ages, and because of Global Giving, from all parts of the world (we have even been gifted with donations from China!). I find success with the help of connections that the Internet affords us, to spread the word of what we do so others can benefit. This force of good in the world has me giving thanks for modern technology even as we use some of the most ancient of methods to teach gratitude to our clients.
Ever since that first horse was tamed for human use, we've held them in high regard. In today's world of expanding tech, and distance from those times we sometimes forget the value of touch, the need for connection to something outside ourselves, the sheer exuberance of freedom of movement a horse affords. Working with horses to connect people with disabilities to the universal human need for growth, for strength of body and mind, for happy experiences, and connection to their own power to overcome what others perceive as disability leaves me thankful on a daily basis.
I have a tradition at the end of each riding lesson; I ask the rider to give their horse a pat, and thank them for the ride. They then thank the horse leader, and side walkers, for their support during the lesson, before dismounting. There is no mechanism for them to directly thank you, the many donors who make it all happen, so as a way to share this gratitude with you, I want to tell you Patsy's story today.
Patsy has lived for the last sixty eight years with a medical diagnosis of autism. Three years ago her deep desire to ride brought her here, and her love of horses has kept her coming, despite medical problems along the way that sometimes keep her from climbing on her horse. She comes to groom, to feed, to spend some time outside the usual daily routines, and breathe deeply of the smells of the barn. She relaxes to the sounds of nickering, and munching of hay which soothes the spirit and calms the mind. Patsy is most grateful for your support which keeps these experiences affordable and within her world. And when the doctor says she is recovered from surgery, she rides---free at last on her horse, the best feeling in the world! She inspires us all,
With thanks,
Pauline Meridien, founding Director, BITS ETC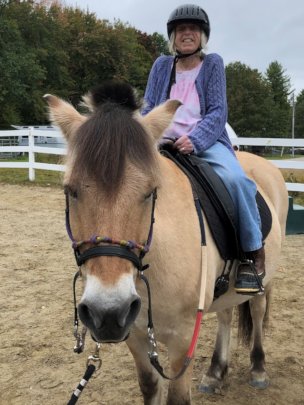 Links: