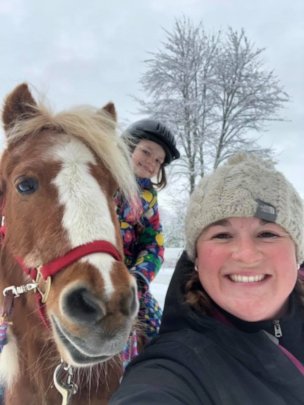 Please note we have permission to use all photo's in this report. To protect client privacy, I have changed names in this report.
"Do you still ride in the winter?" A hesitant voice on the other end of the phone line disrupted my morning of shoveling, sanding, and hauling water in addition to the regular barn chores needed to feed and house 11 horses. The local plow guy would be here in an hour, but the horses need breakfast early.
"My son has been diagnosed with autism, and his doctor thinks he could benefit from riding horses." she explained
"Of course we ride in the winter!" "Let me get your information, and we can set up a tour---how old is your son?" I replied
And now we have a reason to haul the water, and shovel the snow! A new rider will begin next week, and hopefully find delight in his 'therapy' and added focus. We offer riding year-round because our clients have told us of the skills lost when therapy is interrupted. We get help from neighbors with plowing the driveway and roads to the fields, and help from over 40 volunteers who give of their time each week to keep the office and grounds running smoothly, the stalls clean and bedded, the hay stored safely, the water buckets cleared of frozen water and refilled, the daily grind that winter adds to our routine. And winter here can be brutal, NH known for cold and snow.
Some clients take a break during the coldest parts of winter; turning to aqua sports, or skiing for exercise. Then most return with the spring, ready to be greeted by their friends in the barn. But many come all year round..from .Polly (67) who never misses a week, to Jackson(2), who can barely bend his elbows through his snowsuit! Schools send busloads for group interactions, and the days are busy, into the darkness of early evening.
With the New Year at hand, I want to thank you for your financial support of our programs. Without your help, the day would be colder, the wind stronger, and the task near unbearable. It's only with the help of our community of supporters that lets us just get it done!. "It takes a village to raise a child" is an old African proverb. Thank you for expanding our 'village" of support so all our clients who wish to, can ride all year long!