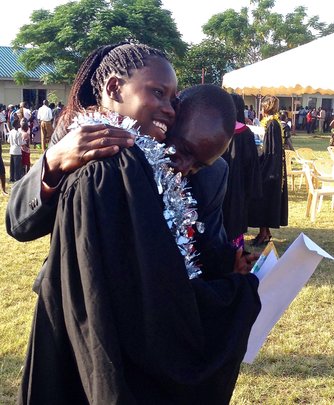 "When you give birth to a daughter, you have no child."
I recently heard this comment when talking to Dorcas Odhiambo, the principal of the WISER school. Dorcas' mother had given birth to six daughters, so she had no children worth counting.
But Dorcas had a spark in her, went to school, and earned scholarships. Now Dorcas has reached the pinnacle of education, having served on presidential commissions for education reform in Kenya. And Dorcas is paying it forward. Instead of an easy retirement she moved to rural Kenya to open WISER and help a community believe that when you give birth to a girl, you have a child full of talent and potential.
In July Dorcas and I joyfully celebrated WISER's second graduation. Once again 100% of our girls passed the national exam and 80% are going to college or university. A third of our girls scored so high that they have full government support! And some of those high performing girls are girls who were abandoned by their families as not worth investing in. Girls who were born and grew up, but were not counted. Now they are.
WISER girls are showing the world that even the poorest girl can be successful. And their families and communities are rallying around them. At WISER's graduation over 1,000 people came to celebrate the success of their girls. All around our field girls were being hugged and adorned with garlands. I love the photo above of Rose and a supportive community member after graduation. She is glowing, proud of her accomplishment, and he is holding her close, cherishing her. Here is a girl who is counted and will pave the way for more girls to matter.
WISER alumni are now attending 23 different universities and colleges across Kenya. One of our alumni was selected as a MasterCard Foundation Scholar and has full funding to study in the United States. These girls are fighting the odds and winning. They are pioneers in their community. Ally with them. Join Dorcas, Rose and the other 180 WISER girls who are paying it forward. They all count.
Today, September 16, please show your support for WISER on Global Giving and we will receive a 30% match. Up to $70,000 will be given out as matching funds, but that money could go fast and we are competing with other groups. Can you do your part to steer that bonus to the WISER girls? Please consider a donation, of any size, today to create more joyful, game-changing alumni, like Rose.
Matching funds are only available today. Please donate at this link:
http://www.globalgiving.org/projects/keep-girls-in-school-and-out-of-marriage-in-kenya/