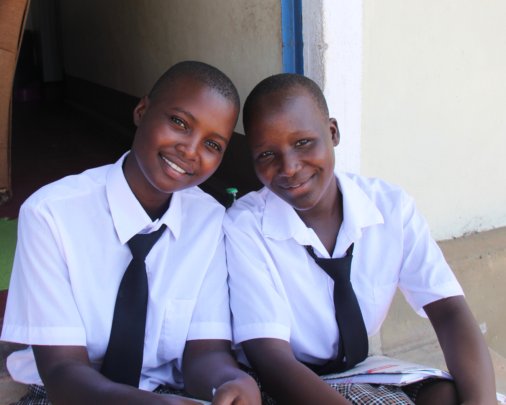 Getting to know two of WISER's newest faces!
And... WISER Match at 9am ET tomorrow!

March 7 is the Global Giving UK's "We Believe in Girls" 50% Match Campaign. Can you support Carol and Velma then? Donations help us receive bonuses! Give the same way you do in the US, but matches only happen via the UK site. You can give all that week, but matching day is only March 7 (UK time.)

On March 7 starting at 9 am ET go to the Global Giving UK site to help us get bonuses and matching! WISER Global Giving UK
Meet Carol and Velma.
There may be nothing more intimidating and miraculous than the opportunity to begin a life-changing experience. For Carol and Velma, two of the newest students at the WISER school in Muhuru Bay, Kenya, the start of the new school year is the start of a new way of life: one in which they will find ways to escape poverty, and to help their families. Both girls have experienced hardship at home and in their studies, and upon reaching WISER, a sense of excitement and appreciation drives them to take control of their own education. "It has always been a dream," says Carol. The sentiment is echoed by Velma who says, "without WISER, I would not know what to do. I would be waking up, planting in the field, coming back… it would be so hard." WISER is delighted to have these young scholars on-campus and learn about their journeys and their dreams.
Before Carol came to WISER, she, like many girls in Muhuru, found herself constantly in and out of school due to a lack of school fees. This led her to fall behind in class, as she was sent home again and again to retrieve money she did not have. "My fellow students went on with the class syllabus, and I was way too slow. It was hard," said Carol. To make things more challenging, Carol was faced with the death of her father at a young age. Speaking of this time, she said, "my father was the backbone. He was encouraging us to live. My brother loved my father very much… it was terrible for my mom, she was always crying. I felt like committing suicide." It was just after this taxing time that Carol received a scholarship from WISER, and while she is nervous she feels like she has already reached a goal: "I'm in a good life now, and I want my friends and family to be there too. I will help them." Carol hopes to be a lawyer, and says she believes law has the power to change Kenya's direction for the better. When asked about what she hopes for her time at WISER, Carol thinks of what the school means for her and her family, saying "I want to go out and get a job, a successful one, and I can finally bring my siblings back to school." For a girl that spent so much time in an unsure state, WISER has provided the stability that enables Carol to learn and live while gaining the skills necessary to support the family she loves.
Like Carol, Velma spent a considerable amount of time being sent home by teachers to retrieve schools fees that she could not get from her parents, who are currently unemployed. Velma says her family has had some hard times, and that her sister, who did not finish school, is currently "married to a bad man- he is travelling and has no money… all the time." Velma also struggled to balance her family life, lack of school fees, and her education, explaining that "my father was extremely sick. I was told to go home instead of attending school… education was running out of my hands. The teachers and students were ahead and I was struggling to catch up." But finally at WISER, Velma feels a sense of belonging that she has been missing: "When I came to WISER, I was recognized. I was accepted." Particularly, Velma has fallen in love with the teaching style at WISER, saying that "the way they are teaching- it's quality. In public schools, the teachers were always absent. Teachers here have passion. I know I'm going to pass because I feel ready with them." Velma is hoping to follow in the footsteps of her aunt, who is a former WISER girl herself, and encouraged Velma to strive to be at WISER. Velma hopes to be a nurse, because she believes that helping patients is the perfect way to bring gratification into a life. All in all, Velma is ready to take on the challenge of being a WISER girl, and says that, although she has only been in school a short time, she is impressed: "they are treating me well, they give me everything I want. People always know what they are doing here at WISER."
With your support we have educated over 200 girls like Carol and Velma, and are expanding to take in another 240.
Can you ally with these hardworking girls on March 7 during Global Giving UK's 50% Match? Do you believe in girls? WISER Global Giving UK
Your donations bring in matching funds and bonuses for the girls!
Warmest wishes.
Sherryl
Links: