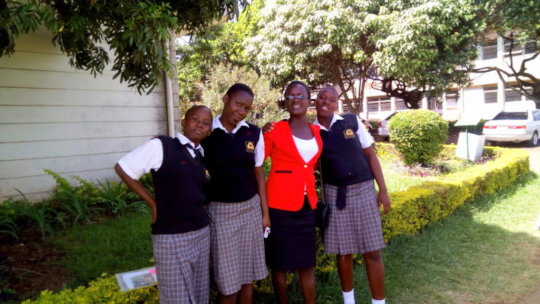 In Muhuru Bay, over half of all girls that make it to high school will drop out due to early pregnancy.
The girls at WISER have something to say about that.
"Where I come from, teen pregnancy is overwhelming," says Hillary, a second-year student. "It overcomes the future of girls in my home area, and there's only one thing that can happen – it has to stop."
Hillary is just one of the WISER girls setting an ambitious goal for 2018 – they want to not only end early pregnancy at WISER, but to reduce early pregnancy by 33% in three neighboring schools.
This, they say, is the first step toward creating a generation of girls that finish school unimpeded and they believe it's essential that girls are leading the way.
"The main challenge for girls in this area has been teenage pregnancy," says student leader Linah. "But, when you have girls in leadership positions who are addressing pregnancy, you have leadership that understands what girls are going through. This can make change happen."
To drive this change, a team of 15 student leaders at WISER have launched the early pregnancy prevention project; a series of workshops, interactive skits, and lectures led by girls - for girls. The sessions cover serious issues in the community including access to contraceptives, avoiding coercive relationships, and speaking openly about sex education.
The project was inspired by the East African Girls Leadership Summit (EAGLS), an initiative designed to help girls grow into changemakers in their home communities. Three WISER students and teachers attended the summit in 2017 and they've wasted no time putting what they learned to good use.
"Girls have not gotten equal opportunities because they face pregnancies often and they face them alone," says Linah, who attended EAGLS in 2017. "It is past time to give girls an equal chance at education in this community."
Throughout 2018, WISER students hope to reach nearly 200 girls with their sessions and they'll be watching the pregnancy rate of neighboring schools closely. But if their passion is an indicator for their success, then the rates are sure to drop in no time.
"Girls cannot keep quiet," says Linah. "It is right to speak out – it is right to protect the chance for an education."
Thank you to all of the members of the WISER Global Family that have supported us on GlobalGiving. We hope you agree with Linah that it is right to protect every girl's chance for an education, and that you'll continue to support WISER as we work to do just that!