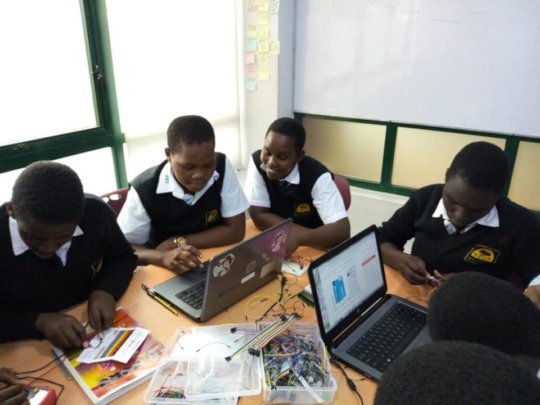 Just two weeks ago, all 32 of WISER's senior class girls traveled to Nairobi, many for the first time. They weren't just in Nairobi for a field trip (though they loved seeing museums and exploring the big city!) -- the WISER girls were there for a week-long computer programming bootcamp with AkiraChix, an NGO that aims to inspire and develop a successful force of women in technology who will change Africa's future.
For years, Nairobi has been a hub of innovation and technology in Africa. But girls in rural communities like Muhuru Bay rarely have access to the unique opportunities and ideas these hubs spark. That changed last month when WISER girls took a deep dive into computer programming, graphic design, and robotics through the AkiraChix bootcamp.
WISER girls practiced hands-on problem-solving and design thinking, applying new knowledge to design creative technological solutions to solve local challenges. Girls presented their innovative ideas at the end of the week: a vented space heater for small homes, a pothole repair device, a chimney-based stove to reduce respiratory disease, a saltwater battery lamp, and more.
The WISER girls were thrilled with their experience, and the AkiraChix team left feeling inspired as well. Linda Kamau, Founder of AkiraChix, said, "The AkiraChix team had a great time seeing them excited about technology and the opportunities available."
After a week of creative problem-solving, WISER girls attended the Geek Girl Festival (#GGFest18), which brought together hundreds of girls from high schools across Kenya to introduce them to career opportunities in tech, expose them to women working in the tech industry, and provide leadership and mentorship.
Why is this so special? In Muhuru Bay, there are no role models of women in STEM outside of WISER's campus. Being able to connect with dozens of Kenyan women programmers, app developers, and computer engineers was a unique and inspiring opportunity for our senior students as they consider their education and career steps after WISER.
Thank you for creating opportunities for WISER girls to meet role models, to be exposed to a larger world, to envision new futures, and ultimately, to become role models for younger girls in Muhuru Bay and across Kenya. As one WISER senior wrote recently, "as a girl, I am the key to all solutions." Thank you for believing, as we do, that WISER girls are the key to solving challenges in their communities and around the world.
--