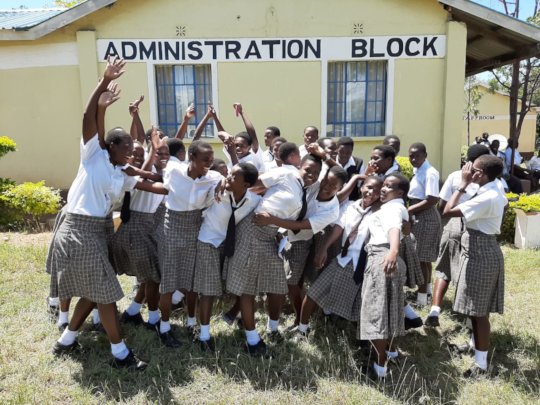 For many of us, stressing over a test is something we remember all too well. I know that I have friends in their 40s who still wake up in the middle of the night, having just jumped out of a nightmare in which they forgot to study for a quiz. It's something nearly all former (and current) students are familiar with - the desire to do well, mixed with the fear of what might happen if we don't.
Now imagine sitting for a single test that had seemingly everything riding on it.
The WISER girls, just over a month ago, finished their KCSE national exams. The KCSE is daunting; a three-week long test with as many as 11 different subjects administered for as many as 6 hours per day. To make matters more intense, the results determine not just your final grades in Kenya, but whether or not you graduate from high school, whether or not you are eligible for college, whether or not you can receive scholarships, and even what you are allowed to study.
The levels of mental fortitude, practice, dedication, and preparation needed to thrive in those conditions are nothing short of jaw-droppingly impressive. And every single WISER girl is up to the task.
For the seventh year in a row, 100% of WISER girls have passed the KCSE in an area where fewer than 10% of girls do so.
You read it right–all members of the Class of 2019 passed their exams with flying colors. The scores of every student qualified them not just to graduate from high school, but to attend higher education programs, which means that all students graduating WISER this year have the opportunity to enter a certificate program, a professional course, or a four-year university degree.
Of those students, 55% of them scored highly enough on the KCSE to earn full university scholarships from the Kenyan government. That's over three times the rate of success across the rest of the country. Plus, for the fourth consecutive year, physics was one of WISER's top 5 highest-scoring subjects - which is not the case for the average girls' school results nationwide.
And where is all of this success coming from? From girls who live in one of Kenya's most remote fishing villages. From girls who are the first in their family to even enter secondary education.
From girls who have been tirelessly putting in the work needed to succeed.
Our mission at WISER has always been to establish an environment where girls can thrive - free from limitations based on their gender, poverty, disease, and more. But establishing the environment, offering support, providing resources, etc. only goes as far as the students are willing to go. And wow, the WISER Girls sure are willing to go as far as they can. Our team in Kenya and in the US often returns to the metaphor of a door - our job is to open a door for these gifted, brilliant young women. But we don't have to lead them through the door. We only have to get out of the way.
These young women have been tirelessly preparing to seize opportunity their entire lives. And for the past four years, the girls in WISER's class of 2019 have been doing just that. Last month was the ultimate example to date - but more is on the horizon. Soon, these same young women will enroll in college, they'll begin their professional lives, and they'll serve as mentors, beacons of success for girls that come after them.
It's safe to say that the hard work has paid off.