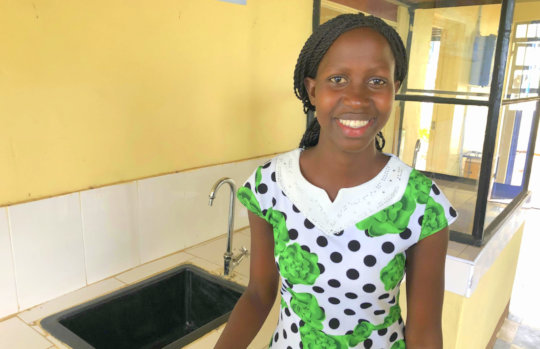 The year is 2013. The sun is high over the brightly-colored tents at the center of WISER's campus and WISER's very first graduating class is sitting up straight in their chairs - proud, confident, and ready to be among the first women in their community to pursue a university education.
In one of the back rows, still just a little too short to see over the heads of parents, grandparents, and community members, sat a girl at the top of her primary school class. Linah was one of three students from her local school chosen to attend WISER's first graduation ceremony. Despite excelling at her schoolwork, poverty made her feel uncertain about her odds for continuing on to high school.
But Linah was certain of one thing: she wanted to be in those chairs - to be like those WISER girls who were graduating and on their way to university.
The year is 2019. That same bright sun shines over those same bright tents. A crowd of WISER students, families, guests, and primary schoolers gather around another group of WISER graduates, and Linah is there again. Only, now, she sits in a different place.
"Now, I'm done with secondary school and yes, I'm going to university."
Linah is a member of the class of 2018, which recently celebrated their graduation from WISER. She and every other girl in her graduating class beat the odds for their community and qualified for admission to university. WISER's class of 2018 is brilliant and powerful, and Linah is no exception.
The determination and grit that Linah has put into her studies has inspired her to not only pursue a degree in medicine, but to transform the face of that field for future generations.
"I want to specialize mainly in surgery, because it's not something a normal doctor does. It's something you have to study. And only a few surgeons are women, so I want to be one of them."
There are hundreds of girls that will look up to Linah as an example now. And at her graduation ceremony this year, Linah kept an eye out for some of the girls who are just like the little girl she used to be - craning their necks to get a glimpse of WISER's class of 2018, to see themselves reflected in an image of success.
They were there. And thanks to Linah's trailblazing and the dedication of supporters just like yourself, those little girls are going to have a chance to become WISER girls themselves. And who knows? They might even join Linah in the operating room one day.
Thank you for creating these moments that demonstrate not just the power of lifting up young women, but the power of generational change. This work is not possible without you!