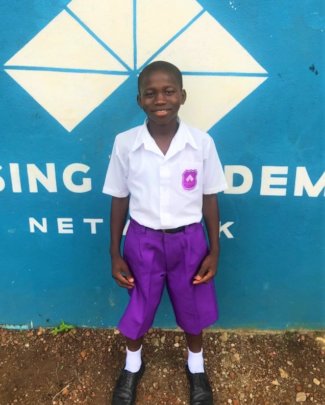 Born in the Kono District of Sierra Leone, Mohamed, his three brothers, and mother now call the quiet village surrounding Rising Academy Juba school their home.
Although fortunate enough to move to Freetown, Mohamed and his family still live far from a comfortable standard. "I'm not from a rich background. I'm a very poor boy but I work with my limits, with what I have." Mohamed has been able to rise above his circumstances, with no shortage of optimism and enthusiasm.
Mohamed is currently in his second year of Junior Secondary School and attends Rising Academy Juba on scholarship. However, he has not always been a Rising student. His primary school was in the very same building but before it was operated by Rising Academies.
When asked about the change to Rising, Mohamed boasted himself as one of the first recruiters, "I was one of the ambassadors for Rising. I used to tell my colleagues that Rising is a good school," he said.
Mohamed's appreciation for Rising comes as no surprise. It became clear to him early on that the quality of education at Rising was much better than in his previous school. Curious about these differences, Mohamed replied, "I'm using books. At my previous school, I needed to buy books. I had to buy the chairs. At my old school there were no chairs. But at Rising we have chairs, we watch educated videos, we deal with the lesson. In my primary school, when my teacher doesn't know how to achieve a lesson, they skip the lesson. But in Rising, any minute any second, the teachers are in the class." Whether it is having access to a notebook or even a simple chair to sit on, school supplies that are easily taken for granted are considered a top priority here in Sierra Leone.
Mohamed's passion for Rising does not stop there. When asked to describe his school, he said, "I always have good things to say about Rising because I really love this school. The buildings, the environment, and also, they give us a proper education."
What does the Scholarship Fund mean to a scholarship student? When asked how he felt, Mohamed said, "I'm so very happy because they have removed some works on my mother. When my mother needs to pay for the term, they have paid for me. Some of my friends are in Rising, some of them in other schools, but I'm always persuading them to come to Rising." The Scholarship Fund is proud to support students like Mohamed to attend great schools they love and get the quality of education they deserve.