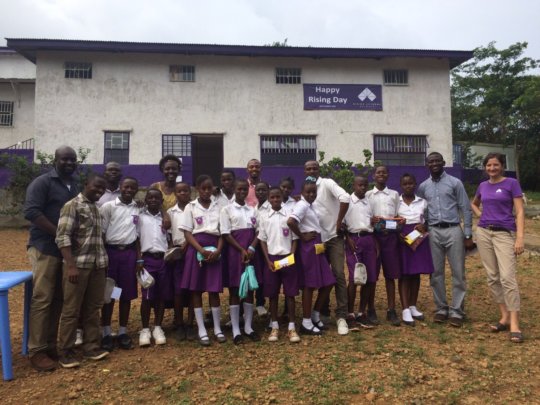 On September 29th, students at Rising Academy Regent celebrated Rising Day. The event, the first of what will become an annual event, was timed to commemorate the one-year anniversary of the launch of our Ebola Crisis Home Outreach (ECHO) programme.
The whole school came together to celebrate all they had achieved in that time, and a number of prizes (voted for by students and teachers) were awarded. Categories included the most helpful, hardest-working, most improved, and highest-performing boy and girl – as well as the best givers of feedback.
Students also shared their happiest memories from the past year. Some spoke of personal achievements, such as performing the poem they had written back in January during their "Finding Your Greatness" project, or going out and doing their survey in the community as part of their religious tolerance project.
But what was interesting was how much the theme of collaboration featured in what students spoke about. The Rising Academy school creed says "We work together, learn together and succeed together", and it was clear that for a number of students this has had a big impact on their experience. Eugene, 12, said "My happiest memory was the first day at school, because that was the first time in my life I had the opportunity to work as a team, and by working as a team I will achieve much, because my colleagues give me feedback." Fellow student Sulaiman used his comments to celebrate how much one of his colleagues had improved over the year. "My happiest memory at Rising is today. This day was marvellous because I can see Elfrida, the last time when she was debating she was very nervous and today she is confident and audible."
A lot has changed in one year, for us and for Sierra Leone as a whole. When we launched ECHO, Sierra Leone was reporting 300 new cases of Ebola per week and schools had been forced to stay closed after the summer holidays. As we write, Sierra Leone has not seen an Ebola case in more than three weeks and the countdown to zero has entered its final weeks. Schools were finally allowed to re-open in April, so students are half way through their second (and final) term of a compressed academic year.
Although a few of our Home Outreach groups continued (in one case right up until early September), the focus of our GlobalGiving project since April has been on ensuring that students from the most disadvantaged families in our catchment area can continue to access excellent education.
Thanks to the generous support of our donors, over a quarter of Rising Academy students – 25 this academic year, rising to 100 when two new Rising schools open in January – receive scholarships to enable them to attend. Given the demographic profile of the communities we serve - 1 in 3 Rising parents never went to school themselves, and the most common occupations are petty traders and manual labourers – this is essential to maintaining accessibility.
Beyond just keeping kids in school, we want to make sure scholarship students are actually learning something when they are there. Our preliminary data show that they are. In end of term assessments over the last year, scholarship students have progressed at broadly the same rate as our other students. For example, reading scores improved 10% last term, compared to 11% for the year group as a whole. Maths scores improved 22% for scholarship students last term, the same as the year group as a whole. It is really encouraging that with the right kind of teaching and learning, these students are confounding the expectations that would traditionally have been placed on them.
As we have noted before, one of the challenges in monitoring our impact is that our assessments are not fine grained enough. As part of a new partnership with Oxford University, we will be testing students three times a year using much more fine grained measures of their reading and maths ability, which will allow us to build up a more detailed picture.
For now, though, the good news is that our scholarship students are not just in school, but they are learning. We are looking forward to being able to welcome an additional 75 scholarship students in January when the new school year begins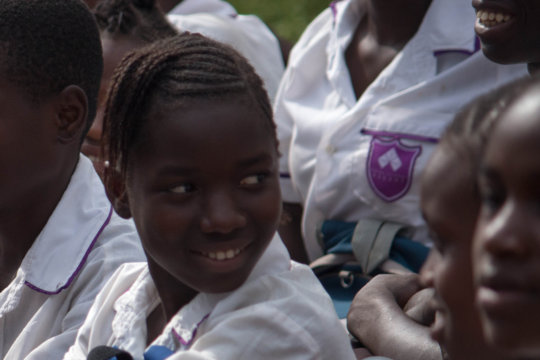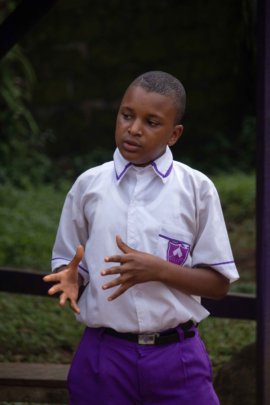 Links: