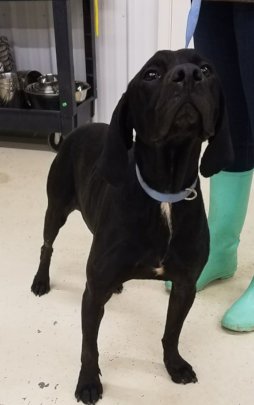 According to the American Heartworm Association "Heartworm disease is a serious and potentially fatal disease in pets in the United States and many other parts of the world. It is caused by foot-long worms (heartworms) that live in the heart, lungs and associated blood vessels of affected pets, causing severe lung disease, heart failure and damage to other organs in the body."
The sad thing about heartworm disease is that it is preventable. Heartworms that live inside the dog grow into adults, reproduce and have babies. When untreated, the numbers increase quickly. Dogs can end up having several hundred worms in their bloodstream. Heartworm disease causes lasting damage to the heart, lungs and arteries, and this damage has an affect on the dog's health and quality of life long after the parasites are gone.
Sadly, heartworm positive strays and owner surrendered dogs are entering into facilities daily. Warrick County Animal Control usually has at least 1-2 dogs every month that require treatment. The cost varies from animal to animal based on weight and the worm burden. The average cost though is $400 per dog.
Recently we had three dogs test High Antigen Positive ALL IN ONE DAY! This can be over whelming for a small rural facility that doesnt have a budget for most of the animals needs.
The three heartworm positive dogs are; Amax, a Pointer mix dumped at a local soccer field is a big puppy. Hershey, a Senior Lab mix, was an owner surrender that refused to stop letting their dog run loose with zero vet care. Sasha, a super friendly Am Staff Mix, was picked up as a stray but later we found the owner who decided she wanted to rehome her instead of reclaim her.
Warrick Animal Guardians tried to raise $1200 to have all three dogs treated but thus far only $900 has been donated. We are still trying so one of the dogs do have to be euthanized. We have to continue to have support to make a difference in these animals lives!
Thank you for your donations!