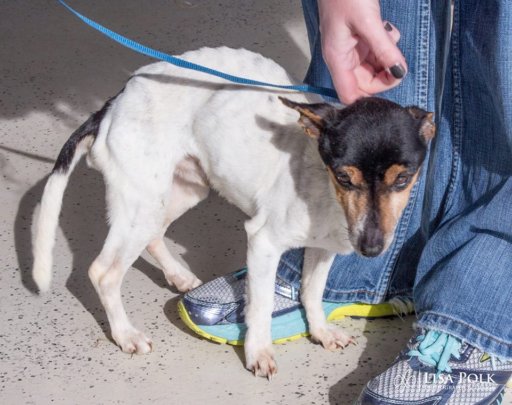 Many times animal control facilities impound animals in poor condition due to neglect, substandard living conditions and have many health issues caused by owners not caring. Warrick County Animal Control is no different than many poorly funded government agencies that must take in abused and neglected animals. These cases are often times VERY costly and a result of lack of funding find those animal put to death. Recently WCAC had such a case of five dogs, one cat and a Bearded Dragon, with the total cost of over four thousand dollars. The county just doesn't have the funds to cover these expensive cases and help the animals. Thankfully, your donations to Warrick Animal Guardians covered the care of these animals. Four of the five had heartworms and one even had Erhliciosis a tick borne disease. The largest dog Kota ALONE cost nearly $900 to treat. All but one of the dogs had a very low body condition score and one was near death; It was surprising that poor little Rascal even made it to the vets office. He literally was falling down and unable to stand. His gums were white and he was severly anemic due tot he fleas sucking the life from him. He had multiple trips to the vet to help diagnois what was wrong with him and treat. He had to have special food that was sixty-four dollars a case. Athena was so severely emaciated she was a walking skeleton, but made a full recovery as did all the others with proper food, water and medical care. Without the help from your donations WCAC would NOT have been able to make sure ALL of the animals got help and subsequently made it into new homes or rescue.
The future looks bright the the animals of Warrick County and new cases as the funding can be provided by your generous donations. Thank you for helping us save animals like Athena, Dixie, Kota, Rascal, Snoopy and our now fat lizard!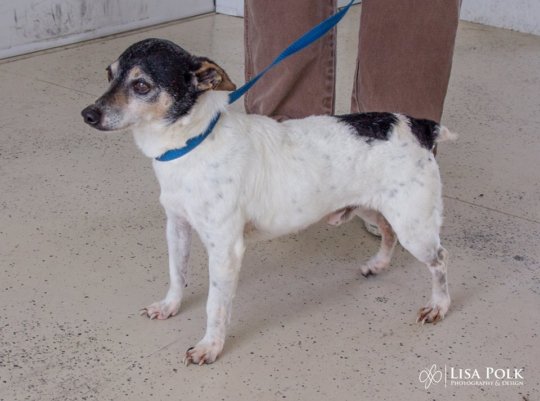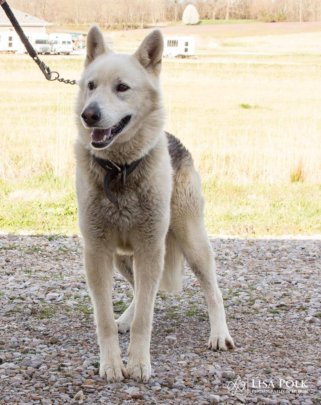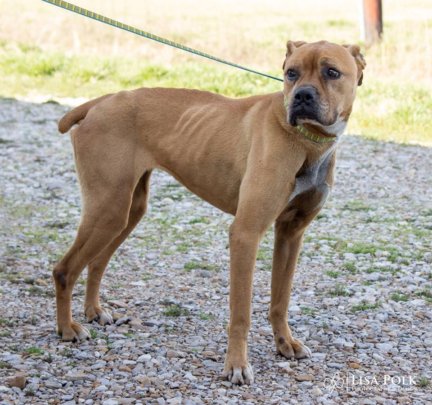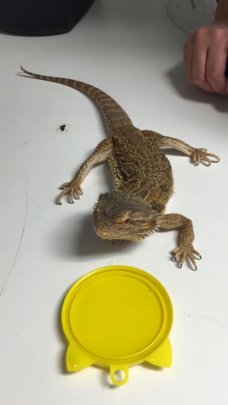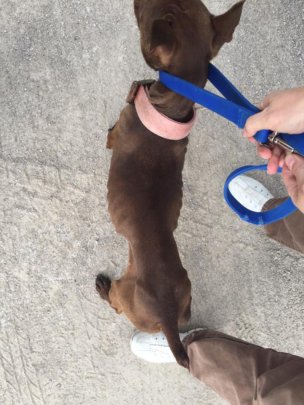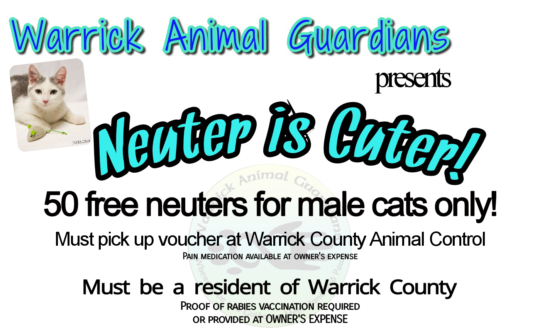 The "Neuter is Cuter" is an event targeted at low income families or people who don't want to spend the money on having their cats neutered. Events such as "Neuter is Cuter" help to reduce the euthanasia population in our community. By getting more cats neutered, fewer cats are being born. This project alone will be helping not only the FIFTY cats we are having altered, but countless others will NOT be born as a result of these cats being unable to populate.
Besides the "neuter is Cuter" event, your donations will also be helping female cast get spayed in the next few months with another event. "50/50 Spay" Warrick Animal Guardians will be paying half of the cost of every female cat up to 50 cats total! We feel these types of events are what will reduce the cat over population in our area and reduce the number of cats being euthanized.
Can you imagine ONE HUNDRED TWENTY SEVEN cats coming into a tiny rural facility that houses 8-10 cats normally? AND in only ONE month! 2014 euthanasia numbers at Warrick County Animal Control alone were 72%. Last year a huge improvement was made by these exact types of events with a record low of 58%. BUT Warrick Animal Guardians is NOT done. We want to continue this trend of lowering the numbers of euthanasia. Your donations directly impact the amount of animals we are able to help save, treat and spay/neuter.
A donation in any amount can make that difference....even $5. But, for every $20 another cat can get neutered and for every $50 another cat can get spayed. Thank you for your continued support in helping the animals of Warrick County and beyond!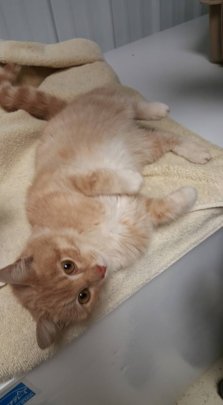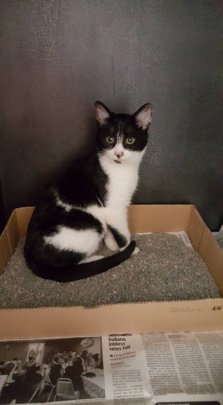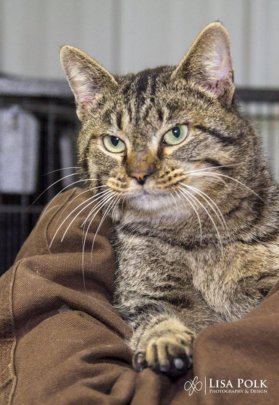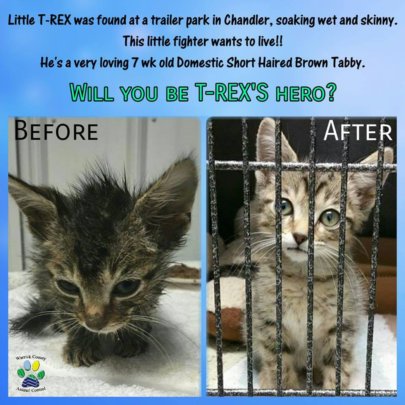 One of Warrick Animal Guardians missions is to lower the euthanasia rate at Warrick County Animal Control. Because the animal control facility is located in a small rural community they have many issues with homeless cats. They get cats from people as strays, feral, fractious and even owner surrender cats. Up to 127 cats in one month that includes sick, pregnant or new kittens. Helping these cats can be costly. Warrick Animal Guardians usually provides the food and litter when donations do not come into the facility. We also provide 100% of the vaccinations, flea meds, dewormer and when we get the donations to cover the FeLv/FIV tests.
Cats and Kittens like Potato and T-Rex were at the animal control for longer than usual and it didn't look good for their future. T-Rex in particular was very unhealthy and needed to see a vet and be on antibiotics. Not to mention flea infested and under weight. Thanks to donations to Warrick Animal Guardians was able to fully vet them and they both found wonderful homes. Warrick Animal Guardians has been able to help many, many cats and kittens in this situation because of generous donations from people like you and we apprecaite it very much. We couldn't do it without you! Thank you!
How do you think we could show the importance to owners to spay and neuter their cats in our community, to help reduce the amount of incoming cats to facilities like theirs?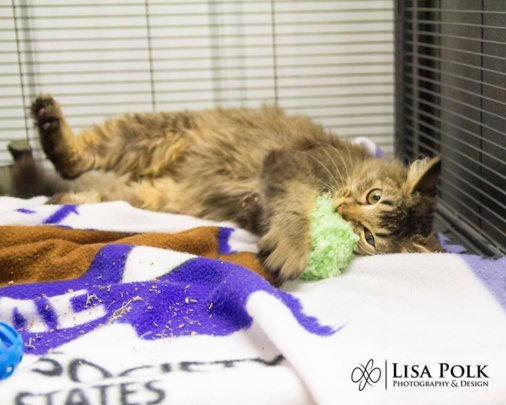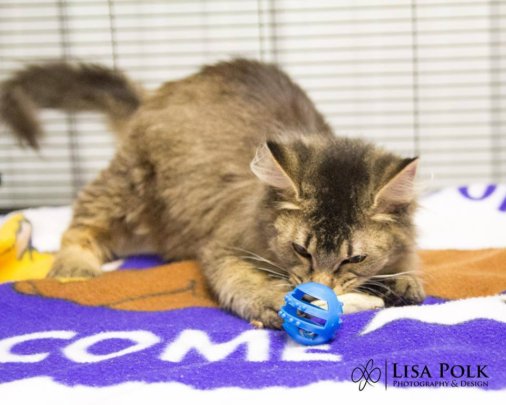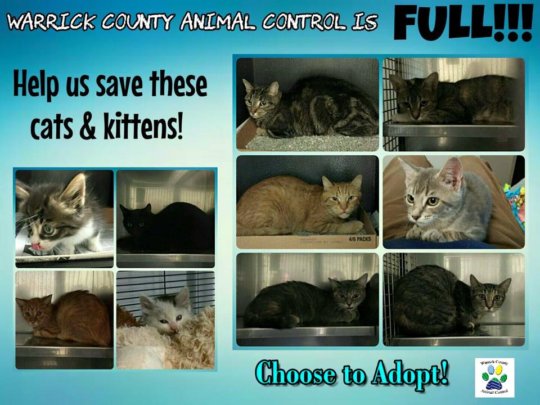 WARNING: Javascript is currently disabled or is not available in your browser. GlobalGiving makes extensive use of Javascript and will not function properly with Javascript disabled.
Please enable Javascript
and refresh this page.