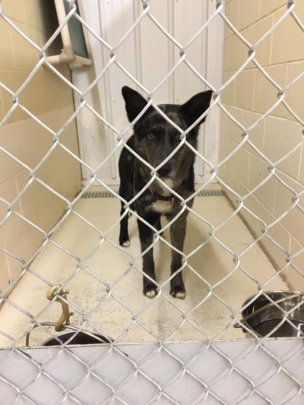 Warrick County Animal Control gets stray and owner surrender dogs in weekly. Usually 1 to 2 dogs per week are heartworm positive. Heartworms are transmitted by a mosquiot bite and can be prevented. Howver, in our small rural community many people do not provide heartworm preventative much less visit a veterinarian for other normal care.
Heartworm disease will eventually damage the dogs heart and needs to be treated immediately to prevent further damage to the heart. Depending on weight this can cost a minimum of $300 dollars for smaller dogs and upwards to $750 for larger dogs. This is NOT including antibiotics, steroids, boarding or a second treatment for advanced cases.
Warrick Animal Guardians raises the much needed funds for these dogs to get them healthy again! Without your donation dollars they could not treat any dogs much less an avergae of four a month!
Dogs like Suey, an owner surrendered, female unspayed Aussie mix that lived her life in a backyard on a chain for years. She is a wonderful dog and we found a rescue that will take her in Illinois. However, we have to get her spayed and treated for heartworms before she can be transported.
Or dogs like Reba, another owner surrender, female Labrador Retriever that has been outside her entire life that is High Antigen Heartworm positive. She is experiencing side effects of advanced heartworm disease and will also need radiographs included in her treatment plan. She is currently waiting for a rescue or adoption.
Then there is Grunt. He has been at our facility numerous times and he family finally didn't want to pay to get him out this time. He was always reclaimed before we had heartworm tested him but this time we did it. He was positive as well! Luckily a vet tech has adopted him and we will split the cost of his treatment.
Or lastly dogs like Otis Spunkmeyer that came in as a stray. We dont know what his story is other than a sweet boy! He was rescued by a local rescue after we treated him!
Raising funds can be difficult for many groups, but thankfully we have donors from around the world via Gloabal Giving and we thank you!