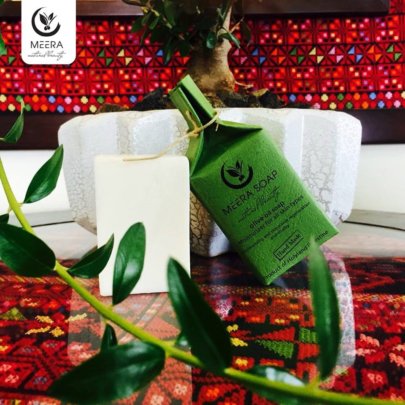 It is with no doubt that starting a business comes with many different challenges. For Palestinian female entrepreneurs, starting a business in Palestine means overcoming a number of difficulties such as limited access to financial assistance, restriction of movement imposed by military occupation, and gender based stereotypesAs a way of addressing this issue TYO runs a female entrepreneurship program, in hopes of elevating the position of women entrepreneurs in the Palestinian economy.
We are proud to introduce Howaida, the founder of Meera Soap and one of our hardworking female entrepreneurs at TYO! Howaida spent the majority of her career working in production and manufacturing in soap factories in and around Nablus. In 2011, she decided to take the skills she had acquired and start crafting her own products.
Howaida shared with TYO's Women's Empowerment Program Coordinator her experience as an ascending female entrepreneur in Palestine and her steps to gradually growing her business in hopes of encouraging fellow female entrepreneurs
"My name is Huwaida and I created Meera Soap, a soap business named after my daughter. I make soap from olive oil, honey, goat milk, cacao, salt, and lavender. Whenever a customer wants to order soap with a specific product, I happily make it for them!
This project not only gave me additional business management skills, but it has provided me with confidence to proudly state my mission and achieve my goals. To help grow and legitimize my business, I registered with the Chamber of Commerce and opened a bank account with Bank of Palestine.
Registration with the Chamber of Commerce is a critical step for any entrepreneur who is serious about business. I highly recommend registration to up and coming businesswomen. Registration with the Chamber of Commerce allows me to apply to sell my products across borders and also allows me to use official channels to import and export products for my business. Additionally, a business appears more legitimate and trustworthy to customers and other business people when registered with the Chamber of Commerce. Registering has also given me more confidence and allows me to tap into my personal power as a Palestinian woman entrepreneur.
I also opened an account with Bank of Palestine. When working with international customers, I will be viewed as professional because they can transfer payment directly to my bank account as opposed to through Western Union or money gram.
My business and experiences continue to expand day by day. I recently purchased two beehives with a business partner. He is keeping the bees and we are sharing the honey. I am making soap from my own honey now! In January 2017, I had the opportunity to participate in a five-day bazaar held in Amman, Jordan. I was able to showcase my handmade Palestinian soap products to many new customers, grow my business network, and access a new international market. I am currently expanding my business to reach additional markets overseas. My products have been sold in England, America, Germany, and Jordan, and I am in the process of reaching both Denmark and United Arab Emirates. Hopefully one day Meera Soap becomes a worldwide brand."