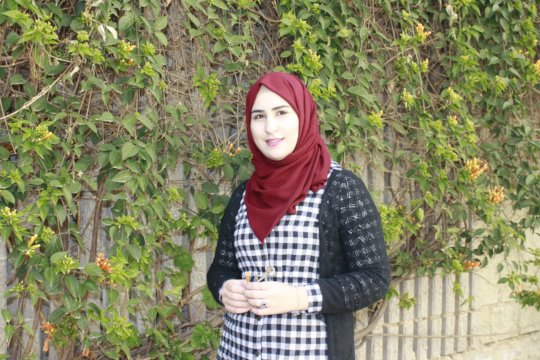 My name is Wafa'a, and I am from Tulkarem. Through my business, "Wafa Collection, "I make and sell handmade accessories, wedding favors, bridal bouquets, and dresses for young girls. My target market is primarily young women. Growing up, one of the things I enjoyed most was creating handmade products out of materials available around my home, and over time I became more skilled and talented in this field. However, it wasn't until I joined the Advancing Palestinian Women Entrepreneurs (APWE) project in 2015 that I learned how I could turn my pastime into a business. APWE put me on my path to run the successful business that I have today.
Before joining the project, I would sometimes make products and offer them for free to friends, neighbors, and acquaintances to observe their reaction and improve on my work. When I noticed how positive their reactions were, I made the decision to start my own business. I started off by creating an official social media page to promote my work through photos. The issue was that I had a number of interested customers whose needs and requests I could not satisfy, and I knew that I needed more formal training to improve my business and customer relations.
Through APWE, I have learned so many new helpful business practices. I have learned how to be detail-oriented and account for every step in the process of selling one of my products, from initial communication with customer, through production, until delivery and receiving their feedback. I've realized how helpful and important it is to develop a formal business, marketing, and financial plan to experiment with new techniques and then have the tools to evaluate how my business is doing.
In addition, previously I had been sending my products to a tailor to complete the finishing because my finishing and sewing skills were not strong enough, and that significantly increased the cost of my products. I learned through APWE that making a small investment in improving my own product finishing techniques could help me reduce the cost and production time for my products greatly. Through the mentorships, I was paired with a talented tailor. Over four days, I learned how to do proper finishing on products as diverse as purses, wallets, hair accessories, and scarves. I've started to implement these new skills with my products, and I am extremely satisfied with the results.
APWE has also boosted my confidence. While showcasing my products at the Entrepreneur and More exhibition, I felt so proud of myself and what I had accomplished in the previous year. Many customers praised my work for its quality and good taste. After the exhibition, many more orders started coming in through my official business Facebook page. I think that having the opportunity to interact in person with customers at the exhibition increased their trust and confidence in me as a business woman who cares about their needs.
Recently, I had the opportunity to sell my products in six different shops. Three of these shops submit regular requests for about 50-100 products per month, and the other three request products based upon their need and current supply. I can already see how much Wafa Collection is going to improve in the coming years. It was difficult at first without the right support system and knowledge around me, but having the opportunity to learn new business practices in APWE gave me the mindset and skills to succeed. Now I know that I can achieve anything with the right skills, knowledge, and trust in myself.