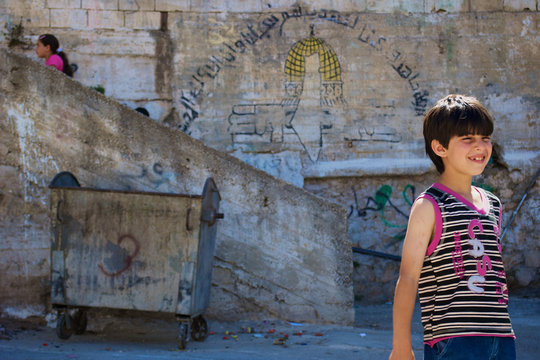 Shukran and thank you for helping us provide education and smile to refugee children in the West Bank!
Because of you our talented staff--a blend of Internationals and Palestinians--are able to provide high quality non-formal education to hundreds of children who need it the most.
Want to make your gift go even further?
Starting at 12:01 am EST, on OCTOBER 19, 2011 GlobalGiving will be MATCHING ALL DONATIONS (up to $1,000 per donor, per project) at 30%. There will be $100,000 available in matching funds and matching will last until funds run out (or until 11:59 pm EDT).
Curious about where our students come from?
Read a first hand account "Balata: My first time in a Refugee Camp" written by Abi, a fall 2011 intern at TYO Nablus.

We climb out of the taxi into what looks like a back alleyway but is actually a street in Balata. The buildings are tall structures of concrete; the air is heavy, stagnant and hot. Everything is gray and light brown until we reach the Yaffa Cultural Center where colorful Graffiti covers all of the visible walls. From the roof we can see the entire camp that looks more like a small city and is home to around 30,000 people.
As I walk through Balata, the alleyways become tighter and tighter. I look up and see a small sliver of blue sky far above; the concrete jungle covers all else. Its like a maze, I am thankful for our local guide who directs us this way and that. Over-crowding, un-healthy water and sanitation are all evident as we walk over small pools of liquid and duck as something is dumped from above onto the concrete street. We look up at the building only about four stories high it is home to almost 100 people.
Imagine growing up in this grid -lock, where do you play? There is no space. This is home to a majority of our students.
I am hit by the significance of this. Of my role at TYO teaching these children in a place that gives them space. It is a place where they can kick a soccer ball and run around. A place to learn in an un-crowded environment; where they are recognized as individuals. A place where they can just be kids.
I am more than motivated to be their teacher, their coach and their friend.
Again, thank you for your support!
Please stay tuned for more updates from TYO Programs in Nablus via Global Giving or visit our blog for the latest news www.tomorrowsyouth.org/blog.