Dear Toybank Project Supporters,
Greetings from Toybank! We have wrapped up the financial year 2016-17 and are happy to say that it has been a landmark one for us. We've also begun this new financial year on a positive note. Thank you so much for all the support rendered through the year in helping us impact more children.
Toybank is on a path of expanding and reaching out to many more deserving children this year. We are currently focused on delving into the impact of play on each child and really analysing the benefits of healthy play and it's role in addressing development needs in children.
Specifically, for the months of February, March and April, Toybank has conducted 195 play sessions at our centres across Mumbai, reaching out to 5,198 children. In these three months, we have also replaced toys at 28 of our urban and rural centres to restock them with new and innovative games to suit each child's need.
A large part of our work involves creating and spreading awareness among individuals and ensuring that they are sensitized. A host of events that took place in these past three months have helped us reach out to sensitize more people and make them aware of our cause. The Kala Ghoda Arts Festival in Mumbai and QTube Café play sessions have helped us spread awareness and also build relationships with new volunteers who are very supportive of our cause. We've also conducted sensitization sessions with corporates and schools in Mumbai to create awareness about the necessity of play for all children.
In the month of February, Toybank launched a new project called 'Play2Smile'. In collaboration with hospitals and palliative care centres, Toybank has set up game libraries in the premises to provide access to hygienic toys and healthy play. Through this project, we wish to help in creating a happy environment where children can immerse in play and enjoy the variety of games and toys stocked at the centre. As of date, we have set-up 2 game libraries in collaboration with one hospital and one palliative care centre. Through play therapy, we aim to help the children towards better trauma resolution, social integration, growth and development and emotional modulation.
Story from the Field:
Arav (name changed) is a part of our Toybank- Mumbai Smiles game library. At age 7, he is the oldest child at the day care centre.
After birth, Arav was prone to epilepsy attacks, diagnosed with jaundice and was severely weak. His movement and speech started later than most other kids his age and mostly used sign language to communicate to his parents. Currently, at age seven, Arav is able to understand everything in his surrounding and also react through expressions, for example, respond to someone with a smile.
At the Mumbai Smiles day care centre, Arav plays with all children. However, on close observation by Laxman, our Toybank field officer, he is hesitant at times and keeps to himself. He also showed signs of low self-confidence. Laxman spoke to the centre head and parents of Arav to understand his usual behavior and history. On understanding the situation, Laxman began conducting one-on-one sessions with Arav every time he visited the centre. With the aid of specialized games to play with and voice modulations to instruct, Laxman began creating his own method of play therapy with Arav. He used games like ball throw and catch, wooden blocks and puzzles and also made sure he was included in the group games.
Along with other children, Laxman conducted a lot of action songs and rhymes at the center, ensuring that Arav was able to follow and take part with the other children. To make the space more inclusive, Laxman pushed Arav to be a part of the group and also sensitized his fellow members to play with him. Arav started showing signs of 'finding the gaps'. For example, when Laxman gave out instructions to the entire team, and if any of them would not follow it, Arav would point it out to Laxman. Apart from this, Laxman has also been guiding the family on how to keep encouraging play for Arav at the home level by introducing the concept of playing with colors, sand, etc.
We are happy to say that Arav is a much more curious child now and is more involved with everyone in the team. A long way to go for Laxman but the journey has begun on a very positive note.
At Toybank, we work with many children like Arav. The efforts from each person on the team is put in to ensure that the best is provided for our children.
We thank you once again for your contribution and to continue supporting us please do hit the donate button on our Project page. We look forward to your continued support to ensure that all children in India are given this opportunity to play, and in the process, help in their growth and development.
Warm regards,
Shweta Chari,
Founder and CEO, Toybank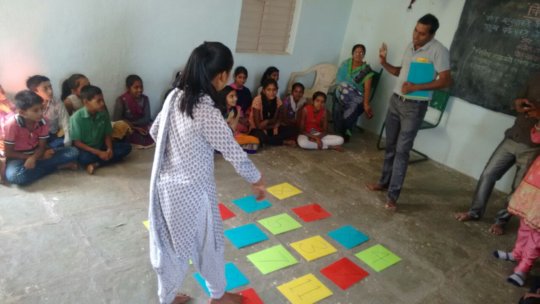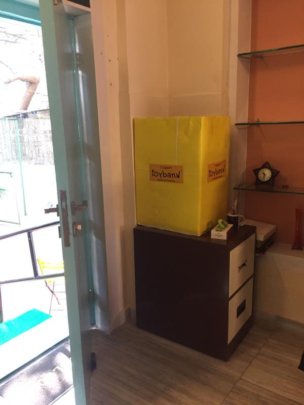 Links: