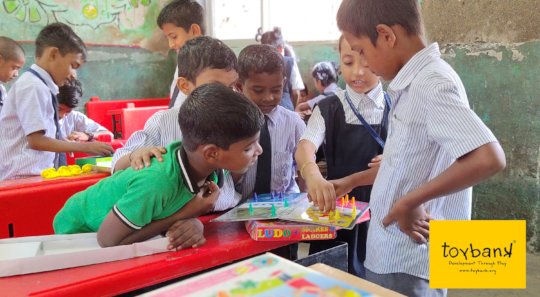 "If you think you are too small to make a difference, try sleeping in a room with a tiny mosquito!" - Shweta Chari, Founder & CEO of Toybank
The statement that Shweta cites in her sensitization speeches when encouraging individuals to drive social change may seem trivial and humorous but it carries great weight. What she implies is that each young individual has opportunities and resources — education, teachers, friends, music, poetry, art, etc. — to make great strides in their life. Think about what you have and what works for you. Don't waste time mulling over what you don't have and what doesn't work for you. Focus on what you got and go make that change well within your lifetime!
Even at Toybank, to achieve Development Through Play, every key stakeholder takes the lead, an initiative and the opportunity in their own unique way to build a better world for others and themselves. This report will give you a peek into play's role in building leadership skills through updates and stories of children, teachers, Toybank's full-time team and our extended family of volunteers.
Stories of Change : The little guides!
Life for children in Andheri East's slum habitation is bleak and mired in poor housing conditions, inadequate civic amenities, insecurity and unstable livelihoods. Our Play Centers are a safe and nurturing haven for them to build positive socio-emotional skills.
I once arrived at the Play Center suffering from mumps. As soon as the children realized this, two boys — Aayush and Rohan (names changed) — assumed my role of a Programme Officer(PO) and took my responsibilities even though I never asked them to. Not only did they ensure that I wasn't troubled by the class and maintained a decorum but also managed games distribution, calming the children down and seating them properly. Just like a PO's role, they made groups and helped conduct the Play Session effortlessly.
With this, the kids displayed thoughtfulness, empathy, maturity, discipline and responsibility. Seeing play make responsible little guides of them, the PO was happy to observe the influence all her play sessions, over the past 5 months, have had on her relationship with the children. The fruits of being there for the children consistently and giving them opportunities to develop key skills was strongly reflected in their behavior
- By Jaya Dhokare, Team Toybank

Outreach in November, December 2019 & January 2020
This quarter we worked collaboratively with close to 140 partner facilitators (teachers, caregivers) in implementing our Conscious Play™ methodologies via 1,200+ Play Sessions to reach over 19,000 children (as of 28th January 2020).
Play sessions:
Children taking the lead
According to numerous leadership researchers, individuals who become effective leaders exhibit or develop five core characteristics — innovativeness, empathy, optimism, self-confidence and curiosity (Barthold, Shelby K., "The Emergence of Leadership in Children: The Role of Play, Athletics, and School" (2014). CMC Senior Theses. Paper 859.) While leaders display these traits in their respective professions, children are not too far behind in developing them through their area of specialization — play.
Learning leadership and accountability
Children do not always have or aren't given the opportunity to take responsibilities, which in turn affects their self-confidence. At Toybank's Play Centers, we use play to inculcate a sense of ownership and responsibility in kids. One such center has a high count of children (more than 50 at times), which makes conducting play sessions a challenge for the PO. To cultivate accountability, the PO appointed a girl and a boy to facilitate the class. They proudly took up the onus of caring for the board games, ensured the session was conducted smoothly and each time there was an argument, sorted it out before the PO could intervene. Soon, the children volunteered to oversee the sessions. They took charge right from handing the games to packing and storing them back neatly. Practising leadership and accountability today will go a long way as adults!
Preparing to face uncertainty and change requires ingenuity and flexibility in our thinking and decision-making. Through play, children view problems from different perspectives, troubleshoot and think of inventive ways to solve the problem. The kids at one of our Play Sessions proved this while playing Twister. Nothing could stop them from playing! Not even the missing spinner. They wrote the rules on chits, shuffled them in their palms, picked them out randomly and continued playing.
Although an individual continues to learn vital leadership skills past childhood, the skills learned later are built from the skills learned when young, which only stresses the importance of learning them as a child.
A caregiver's Conscious role in leading development through play
Developing any kind of life skill, including leadership, is dependent on the environment, social context, timing and other individuals (caregivers, teachers, family, classmates, etc.) that children interact with. This is why Toybank's Conscious Play™ approach has a crucial role. Over the years, and as suggested by research, our team has observed that the more we interact with children at Play Centers, the deeper we understand their developmental needs. This has led to more quality curation of play sessions to address those needs. In a nutshell, we have started being more mindful of how play experiences have impacted children's behavioral and mental well-being and used a more conscious approach while integrating play in their lives.
Our partner facilitators across Play Centers are trained to implement this Conscious Play™ approach to optimally use board games and play-based activities to empower children. For example, in Solapur district, a primary school teacher used the game of Lotto or Housie to uniquely teach numbers in English and Marathi. Each time, she announced the number in both the languages, thus reinforcing their learning. Post the session, the children were asked to note down the numbers on their ticket in a book to practice and retain this learning. This game helped children to recognize numbers and listen more attentively for the next number coming up. We saw the children stay patient and focused. We also saw the teacher using the play methodology to enhance their learning of numerical and language skills.
Volunteers leading play
In November, we had a massive Corporate Social Responsibility(CSR) initiative led by close to 300 corporate employees. They spent an entire day creating meaningful impact in the lives of over 1,000 children at Toybank's Play Centers. They focused on conducting activities that enhance learning and build skills. These involved playing a mega-sized crossword on a black board, a game of Pictionary, creating butterflies through the origami folding technique, making craft items with paper plates, painting ice-cream sticks, coloring, etc. One of the highlights of the event was an activity conducted to learn the tricks and strategy of solving the Rubik's Cube. The corporate volunteers printed a step-by-step guide to understand the components of a Cube and how to solve it.


In December, our CAS volunteer, Rehan hosted a special learning session on the conservation of mangroves in Mumbai City and the importance of sustainability in our daily lives. He took inspiration from our play sessions and used play through flashcards to instill a sense of scientific inquiry in the children.


During our annual fundraiser, Fiesta 2019, our volunteers played an exceptional role in supporting our team. Even though each volunteer came from a different background - a student, a parent, a corporate employee, etc. - each of them like uniquely shaped mosaic pieces came together as one unit ready to support each other, all with the ultimate goal of pulling off the event seamlessly.
Pushing Play Forward
Conscious Play™ has reached so many children - lesser-privileged as well as affluent, teenagers, adults, teachers, principals, etc. We have seen them be happy, learn joyously, think critically and have responsibility for themselves through play.
We hope the stories and the change we've highlighted within this report inspire you to continue supporting our work. We couldn't have built this play-filled and purposeful world for our children without your support. Once again, we are truly grateful and we look forward to strengthening our work along with you.
Thank you and Happy Toybanking!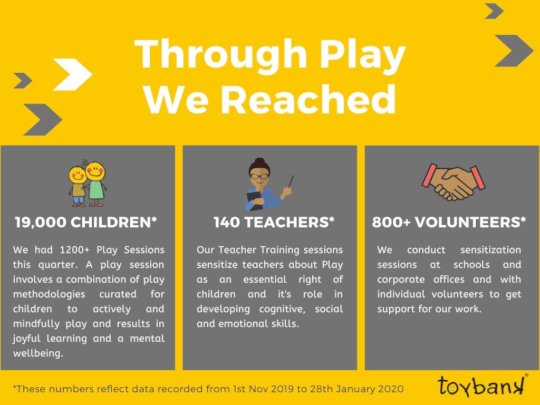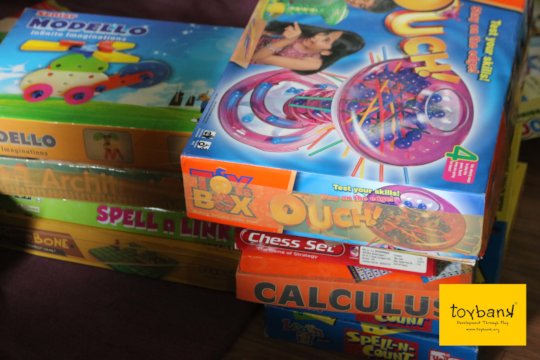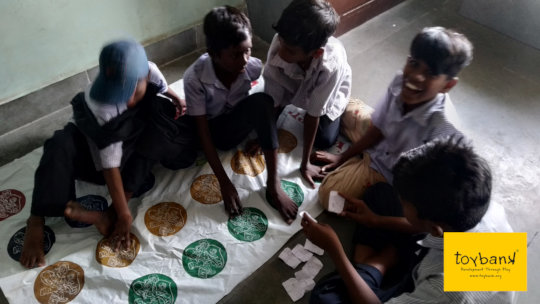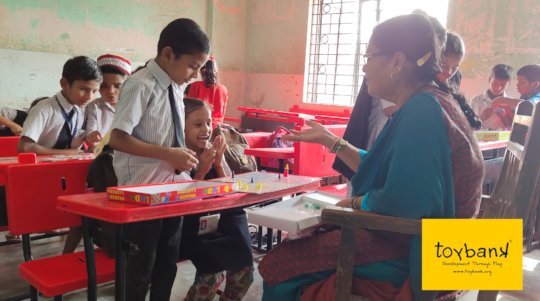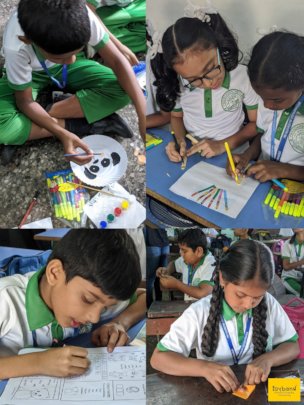 Links: