Almost all children are possessive about a favorite toy or game. At our Play Centers as well, we have observed that majority of children find it hard to part away from a game and hesitate to invite a friend in playing together or refuse to lend their game to a friend for a little while. This habit is primarily seen in pre-school and if children aren't inculcated with positive ways of living with others at an early age, their social skills are affected later on as adults.
Children growing up in challenging circumstances, in the 21st Century, need to be able to adapt to new situations, take risks, develop a variety of skills, explore alternatives, share and co-exist with each other. These skills will not only help them navigate through adversities and successes that come their way TODAY, but will prepare them for FUTURE endeavors as well.
In this report, we're excited to share, how we build social skills in children through play methodologies, as well as highlight how play, through our intervention, brings together individuals from various walks of life to accelerate development in the lives of vulnerable children.
Stories of Change
At a community center we work in, a group of 4 children refused to play with each other because of a feud that had been going on for a while. They were adamant on playing separately.
An idea sprung up in my mind. I gave them to make a 200-piece jigsaw puzzle which had over 6 types of dinosaurs. Although it was one big puzzle, I told them that they had to make one dinosaur each. They sat at a distance from each other with a huge pile of jumbled up pieces between them. Each with an individual goal in mind, started putting together their dinosaurs.
As the game progressed, they searched for puzzle pieces with their respective dinosaur's color and patterns. Gradually, as their dinosaurs took form, the pile in the center grew smaller. Whenever they would find someone else's dinosaur piece they would give it to the other person. They were so engrossed in playing, they unknowingly started to help each other. They started talking about their dinosaurs, which part is missing and whether the other person had seen the missing puzzle piece.
Eventually, when they couldn't find the edges of their puzzles, they realized that this was all part of one big image. Finally, when they finished the whole puzzle they were very excited and appreciated each other efforts.
- By Toybank's team member.
Outreach in June, July and August 2019
This quarter we worked collaboratively with close to 300 partner facilitators in implementing our play methodologies via 800+ Play Sessions to reach over 7,000 children (as of 20th August 2019).
Play sessions:
Over the last 3 months, our focus was on interpersonal skills and eating healthy food through a diverse set of board-games and interactive conversations. It's the monsoon season in India, and many children are at-risk of falling ill due to inadequate sanitation and unhealthy eating habits. We addressed these issues through fruit and vegetable puzzles and flashcards. We also conducted a special coloring session on healthy eating and oral hygiene. We also played games that encourage teamwork and collaboration.
Rural Visit:
We're thrilled to announce that, our work has kick-started in Latur district of Maharashtra with 16 new Play Centers providing access to quality playtime for over 1000 children.
We also visited Beed and Nanded districts of Maharashtra. We had an entire day of intensive games learning where we took feedback from the teachers regarding facilitation concerns they have had during play sessions. We shared some essential tricks on how to manage a class in a child-friendly manner. We simplified complex games to suit the developing needs of their students, so that they joyfully play and learn. Post this, we visited Play Centers to ensure they're smoothly running.
Awards:
On 19th June, Toybank was honoured as the Gold recipient of the Global Good Awards, UK under the Education category. Our intervention has truly brought unique learning opportunities for at-risk children and above all it engages every child, irrespective of gender, age or impairments. Play is a language all children speak and rightly so, this recognition is a testament to all our stakeholders coming together to accelerate children's empowerment through play.
Thank you for taking time out to read this report. We look forward to your continued support to ensure that all children in India are given this opportunity for early childhood mental well-being.
Thank you and Happy Toybanking!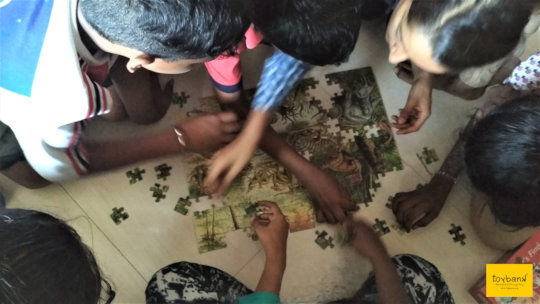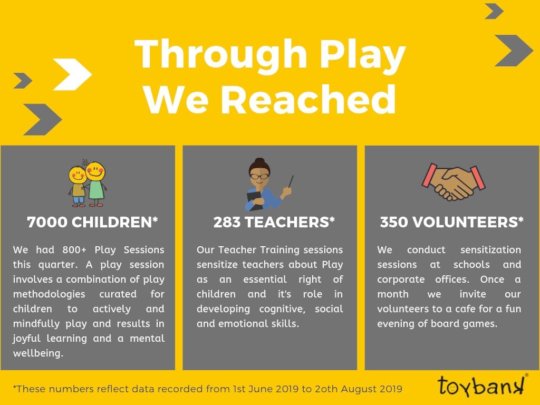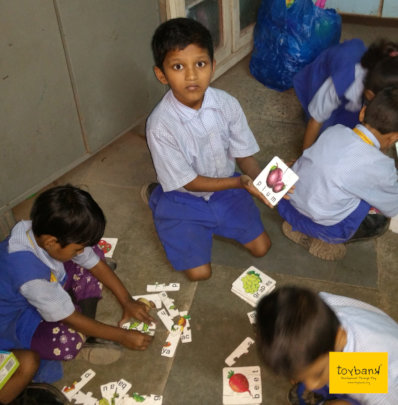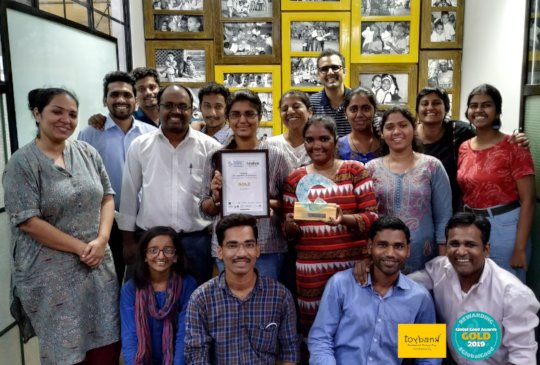 Links: