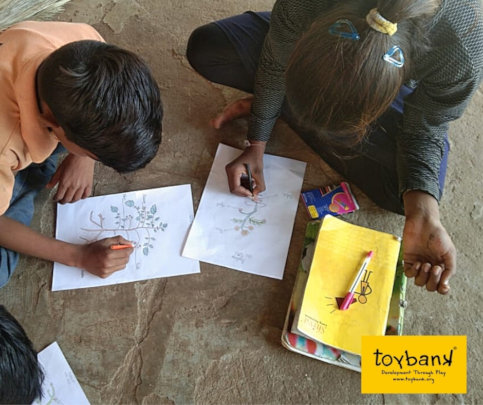 With 2020 wrapped up, our human spirit is reflecting upon a year that one would rather forget. So that we learn from it and use the experience to make us stronger. We also reflected about how our children held through all that they lost out on and how their caregivers, our team and our dear supporters stepped up to back them.
According to the Annual Status of Education Report (ASER) 2020, 60% children now have access to smartphones. 1 in 10 households have bought a smartphone. However, access to a smartphone doesn't ensure quality learning and the digital divide further widens the learning gap, especially for at-risk children. The report also highlights inadequate learning materials out of which most are textbooks and the rest dependent on smartphones and internet connectivity.WhatsApp has been a far more popular and accessible medium for transferring learning materials and, therefore, Toybank disseminates its Play2Learn Kit through this medium. Caregivers from across the country, whether teachers struggling with the digital medium or parents who aren't equipped financially or inadequately educated to support their children's learning needs, have found our kit beneficial.
Aligning our Play2Learn Kit with the national curriculum
With schools being shut for over 9 months since March 2020, our children's play and learning opportunities have been hampered. While there is better news for high school children with schools reopening in some states of India, the younger children—preschool through primary grades—are still unable to access quality learning as they should in their formative years. To bridge these gaps, our Play2Learn Kit is aligned to academic topics in the National Council of Educational Research and Training (NCERT) curriculum and Diksha App. The kit is made for various age groups and learning levels ensuring that all children learn.
Making up for the online learning divide, our activities equip our children with a variety of skills and topics including science experiments, numerical and linguistic skills, geography, history, environmental studies, self-awareness and healthy habits. This alignment supports tutors as they do not have to uproot their lesson plans, but employ the kit as an aid. Children are able to independently learn even after the online class ends. Integrating play into learning has boosted their engagement and students who erstwhile struggled to grasp concepts online are more proactive.
Story of Resilience
How Divya overcame her fear of learning loss
As Miss Sunanda from our government school partner rightly says, "Play is a medium that can help students learn unknowingly." This couldn't be truer in Divya's case. The 13-year-old was a dedicated student who submitted her school assignments on time and proactively asked her teacher what to study each day. But as school remained shut, she feared about not being able to catch up with the syllabus at the same pace as her peers. Toybank's Program Officers (PO) encouraged her to remain positive and motivated her to complete her homework as well as playsheets.
Divya's fears subsided once she engaged with our activities that fed her inquiring attitude to learn. She even tries to add little design elements to them before submission. One such activity, Types of Farming Word Search, enabled her to discover the different types of farming. On her next visit to her family's or neighboring farms, she was able to identify the various types and their purposes.
Benefits of our Play2Learn Kits
Accessible and self-directed learning

Safe spaces at home

Staying active during the lockdown

Stimulating learning environment

Outlet for normal development, autonomy-building and exploration

Reduce the severity of potential trauma caused by fear and uncertainty

Promote opportunities for early learning and responsive caregiving
Outreach in September, October and November 2020
We have ensured that on a daily basis, 50,982 children in 6 states and 1 Union Territory of India have continued to learn through play with our Play2Learn Kit. We have guided and supported 2,133 teachers and 7,385 parents through 423 support groups, as of 30 November, 2020.
Being a buddy in need
While children are losing out on social interactions during the pandemic, Toybank's Buddy Program is providing them a circle of friendship, learning and growth to help them deal with isolation, confusion and everyday hardships. The program involves our volunteers playing the Big Buddy and conducting online Play2Learn Sessions, sharing, expressing, indulging in hobbies together. The sessions are all about the synergy between our children and volunteers and building resilience through new skills and positive experiences.
Bridging the gap with conversations
Every revolution begins with words. For play to get the importance it deserves and to bring a paradigm shift in people's mindset where play is integrated into society at the subconscious level, we have started Toybank Bridge Series Webinars. We had our children and student volunteers share their experiences during the pandemic and their expectations from the future in our debut webinar Gen T: The Generation that Thrives—In Conversation with the Children of the Future. The second webinar Reimagining Child-friendly Spaces—In Conversation with Ratan Batliboi and Arzan Khambatta discussed why children need to be included in decisions while building child-friendly cities.
Play and learning as one
'Children learn as they play. Most importantly, in play children learn how to learn.'
We firmly believe in the all-pervading nature of Play. While it teaches important 21st-century life skills to children, it also enhances their academic learning. As we prioritize education, play must not and cannot be deprioritized. Each one of us, including you, are key to promoting play, reimagining learning and making happier childhoods and stronger children!
With the New Year here, we hope to see a renewed attitude towards play. And we also wish you a happy, healthy, prosperous and playful 2021!
Thank you and Happy Toybanking!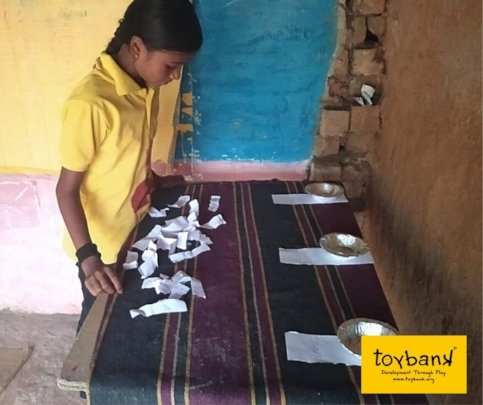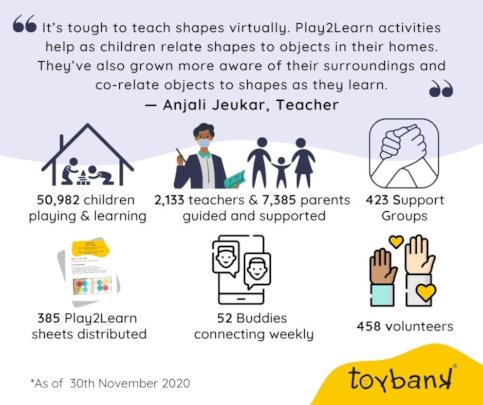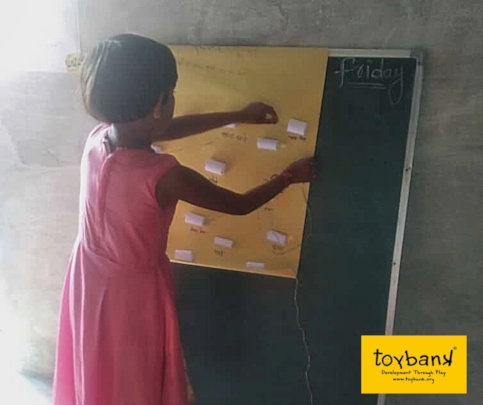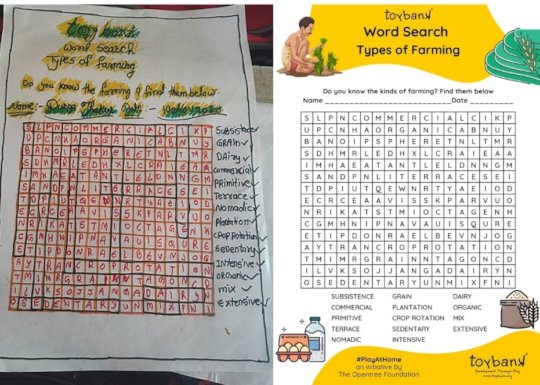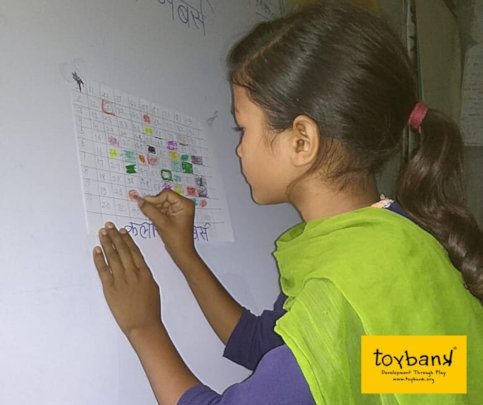 Links: