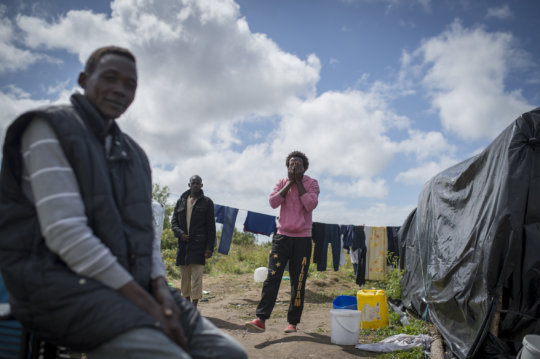 1. Context
Exiles in Calais
Since the mid-90s, the city and surroundings of Calais have attracted a large number of exiles trying to cross the Channel to reach England. Indeed, since the country is out of the international agreements regarding the free circulation of people within the European Union, those exiles cannot cross the border and remain stuck in the Calaisis area. Afghanis, Iraqis, Iranians, Sudanese, Syrians, Kurds and Eritreans: men, women – and children – have been transiting through Calais for 20 years now. The vast majority of them is fleeing from war or repression and is in desperate need for international protection: they are refugees that France, the United Kingdom and all the states of the European Union have sworn to protect since the signature, in 1951, of the Geneva Convention on refugees.
The authorities have been regularly dismantling the places where those persons are settling, without bringing any solutions to the issue, worsening their material and health conditions.
Daily support
Secours Catholique-Caritas France has been involved in the exiles situation for over 10 years, and offers solutions to help those who walk through the doors of its two centers in Calais:
Showers so the exiles can wash themselves,
A locker,
A bicycle workshop so that the exiles living on the land can travel between public offices and reception centers,
French lessons,
Support to deal with administrative procedures especially with the

French Office for Stateless and Refugees Protection
2. 2015: a unique and dramatic situation
In April 2015, Natacha Bouchard, mayor of Calais, told the migrants, in front of all the journalists: "You can settle in the moor".
"The jungle ??? I have been there. I saw it! It's just a wide swamp. There is nothing but piles of garbage here and there. I told myself it was the worst place in Calais: a flood zone, exposed to wind, close to chemicals factories. You can smell the foul odors when it's windy… but I guess it's better than nothing." Mariam Guerey – employee at Secours Catholique-Caritas France in Calais.
This moor later became the biggest slum in Europe, a "city" of more than 8,000 inhabitants where you can find churches, mosques, schools, restaurants, grocery stores, hairdressers and much more… All of this built with wood, plastic sheeting, pallets and recycled objects.
The living conditions of these persons in this new "authorized jungle" are totally unprecedented in Europe. They do not even comply with United Nations rules: insufficient access to drinkable water (30 taps), almost no access to toilets (20 for 3,000 persons), insufficient food and health support.
The deteriorating situation increased tensions and the vulnerability of those refugees. To fight this unique situation, Secours Catholique-Caritas France and 3 other NGOs had no other choices but to deploy their skills and logistic capacities initially used for war zone and natural disaster only, to rescue those men, women and children and make the authorities face their own responsibilities:
Doctors of The World set up mobile clinics to offer medical consultations as well as psychological support
Solidarites International distributed hygiene kits to each person in the camp, as well as cups to keep drinkable water. The teams built sanitary blocks, with showers and toilets.
Secours Catholique – Caritas France brought everything needed (Boards, tarpaulins, nails etc.) to build, with the exiles, shelters, collective kitchens and other facilities in the slum.
Secours Islamique Français distributed more than 3,000 boxes of food.
In this unique situation of emergency, Secours Catholique-Caritas France invested almost 80,000€ to support migrants basic needs.
Secours Catholique-Caritas France could count on your mobilization and commitment in those difficult moments so we would like to sincerely thank you.
3. What happened since then?
The chain of dismantling
A first dismantlement phase of the "new jungle" occurred in February 2016. The information point that Secours Catholique-Caritas France had set up in the heathland, thanks to the donors' generosity, was razed to the ground along with some of the exiles' improvised homes.
In October 2016, 18 months after the announce of Mrs Bouchard, Minister of Internal Affairs, Bernard Cazeneuve, ordered the final shutdown of the slum, due to the authorities unwillingness to structure, arrange and build shelters for the migrants.
Secours Catholique-Caritas France expressed several times its disagreement with how the dismantlement was prepared and organized in Calais, but stood by the exiles, no matter the difficulties.
Our local delegations along with our related association, Association des Cités du Secours Catholique (ACSC), joined forces to welcome migrants from Calais. In many French departments (Cher, Lot, Loire, Val d'Oise…) our teams helped the exiles from Calais to adapt to their new environment.
In the meantime, two of our reception centers, owned by the city of Calais, were relocated. The new center is located on Moscow Street, downtown, with showers and a locker for the migrants. The construction and running of these facilities have cost 166,000€ since 2015.
Our day care center was relocated into temporary constructions in the outskirts of Calais, on Saint Omer Road, where hundreds of young people (under 20 for most of them) come every day for material support or just to rest for few hours.
The "bicycle workshop" project had to be postponed due to the extreme humanitarian situation in Calais. We had to focus our efforts on the basic needs.
The minors remain the most fragile
The minors are our main concern at the moment. They now represent the majority of the person we take care of and their number keeps on rising. Since the dismantlement of the slum, 850 minors have benefited from the family reunification right, moving from Calais straight to Great-Britain. Thousands of young people are still in France, adding to the 8,054 other minors taken care of.
Tensions with public authorities are still at a high level. In the course of February 2017, the city of Calais ordered the installation of dumpsters to block the access of new showers facilities in our reception centers. The Justice declared this operation illegal and had them removed. However, since then, police forces are constantly patrolling around our center to arrest the young people that come to take a shower.
A glimmer of hope
In this ocean of pain, we can see a glimmer of hope: 16 migrants, helped by the Secours Catholique-Caritas France in Calais, staged a play in which they narrate the journey from their homes to France. "To be or not", created from the testimonies of those 16 men, now comedians, gives life to the terrible events they have been through, with a strong sense of abnegation. With only gestures and few words, they tell their French hosts where they are from, who they are and the hard price they had to pay to come here. The group toured in Paris last November for five performances.
Today we keep on working with those refugees in Calais. In the next few months, we want to initiate a food distribution, in cooperation with our partners, and guarantee a permanent access to showers. In the meantime, we regularly call on the authorities and presidential candidates to alert them about this unbearable situation in Calais.
We wanted to thank you once again for your support in our cause. With you, we hope to bring long term solutions to this unprecedented crisis in France.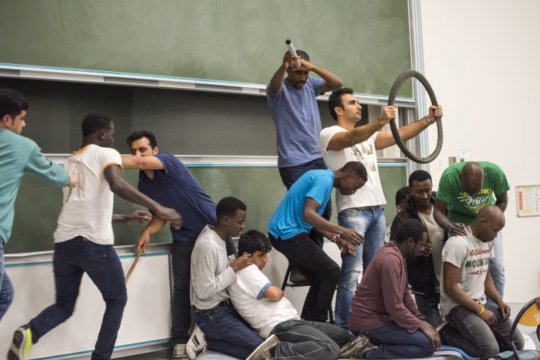 Attachments: