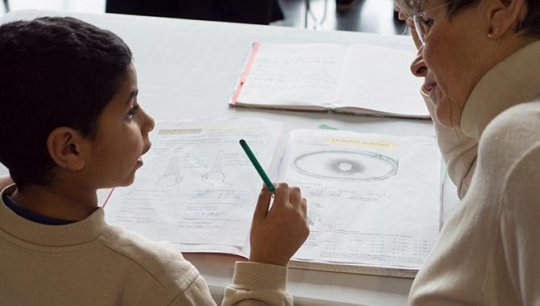 Access to basic knowledge and culture are essential to the well being of society. This is one of the major priority for Secours Catholique-Caritas, France. Our nonprofit organization offers to children with difficulties a personal accompaniment that goes well beyond simple academic support.
Each year, anywhere in France, thousands of children and adolescents who are experiencing academic, social or family difficulties are supported in their educational experience by over 5000 volunteers of Secours Catholique.
This support takes many forms: individual and at home, or in groups. It goes far beyond the school assistance and allows the child to regain confidence in him, through play, cultural outings and encounter.
This personal accompaniment is done in connection with parents who, often, had themselves difficulties with school and therefore now tend to step back. The volunteer helps them to support their child at school and contributes to restore relationship with the institution and the teachers.
We develop an educational follow up of the child based on its psychological, physical, emotional, social, cultural, spiritual whole capacities ... The pedagogy that we use relies on the know-how of the child and respects its acquisition and learning rhythms. By allowing the child to remember his past successes, it is given means to regain confidence in himself and to face additional difficulties.
This approach is in line with our perspective of fighting against illiteracy and social exclusion. It contributes, to a certain extent, to the prevention and reduction of academic failure. While a school support is essential for a child, offering extra-curricular play and learning entertainments allows him to open up to the world surrounding him.
The personal accompaniment of a child is carried out in association with his family. The child and the volunteer should get to know each other before working together. The development of a relationship between an adult and a child outside of the classical scholar, social or paramedical environments also allows, for the child, the development of a solid and constructive relationship within his own neighborhood and surrounding area.
The role of the volunteer is essential. Indeed, it must be a "developer of talents" of children. He implements a pedagogy that chooses to rely on the skills of the child and adheres at the same time to his rates of acquisition and learning.
Here is the testimony of a young volunteer involved in the school accompaniment program in the Yvelines.
"As a third year student at the medical school of Saint-Quentin-en-Yvelines, I am also a volunteer at Secours Catholic for the school support activities. When I started, all the children that needed support were carefully introduced to me: we were given their school level, the evolution and orientation to pursue, but also their personal family situation. Some of these children and their families had been followed for several years by Secours Catholique, thus making contacts easiest and solid.
The presence of several volunteers allows every child to benefit from varied skills such as science, or literature or languages - but also to get access to a large panel of teaching materials, developed and maintained by volunteers (educational games for younger, varied learning methods ...).
The dedicated space (kitchen, living room, office) remains open all afternoon and thus allows the child to come to work according to its availability in a family atmosphere.
To my view, what makes the strength of this team, is a constant concern to establish a deep dialogue, a follow up of the child in direct connection with the parents."
Throughout the school year, 5000 volunteers in more than 216 local teams of the country, participate to the accompaniment of the children.
In 2014, the expenses to support this program amounts to 78 000 euros.
Attachments: