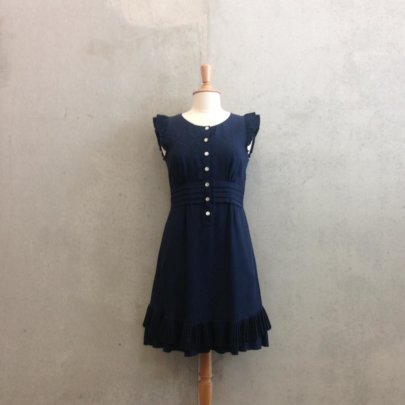 The association Comptoir de la Voûte, created in 2011 by Secours Catholique - Caritas France, is an organization working on integration of unemployed persons by economic activity using the textile collected at Secours Catholique headquarters, 106 rue du Bac in Paris.
The people who are welcomed, most of them women, are salaried in the form of subsidized contracts. They participate in the economic activity of the organization and receive socio-professional support aiming permanent employment in the traditional economic circuit for the workers.
Comptoir de la Voûte's field of activity is the recycling of second-hand clothing, namely the collection, sorting, washing, ironing and marketing of garments in its stores, open to all publics. BIS boutique solidaire thus allows people with small financial means to acquire quality clothing at a very cheap price.
The activity began in January 2012 with the opening of a sorting workshop in the 19th district of Paris, followed in March 2012 by the opening of the store BIS boutique solidaire, Temple Boulevard, in the 3rd district. A second BIS boutique opened in 2016, Lamartine Street in the 9th district.
BIS boutique solidaire's positioning consists in marketing, in a high-end space, an ultra qualitative textile offer - only focused on fashionable, upscale, luxury, couture and vintage items - at a low price (10% of the new price), for women, men and children. This concept is relatively unique in Paris and remains in 2018 without competition in terms of value for money.
Comptoir de la Voûte annually collects 350 tons of textile (1.1 million garments), from 7 associative partners including Secours Catholique-Caritas France (whose headquarters, in the wealthy 7th district, allows a collection of high quality clothes). 170,000 clothes were delivered to BIS boutiques in 2017 and 50,000 distributed free of charge to its associative partners (Secours Catholique of Seine St Denis, Les Petits Frères des Pauvres and Corot Entraide).
To date, Comptoir de la Voûte has a 26 full-time staff (including 8 permanent and 18 subsidized positions) and since 2012, more than 130 integration courses have been created.
Since the start of the project, an extreme attention has been paid to the support's quality. People recruited are systematically far from employment, both socially and professionally. Employees are only recruited according to their motivation, regardless their eventual decision to go for a project or professional experience in the textile industry. There are very few pre-requisites for hiring, other than the need to have a driver's license.
Comptoir de la Voûte proposes an innovative support for workers on integration compared to other equivalent SSE (social and solidarity economy) organizations in at least two aspects:
an extremely professionalized approach regading the economic activity (management coming mainly from fashion, business concept, sorting and logistics methodology, reporting...) to generate significant revenues and dedicate significant resources to the workers' accompaniment,
truly employee-centered courses with a systematic priority given to the workers integration rather than the workshop's production, with long periods devoted to training, enabling achievements in terms of re-employment above average nowadays.
Indeed, workers in integration can benefit, during their working hours, from individual support (social diagnosis / orientation and follow-up, drawing up a skills report, developing a professional project, training in job search techniques and assistance in this research), external refresher training or vocational training, or even qualifying, ranging from a few days to several months.
Initially created in the form of a Workshop - a legal form strongly subsidized by the State - the organization has since been transformed into an integration company because of the important revenues realized in the shops. The impact of this status change is far from being neutral, since in the context of an integration company, government's grant for the funding of subsidized contracts is much lower.
Despite a very important commercial success of the concept BIS - the revenues of the 3rd district's boutique has progressed of 20% during the last 4 years, without significant increase of the prices - the level of margin remains low. This can be explained in particular by the cost of Paris's rental charges, the large workforce needed to carry out the activities and the fact that Comptoir de la Voûte acquires most of the volumes of textiles treated, unlike other associations like Emmaus who collects a lot of clothing donations.
In order to sustain its activity and its integration offer, Comptoir de la Voûte has focused its thinking on an ambitious development plan for 2018-2019. This development plan is based on two main areas of work:
the development of textile collection
the opening of a third Parisian sales point BIS boutique solidaire.
About the textile collection, the goal is to collect 500 tons of textile (at least) in 2019, which is a necessary condition to open the third BIS boutique solidaire. To reach this major challenge, several tracks have already been launched:
The development of new partnerships with textile collectors around the project. This is how the partnerships with 3 associations started in 2018. And new partnerships are being studied with 4 majors French associations.
It is planned to install in Paris, thirty or so collection points BIS boutique solidaire in partnership with associations that will provide a small space in their premises. A communication plan, supported in particular by the City of Paris, is planned to ensure the launch of these collection points.
Partnerships with Parisian stores that could accommodate BIS boutique solidarity containers are also planned.
The establishment of the third BIS boutique is planned in the 20th arrondissement of Paris in September 2019, in an eclectic neighbourhood. The commercial space will have a sales area of approximately 50 square meters on a high traffic location. The objective is to achieve, in a full year, a €500,000 revenue.
With this development plan, Comptoir de la Voûte hopes to absorb the fixed costs of the sorting workshop and considers a significant level of profitability by 2020 thanks to these scale economies, thus ensuring the sustainability of the organizations and their long-term integration offer.
The implementation of the 2018-2019 development plan should make it possible to significantly increase the supply of employment and integration. As of 2019, 10 additional positions will be created in all our activities, bringing the total number of structures to 36 full-time positions, including 24 subsidized contracts:
- 1 complementary position at the workshop to supervise pickup and logistics, which will become necessary with the increase in the number of collection points,
- 4 additional subsidized positions on driver functions and sorting agents,
- 2 additional store manager positions, made necessary for the opening of a third shop,
- 3 subsidized positions of additional sellers.
Over 3 years, more than 25 additional courses could be opened and with the creation of the new store, 25,000 additional sales per year, which will partly benefit people with low incomes.
The overall cost of the project is estimated at €270,000, distributed around the following axes:
development of textile collection (purchase of storage and communication solutions),
purchase of 2 commercial vehicles to cope with the huge increase in the number of collection points,
Rental and development and opening of the third BIS shop and launching communication.
Secours Catholique supported the creation of Comptoir de La Voûte for € 220,000 in 2011. Today, Secours Catholique has decided to participate in this development project, in line with the partnership that has linked the 2 organizations from the beginning and will therefore provide a €100,000 financial support to Comptoir de la Voûte.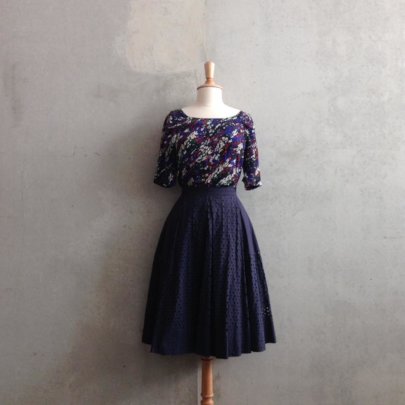 Links:
Attachments: