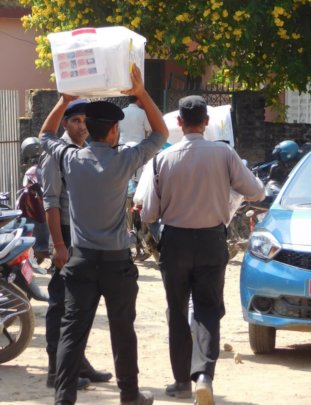 A very Happy New Year to our treasured donors!
Our 2018 fourth quarter was eventful and we wanted to share some highlights and photos! You continue to positively impact the women we serve, and we are grateful!
We delivered Clean Birth Kits to Gorkha Hospital and to the Mayor of Dang, via Rapti Academy of Health Sciences; these will all be distributed in rural Nepal.
We held a Clean Birth Kit assembly at Hope College's Fraternal Society (Holland, MI, USA) with a wonderful group of young men! We believe one of our strengths at GHC is our ability to help educate and inspire youth to take action!
We continued to experience first-hand that people are GOOD. Read below for what we feel is a very special story about one of our Global Giving donors and her colleagues and friends!
In October '18, we noticed we were getting a number of donations via Global Giving in British currency. We're located in the US, and although we see foreign currency donations, there were several in a very short time frame! We researched...
A women we have never met, Abbie Hutty (we hope you are reading this!), had decided to holding a 10k Run for GHC at Queen Elizabeth Olympic Park in London on November 1st, and the donations were from her donors--many of YOU!
The clincher: Ms. Hutty was 8 months pregnant. She had discovered our organization, and was shocked at how often women and infants in other countries die to lack of clean supplies. So she decided to do something about it and planned a run to raise money for Global Health Charities.
As she states:
"I've never done a sponsored event before, but now is the time. A scary run to make global birth less scary. My long suffering husband and I will be running 10k, me with an in-built extra passenger, and him with a bump-sized pumpkin passenger. Photos will be provided. Dig deep - £4 can save a life, but there's a bulk discount!"
We are in awe of Ms. Hutty and all of the donors that contributed to this event. We are grateful to all of you! And we wish we had been in London on November 1st to be your biggest cheerleaders and finish-line fans! Bravo to all of you!
The campaign raised $1,498! We have yet to meet Abbie or the event's many donors, but you all have a special place in our hearts!
Here's to a wonderful 2019, to expanding our network, providing more education and outreach on this critical issue, and getting more Clean Birth Kits into the hands of women who need them most! And best wishes to Mr. and Mrs. Hutty's growing family!
Patricia Williams, Founder
Susan McAdams, Board Member

Submitted by Susan McAdams, Board Member