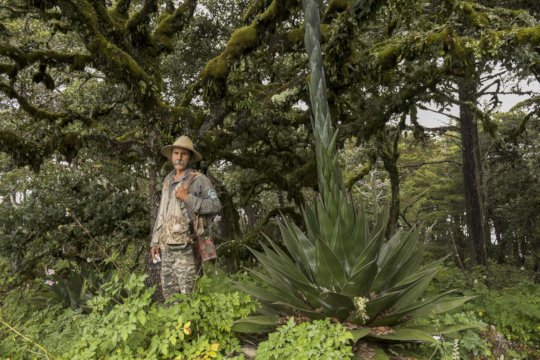 On this occasion we want to share the experience from the last surveillance tour to one of the private reserves that we guard in this special territory that is the Sierra Gorda. Located in the great mountain range that runs east of the Sierra Gorda from south to north, it turns out to be unique for its ecosystems and species that live there.
To get there requires travelling for an hour of paved road, then a dirt road that is only passable in a 4x4 vehicle and where the driver's expertise is indispensable. Even if it's a jeep, it's easy to hit the rocks and damage the vehicle or get into one of the ditches that the rain has formed. A chainsaw is also necessary, because the wind knocks down trees and or it is not possible to be reached or one is trapped on the return if in that period an oak fell, which happened to us on one occasion. And the inseparable machete, to keep the bushes and branches trimmed and uncover the trail for future monitoring. This minimum maintenance is a recurring activity and takes up time on each tour.
After about 45 minutes, you arrive at the point where you leave the vehicle and start a long walk along a path that is used regularly by pumas and jaguars, to the shelter of old oaks and white cedars that are dripping wet from the fog that enveloped everything that morning. "The trail" is barely visible, as we just keep it open to minimize the disturbance and to deter other people from following it. In short, it is easy to get lost in that green sea, and in order to get oriented in the blurring fog, we use larger trees as a point of reference. In most visits it is the rule to find the territorial marks of pumas or jaguars on the trail, which they do with their back claws when "scratching" on the ground-litter and where they also defecate or urinate. That visit was no exception and I had the joy of finding 4 of those tracks. This speaks of how alive that great forest is, where the great predators are at ease and therefore the chain of life that sustains them remains robust and functional.
On this monitoring visit, I decided to go through the 11-kilometer perimeter fence that we built in 2007 and that since then has kept out the free-roaming cattle of neighboring properties. Trekking this very abrupt terrain, where limestone rocks dominate and are covered with moss and leaf litter, forces me to walk a bit blindly. I can´t see the often loose rocks that slide when stepped on, having to be particularly careful. A bad blow, sprain or fracture in those latitudes would be a bad experience, because one is far from any help. And worse, eventhough we wear protective gear, I am always on the alert for rattlesnakes. And fortunately, they are extremely calm and gentle beings. Keeping that fence in good condition is of the greatest importance, as trees or branches can fall and break it. A single damaged section allows the cattle to enter and destroy many years of natural regeneration. To make the point, the populations of the two species of magnolia (Magnolia rzedowskiana and M. pedrazae) that were "discovered" in this sanctuary were barely surviving before the area was fenced, and now the young magnolias are literally counted by the hundreds. It is no exaggeration to say there is a 200% increase in species when conservation is the main priority.
The micro-endemic species which were on the verge of extinction due to the illegal logging suffered in these forests for decades have slowly returned from the edge of extinction. And that is only to report on what is obvious to my eyes. Apart from the permanent presence of pumas, jaguars, margays, ocelots and endemic and endangered chivizcoyos, cryptic species such as salamanders maintain their lares in these shady forests. So each reconnaissance tour is gratifying, even if it is to start early and finish late in the day. The presence of this and other Reserves allows us to keep human greed far away and allow life to return in stronger numbers to those protected spaces, and re-wild nature.
Links: