We have the many helping hands of the project children's parents who are so happy to be able to "give back" by working the land. But of course, we also have the older children who come to the Education Center on Saturdays and during school breaks for meals and sports, activities and tutoring. They are also more than happy to be a helping part of the Live and Learn in Kenya community. Giving back is an important aspect - one that should be taken very seriously. It gives the children and their parents the self-confidence of knowing that they are not "just being helped" - but are being given a helping hand to learn to help themselves!
Preparing the field - planting the seeds - weeding - watching the plants grow - harvesting - these are all learning experiences for our children. Knowing that your own two hands can make the difference between going hungry and going to class with a full tummy is a lesson in life that every child should enjoy. Besides that - the fact that taking part in the work and being a part of a community that enriches not only your own life but also those around you is not only important for the children to experience but also for their parents.Harambee - joining hands for a common goal!
So, our goal is to be able to go on growing our children's food - and watch them grow stronger and more self-confident every day.
This is how a dream turns into a goal - and a goal turns into reality!

Asante sana - thank you so much for caring.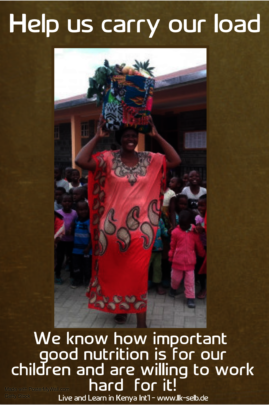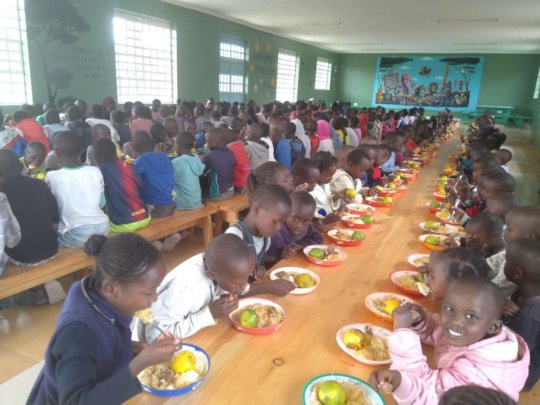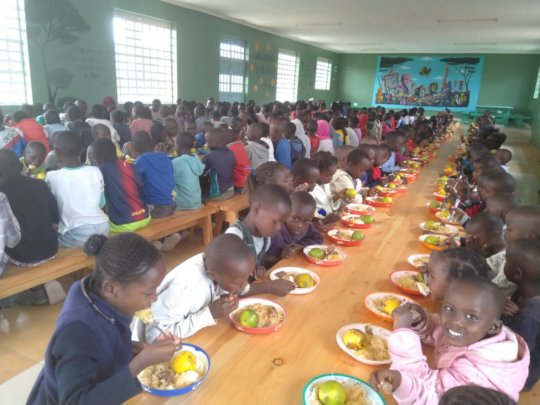 During the months of November and most of December the children at the Live and Learn in Kenya Education Center - including the program's children from partnering schools enjoyed meals and activities except for a 2-week vacation for the staff for Chrismas and the begin of the New Year. The new school year begins on January 6th and so will the daily meals. It is practically a daily challenge to raise the funds for daily meals for 480 children 6 days a week! 300 children will be eating breakfast and lunch from our own school kitchen as of this school year - ages ranging from 3 to 13 years old - nursery class to 7th grade.

For this reason, we are truly so appreciative of your wonderfully generous donations. We are constantly looking for new ways to raise funds and are very thankful for any great ideas and/or support. So please let us know what you think - and how we can creatively raise funds for meals for the children. Sometimes a little idea has a huge impact!

Asante Sana- thank you so much!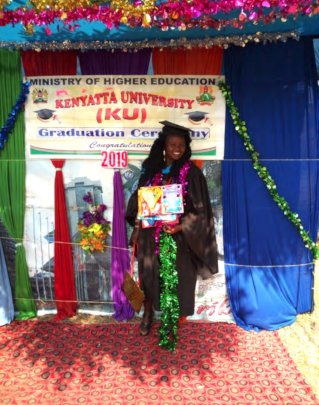 Nineteen years ago - when those little nursery school-aged children were brought to the LIve and Learn in Kenya office by parents or guardians nobody would have imagined that the skinny, hungry and raggedly dressed children would be wearing caps and gowns and being handed over their well-earned diplomas at renowned Kenyan universities!
These four university students from our project graduated! The lovely and very intelligent Luciana graduated with a Bachelor of Education degree in Christian Religious Education and Kiswahili. James graduated with a Bachelor of Science degree in Computer Science and Mathematics. Titus graduated with a Bachelor of Education degree in Mathematics and Chemistry and Erick graduated with a Bachelor's degree in Mass Communication and Journalism. We are so proud of all of them. At the moment there are 12 LLK students at various Kenyan universities. One of them will be graduating in April 2020.
Of course not all of Live and Learn in Kenya International's children are able to go on to university. We are able to give all of the children the possibility to be all that they can be - no matter what that may be! Hundreds of our project's children have gone on to colleges and vocational training and are learning to be their dream - or have already dreamt their dream and made it a reality... Sometimes a young woman just wants to be married and have children of her own - and that's all right too. But they will have a better understanding of what education means because they can read and write and give their own children the same possibilities.
This is what sponsorship means - receiving everything to be all that you can be - and then passing it forward to others and to future generations.
Who is making it all possible? YOU!
We at Live and Learn in Kenya wish all of you a bright, loving, healthy and peaceful 2020!
Asante sana - thank you so much!
WARNING: Javascript is currently disabled or is not available in your browser. GlobalGiving makes extensive use of Javascript and will not function properly with Javascript disabled.
Please enable Javascript
and refresh this page.