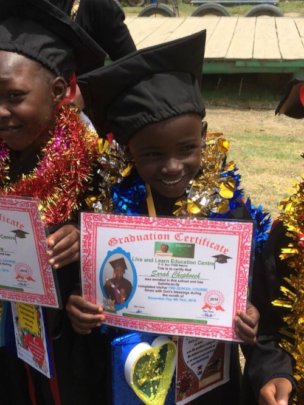 30 gorgeous and amazingly proud preschoolers wearing caps and gowns held their heads up high as they danced in front of the crowd of over 800 guests, parents, family members, siblings, teachers, schoolmates and even the Chief and the Kenyan TV. They took their places in line to receive their certificates, were adorned with decorations hung around their necks by their in tears of pride and happiness parents and relatives as photos were taken and the crowd applauded as each name was called.
This is a very usual scene in the wealthy areas of Kenya. Graduating from Preschool into first grade is serious business and wearing those caps and gowns only happens when graduating preschool and university. But this fabulous ceremony did not take place in one of Kenya's wealthy areas where the parents are more than happy to pour thousands of KSH into their child's preschool education. No, this graduation ceremony took place in the midst of the Barut slums of Nakuru, Kenya - at a school where parents pay nothing for their child's education - because they have nothing to pay. When you are living on about $2 a day, you can't afford to send your child to a high-end school - or any school at all for that matter. Alone the mandatory uniform leaves a family without rent money for a month or two. This is what Live and Learn in Kenya International is all about. We provide high quality education to the children who need it the most - the children who need to rise above poverty - remember where their roots are - and one day be enpowered to be the change that we all want to see in this world - FOR FREE.
Giving Tuesday provides the perfect possibility to truly make a difference in the lives of these and about 450 other children who are on the Live and Learn in Kenya International program. With GlobalGiving's donation match on November 27th you could even make double the difference with your donation.
Our children are not only provided with education - they receive free warm lunches, uniforms, free-time clothing, holiday gifts, dental, medical and emergency care, free time activities: girl's and boy's clubs, sports, dance, singing, art and art appreciation possibilities, youth and young adult workshops in hygiene and AIDS prevention and self defense.
We are giving the children the chance to be all that they can be - and are so thankful for your generosity
Asante sana - thank you so much!
Links: