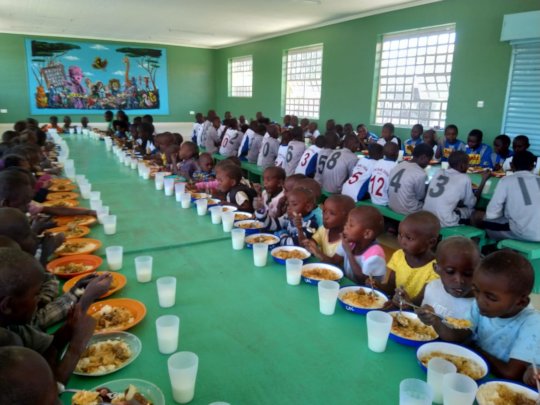 All three of our donated cows are proud mothers and happy milk donors for our children! The children at the Live and Learn in Kenya Education Center in Nakuru are able to enjoy fresh from the cow milk at least 3 days a week now. What a huge relief it is to know that the children are receiving milk with all of its protein and minerals. It's amazing to see how these extremely needy children are growing and thriving now. I'll never forget how I once asked one of the doctors who had come with his team for a check-up what I could do to help the children healthwise and he answered: "Dear lady, I have never before seen such healthy slum children". He should see them now!
The cows have not only had calves - we were able to buy one more rather young cow in the hopes of even more milk. So we now have 4 cow and 3 calves.
That is all well and fine - but the cost of their feed is pretty expensive. Our staff doesn't mind the extra work - and it's plenty - but we are struggling to keep the animals well-fed. With all of the constructions going on at the Live and Learn in Kenya Education Center - the dining hall was just completed and the kindergarten is next on the agenda - we are in dire need of support for our little dairy farm.
Besides the cows, we also have the field that we have leased to grow vegetables for the children. It is not only a relief to be able to grow our own food to some extent - it also gives the children's parents another possibility to be active members of the Live and Learn in Kenya community. This is not only their way of passing it forward, but they are also amazing paragons for their children who watch on as their parents work hard for the common good. The older children sometimes join them and work side by side with them on Saturdays. We are hoping for rain as the draught goes on. April is usually the rainy season, but this past April left Nakuru dry and hot with the exception of light drizzles a few times.
Our next food project will be chickens. We're hoping to be able to build a chicken coop after the 3-classroom Kindergarten has been built.
We are so thankful to the many wonderfully generous donors who continually support our projects at the Live and Learn in Kenya Education Center - and our organization in general.
Asante Sana - thank you so much.