Celestine has been a Live and Learn in Kenya Int'l child since early childhood. Now she is off to college!
Celestine was born into desolate poverty. She comes from a family of 5 children, 3 boys, and 2 girls. Her single mother (a widow) does temporary/casual jobs to generate income for the entire family. Her father died in 2000. With an irregular and very low income, her mother is unable to provide the basic needs for her children.
When her mother wisely and successfully registered her onto the Live and Learn in Kenya International program over 11 years ago Celestine was a scared little girl. She started nursery school and blossomed into a happy, smiling chubby-cheeked little girl. But soon her world fell apart again. When she was in first grade her mother died - as did her father - of AIDS. Over the 11 years with Live and Learn in Kenya Int'l she worked hard. She successfully finished elementary school and went on to high school in Nakuru. Her grades were very good. She's a hard worker with a bright mind. Her older sister took care of her - very good care. They are a very humble Catholic family. Their tribe is Luo.
Now Celestine is studying Supply Chain Management at the Kiirua Technical Training Institute. SHE WILL NOT ONLY SURVIVE - SHE WILL THRIVE!
We would not have been able to support Celestine - like hundreds of other children like her - if it weren't for people like YOU!
Asante Sana - thank you so much!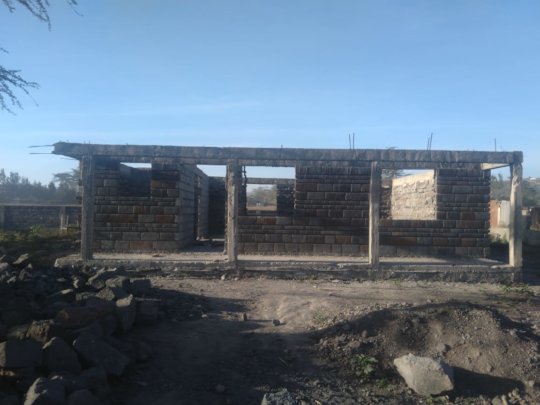 The beginning of the construction of the Live and Learn in Kenya Vocational Training Center has begun! At the moment there is a construction pause because we have run out of funds. We cannot go into debt with the construction, so we have agreed with the construction company to "Build as we fund" - meaning that as donations come in, they will build phase for phase until the college is built and ready to move into.
It will be the most costly construction at the Live and Learn in Kenya Education Center so far. Not only will it be a 2-story building, but we also have to furnish the classrooms and provide relatively expensive tools and equipment for eight different trades: carpenters, welders, IT specialists, office personnel, mechanics, hairdressers, tailors - and one more that hasn't been decided upon yet.
But the beginning is there - all the way up to the ceiling of phase one.
Let's move on to the next phases!
Your donation will be so very appreciated.
Asante Sana - thank you so much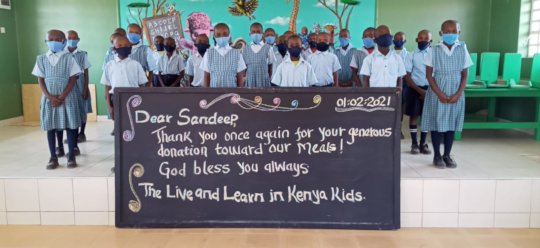 It is always such a joy to receive a donation through GlobalGiving helping us to keep food on the children's plates every day 6 days a week!
It just isn't easy to keep all of the children fed. The total of children on the program has risen - especially because of the dire need of the desolately poor parents who have lost any form of income during the past months of the Covid-19 pandemic. There are now 520 children depending on Live and Learn in Kenya International to provide meals to them. We provide the meals 5 days a week for the 300 children attending our own school at The Live and Learn in Kenya Education Center and pay for the other 220 children's school meals at the partner schools that they are attending. On Saturdays, all of the Live and Learn in Kenya International program children are able to come to the Center to enjoy a big meal together.
Thank you for your kind and generous donations.
You are changing the world - one SMILE at a time!
Asante Sana - thank you so much.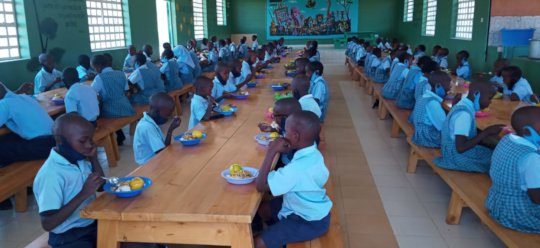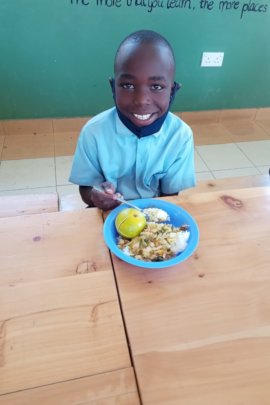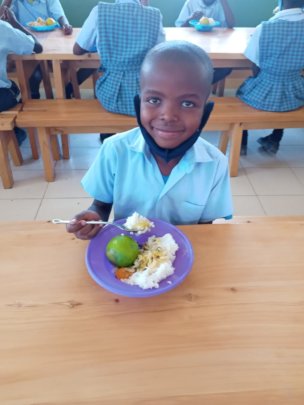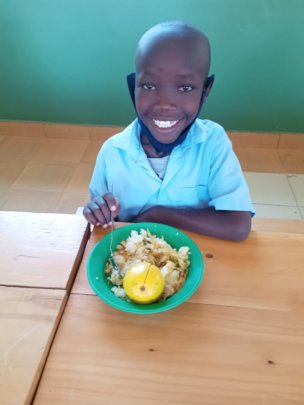 WARNING: Javascript is currently disabled or is not available in your browser. GlobalGiving makes extensive use of Javascript and will not function properly with Javascript disabled.
Please enable Javascript
and refresh this page.