We are so excited to begin LightSail's extended operations, after the successful completion of its primary mission on June 25, 2020, the one-year anniversary of its launch aboard the SpaceX Falcon Heavy.
In case you weren't able to attend yesterday's webinar with LightSail's project and program managers, Planetary Society leadership, and our CEO Bill Nye, here is the link to the YouTube recording on The Planetary Society's channel.
We hope you enjoy it, and we want to thank you again for your support of this project. As Bill says in the video, "Carl Sagan would be very proud of this project". Our LightSail spacecraft is the culmination of an idea dating back hundreds of years, and a project The Planetary Society has been working on for decades.
We appreciate your being a part of it. If you've not yet become a member of The Planetary Society, or want to share the opportunity with friends and family, simply go to planetary.org and choose your preferred level of membership, starting at only $4.00 per month.
Stay safe and keep looking up.
Best,
Robin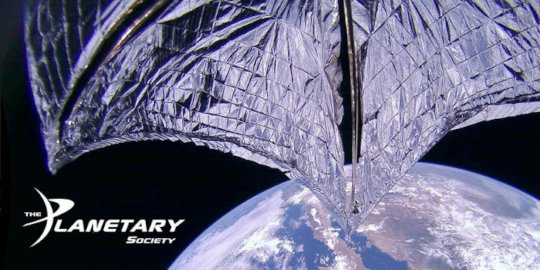 Please make plans to join me and members of the LightSail 2 mission team for a virtual celebration of our historic solar sailing mission!
After one year in orbit, we're thrilled to mark the end of LightSail 2's primary mission and the beginning of extended operations.
As a backer of the project, you're receiving this 24-hour advanced notice to sign up for this special event as space is limited.
LightSail 2: Celebrating One Year in Space
Thursday, 25 June
4 pm PT / 7 pm ET / 11 pm UTC
Please register to join: https://register.gotowebinar.com/register/5749726040769866253
Thank you for your support of LightSail - we look forward to having our GlobalGiving supporters join us for this exciting milestone!
High above Earth, The Planetary Society's LightSail 2 spacecraft is still sailing on sunbeams. During the months since LightSail 2 deployed its solar sail on 23 July 2019, the spacecraft has continued to demonstrate the first controlled solar-sailing flight in Earth orbit.
On January 10, the LightSail 2 team released a paper describing the latest results from the mission. The paper recaps mission events through late November 2019, discusses the performance of the solar sail and attitude control system, and describes how the spacecraft's orbit has changed. You can read detailed reporting on the ups and downs of LightSail 2's orbit and learn about momentum management on our website.
The mission team will continue to take pictures, and we will post raw and edited versions on our site. Finally, as the orbit shrinks, the team will study the effect of the sail on the rate of orbital decay, sharing the data with other teams who are studying the use of drag sails to deorbit spacecraft.
We hope you enjoy the data and images from this mission, which would not have been possible without continued support from donors like you. Thank you.
WARNING: Javascript is currently disabled or is not available in your browser. GlobalGiving makes extensive use of Javascript and will not function properly with Javascript disabled.
Please enable Javascript
and refresh this page.