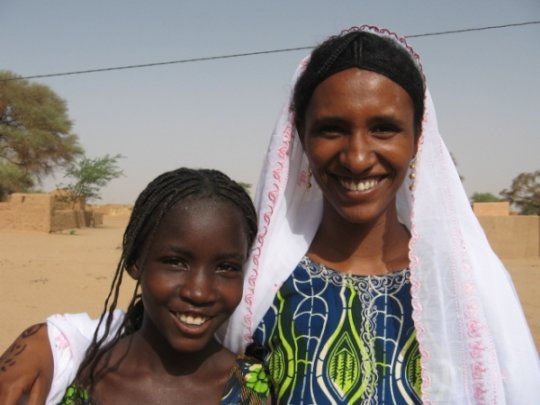 We believe that the words of our participants are the most persuasive reasons to support this project. We spoke with Hadiza, a middle school student in Arlit. She was visiting Iferouane, where her cousin, Ounmou, a student who had gone through RAIN's mentoring program, was to be married.
Ounmou was engaged for several years but because of Ounmou's strong desire to continue her studies, with the support of her mentor, Ounmou was able to arrange for a delay of her marriage by 3 years while she completed her studies. Ounmou's mentor helped her to establish this arrangement. In turn, Ounmou served as a role model for her counsinHadiza, who was struck by Ounmou's insistence on continuing with her education. Hadiza expressed how her cousin's choices had made an impression on her and encouraged her to stay in school as well.
Fatima, a Tuareg girl from the village of Baytal, east of Agadez on the road to Dabaga, is in 6ème (the first year of middle school):
"My family lives simply: the women do the housework and drive our herds to the pasture. There is no mill, no electricity, no boreholes to easily find water.
In the city of Agadez, it is the Agadez Learning Center that impressed me the most with its study programs, dormitories, the food, the various advisory supports and other officials of the ALC Center, and the students of different ethnic groups from different areas of the country. When I finish my studies, I would like to become a primary school teacher, to live and not depend on anyone, and help my little brothers and sisters in my village."
Aicha is a Fulani girl from the village of Golkorehi, south of Ingal. She is in 5ème (the second year of middle school). She comes from an elementary school where there was just one teacher for multiple grades of students. She explains what women's lives look like where she comes from:
"The women of my village live well, in perfect harmony; they help each other but we have an issue with water – only women fetch water and it can take a period of four hours or sometimes more to draw the water and load it on the donkeys."
Souleyman, an Elementary School Director notes:
We are so grateful to RAIN for the support given to our school this year. It is my second year [as School Director] and I have struggled with both community involvement and a lack of teachers:
The women mentors in the community are a pleasant surprise as most rural schools rarely see parents or anyone in the community visiting the school or discussing students' progress.
Look at my classroom. The children are all together here, from three different grades. I do my best to instruct them together and to give them individual attention as we have 6th graders that need special support to be able to continue on to middle school. The afterschool classes have helped so much. When the official school day ends and RAIN's program begins, I feel like I can really teach what I need to.
Tanalher, one of our local, female mentors reflects about the mentoring program and value of education, telling Azara Touma-Touma Ibrahim (RAIN's Women and Girls Program Coordinator) that:
RAIN's school programs this year greatly helped our school. In their free time, I talk with my students about good hygiene and the importance of education. I also teach the girls I sponsor how to weave colored, palm-frond hats and mats. If my parents had realized the importance of school for my generation, we would have studied and [the new generation] wouldn't have this problem of lacking teachers.