Stories from Our Partners
Hadiza, Ounmou
&
Fatima Return to School
Anywhere in the world a new school year can bring up a mix of excitement and nerves. In Niger it's no different. Many of our rural and nomadic students are the first in their family, or even community to have the opportunity to pursue their education. They are eager to learn, but there is still a tension as they consider the long commutes on foot, the cost of school books and the challenge of studying topics that their parents never studied in a language that their family doesn't speak. Still they persist.
Here are some of their stories.



Hadiza is a middle school student from Arlit. She visited her cousin, Ounmou, in the town where her cousin was to be married. Ounmou was engaged but desperately wanted to continue her studies. With the support of her RAIN mentor,
Ounmou was able to arrange to delay her marriage while she completed her studies.
Hadiza was struck by Ounmou's insistence on continuing her education.
Ounmou's choices made an impression on Hadiza and encouraged her to stay in school as well.



Fatima
, a Tuareg girl from a village east of Agadez, comp
ares life at home with her experience at th
e Agadez Learning Center. She writes:
"My family lives simply: the women do the housework and drive our herds to the pasture. There is no mill, no electricity, no boreholes to easily find water.
In my new middle school, the most impressive things are the classrooms, offices, sports fields, and school uniforms. The Agadez Learning Center impressed me the most with its study programs, dormitories, the food, the various advisory supports, and the students of different ethnic groups from different areas of the country.
When I finish my studies, I would like to become a primary school teacher, to live and not depend on anyone, and help my little brothers and sisters in my village.
"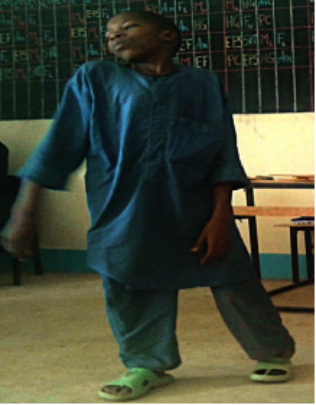 Issoufou's family lives far from school. His village, Tchilizdag, has a struggling elementary school with rapid staff turnover and poor oversight. Many parents are frustrated -- they are interested in sending their children to school, but there are few success stories. Even in this environment, Issoufou has succeeded academically. This is truly a testament to Issoufou's desire to learn because he has also needed to overcome his physical handicaps – he has a hunchback and disabled left foot.
With his condition, the distance (25km) may have kept his parents from sending him away for middle school, but knowing that Issoufou has a homestay and support system, the family was happy for him to continue to middle school. Issoufou, now a 7th grade student, says he is "very happy to have a home-stay that helped me to study in middle school this year." This is an exciting opportunity for Issoufou whose parents "do what they can to earn money but… are very poor. They try to work in other people's gardens or herd goats for neighbors for small payments."
They are hoping Issoufou will have more options than they do.
Issoufou faced an additional challenge this term. Throughout his schooling, a close friend had always carried his books and defended Issoufou from unkind peers. When his friend dropped out of school, Issoufou threatened to quit school as well. He felt abandoned and worried that the other children would not treat him well. His parents, the local marabout, and his mentor were able to convince him to stay in school. Issoufou's community supported him when he had doubts and RAIN's programs made it possible for him to continue his education. You are a part of RAIN's community. Thank you for standing with us and supporting students like Issoufou.
Issoufou's ability to attend school will determine his ability to provide for himself in the future. Traditionally, those with physical handicaps were left to beg – being unable to participate in Niger's economy, which relied heavily on manual labor. Going to school gives Issoufou opportunities beyond that. The ability to pursue an education shows Issoufou, his peers, and others in his community that school and the knowledge acquired there is more than theoretical, it can be practical. It can be a means to survive.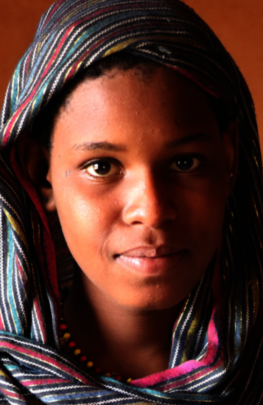 Last year, the pilot middle school program helped 100% of graduating students to pass their year-end national exam. This fall, you can expand the reach of women mentors to two new middle schools in communities that have never had local access to middle schools. This is an incredible opportunity to support national expansion of education services. They need your support to ensure a successful first year!
"When I heard I passed the elementary school exam and could continue to middle school, my mother and I worried about how I could pursue my studies... [Your support] allowed me to… purchase a uniform, and pay school fees. [It] has helped me to study in peace and turn my full attention to school."
-- Assalama, 7th grader, Aouderas Middle School
According to the World Bank, every year of secondary school education is correlated with an 18% increase in a girl's future earning power. That means a brighter future not just for girls, but for whole families and communities. Thank you, on behalf of all of our students, for helping them make meaningful strides towards a brighter future.
WARNING: Javascript is currently disabled or is not available in your browser. GlobalGiving makes extensive use of Javascript and will not function properly with Javascript disabled.
Please enable Javascript
and refresh this page.