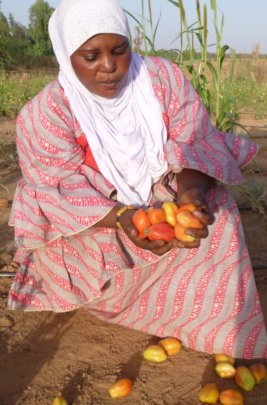 We are pleased to report that during the 2018-2019 program year, our 60 partner gardeners in Nassilé and Tagantassou directly fed over 300 people in their communities. Additionally, as a result of our garden and drip irrigation installments, over 1,000 additional adults and children from neighboring communities collected water and bought produce harvested from the gardens.
RAIN's Sustainable Agriculture program provided our partners in Nassilé and Tagantassou with the critical resources to build environmentally sustainable food and water systems that not only provided secure food sources, but also income generating opportunities. Here are some of the community garden successes:
Highlights
The Nassile and Tagantassou gardens produced over 46,000 lbs. of crops enabling the women in the program to feed their families and contribute to nutritious and diverse diets across their communities.
o Harvest included cabbage, carrots, eggplant, yalo, lettuce, green pepper, tomato, potatoes, onion, melon and watermelon representing a significant contribution to expanded nutrition compared to a diet consisting predominantly of grains.

Despite a difficult harvest year nationally, our local gardeners produced enough food to sustain themselves and even sell surplus crops for an additional profit.

o Gardeners in Tagantassou increased the group's income to bring in 411% of the previous year's earnings (150,000 fCFA) to contribute to their economic independence and garden sustainability;

o Nassilé gardeners engaged in additional income generating activities to earn 274% of the previous year's total (594,050 fCFA) – their increased earning power was due in large part to a new cereal bank initiative (271,900 fCFA with stock remaining). This consisted of stocking cereal such as millet and sorghum to store and sell during the "hunger season." They stocked 13 bags of cereal to serve a dual purpose: to keep gardeners and their families fed during the hunger season and to increase profit by selling the grains during the off season when their market price peaks. They also benefited from a new product: mangos;

o Earnings were used to ensure garden success and sustainability; gardeners purchased mosquito nets to protect the nurseries, pesticide, fuel for the motor pump (before the new well was established), bags for produce sales, a padlock, and travel to and from sale sites.

RAIN installed two borehole wells (50+ meters deep) with solar powered submersible pumps – RAIN's first wells with this more sustainable and efficient technology. In addition to providing safe drinking water, these wells save women precious time and contribute to their safety.

o The wells are both over 50m in depth. In Nassile, the well produces 1.5 m3/hour of potable water and in Tagantassou the well produces 3.5 m3/hour;

o This increased access to water will facilitate garden expansion in the coming year – something the communities have asked for but that required additional water. It also ensures that there will be sufficient water for consumption in addition to the water used for drip irrigation;

o Finally, these are communities where a lack of well productivity left women waiting by the well late into the night and early in the morning, hoping to collect a few more drops of water. This increased water flow will save women time – allowing them to dedicate more time to income generating work – and help ensure their safety by eliminating the need to wait outside for long stretches of time at night and in the early morning.