The peoples of the Agadez region, Niger's vast northern desert expanse, are strong and independent. They live a spartan life, well adapted to their severe desert home. Herds of goats, sheep and camels are the nomadic peoples' source of sustenance. These animals provide milk, meat, and income. But drought and lack of pasture lands leave people helpless as they watch their children and treasured herd animals suffer and, all too often, lose their grasp on life.
When people are suffering, they turn to RAIN for help. We are compelled to respond. RAIN recently delivered five tons of food to nomadic schools in the Air Massif. We need to do more. Nomadic children must live at school; food is a necessity. Parents are mobilized, too. RAIN's women's leather cooperative is giving $3,000 worth of food for children in Gougaram. RAIN's animal feed centers keep herds alive, in turn ensuring food security for their owners.
On June 16th, Global Giving is matching every donation by 50%, making your contribution count that much more.
Let's make this one count for for these families who rely on RAIN to get them through!
Women mentors who counsel girls and help them to succeed in school are a vital part of RAIN's education programs. The women encourage girls, teach them about health and hygiene, and advocate for them with their families and teachers.
This program has been so successful that we seek to introduce it in schools across Niger. During this 2009—2010 school year we've brought mentoring to ten new schools.
There are many schools in Niger, and it takes twelve years for a child to complete high school —- this program over the coming years would grow prohibitively expensive.
Gardens produce a product; it's easy to see that they could sustain themselves and produce profits for schools. But how do education programs become sustainable?
When posed with this question, our mentors responded that with RAIN's help, they would run businesses. The profits would provide them with payment for their mentoring services, as well as pay for the materials they use in traditional skills classes.
This year, RAIN began our pilot program in mentor husbandry. The mentors of Arlit will keep a herd of sheep to support their mentoring program. RAIN is providing a starter herd and bringing in a veterinarian to teach the women about animal nutrition and health.
By teaching new agricultural skills along with improved techniques to preserve a threatened herding livelihood, RAIN is bringing long term food security to thousands, while incorporating another direct means of support for the mentors and the girls in our Mentoring Program.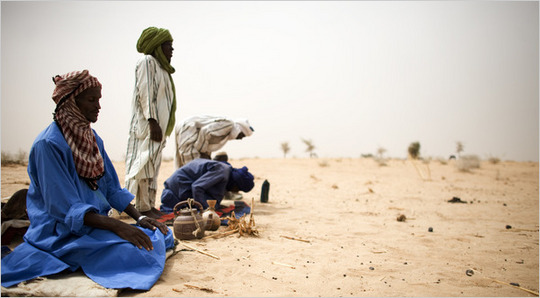 Dear Friends,
There is an article featured today's New York Times by Adam Nossiter about the scope of the food crisis in Niger, including a slideshow.
Nossiter deftly captures the cause and scope of the crisis; the severity of need, the displacement with the endless search for food, how hunger disrupts children's education. He also highlights the active role the new government has been playing in giving more of the population access to food, in sharp contrast to the previous administration. This is great news for RAIN and our circle of donors, that the new government may possibly become a partner in aid instead of an obstacle.
We are hoping this article increases awareness of this very pressing need and can help ignite the passion to give a helping hand to our friends in West Africa.
We will continue to keep you posted on our progress in bringing relief to these communities.
Please let us take this opportunity once again to thank you for your much needed support!
Links:
WARNING: Javascript is currently disabled or is not available in your browser. GlobalGiving makes extensive use of Javascript and will not function properly with Javascript disabled.
Please enable Javascript
and refresh this page.