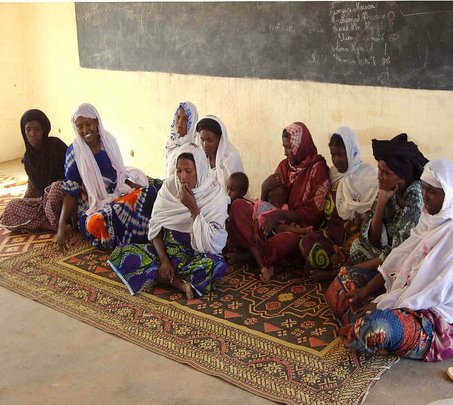 RAIN Mentor Health Education Training Underway!
By Ibrahim (Michel) Boubacar
Director of Programs, RAIN Niger
On November 15, 2010, I found myself, along with RAIN Program Assistant, Mohamoud Mouta, on a rough and dusty journey to Gougaram and Iferouane – villages in the Air Mountains of northern Niger. Our mission: to launch the new Health Education Training Program with the mentors in our Girls Mentoring and Scholarship Program, an initiative possible by the Izumi Foundation, and of course, supporters like you!
First Stop: Gougaram. Ten new women mentors were recruited in Gougaram to recognize Niger's most common and serious childhood diseases in their early phases and refer the children to health care. They will also educate families and community members about the prevention and treatment of these diseases. The mentors learned of the importance of this new program and its goals of treatment and prevention of these dangerous maladies.
During the training, the mentors shared their current ideas about hygiene and related subjects. Mentors were taught about diseases such as meningitis, diarrhea, malaria, pneumonia, and measles, in concrete and precise terms. They learned the causes, symptoms, means of transmission, and methods of prevention.
Next Stop: Iferouāne. Ten women mentors were selected to participate in the program in Iferouane, all of whom have collaborated with RAIN in previous years. Two of the mentors also volunteered to serve on the Management Board. Much like the process in Gougaram, the trainer spoke to the mentors about different health issues in the area, especially the principal diseases the program wishes to prevent.
As always, I am amazed by the willingness, energy and enthusiasm of our mentors. These women already volunteer much time and effort in their mentoring roles to students, and now are investing even more time and effort to be able to offer such a valuable service to their students as well as to their communities.
The new school year is just underway in Niger, and we are excited to see how the mentors apply their newfound health knowledge. I hope to see concrete changes in children's health by the end of the year! RAIN communities improve as a direct result of all their own hard work!
I'll keep you posted.