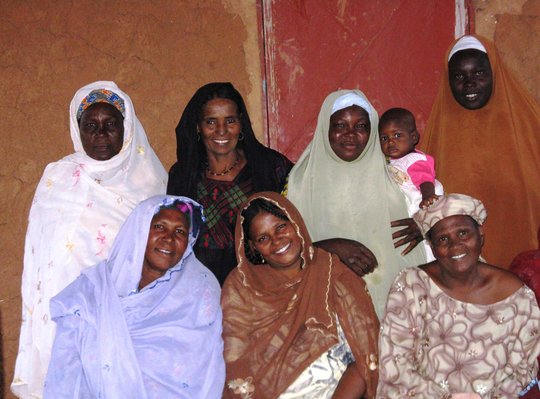 This October, Bess visited a group of our mentors in Arlit to see how our mentoring programs were starting out in the new school year.
RAIN's mentoring and scholarship program has succeeded beyond our hopes, in ways we never imagined. Most of the women in this rural African region are illiterate, yet they come to school each week to encourage their girls to stay in school and to succeed. They teach traditional crafts, which offer future earning opportunities for the girls. The surprise was that the experience motivated the mentors to become literate. In response, RAIN has offered bi-lingual literacy classes to the mentors, who are jumping in with flying colors.
How to make an education program self-sustaining? The mentors love the program; they readily agreed to earn, with RAIN's help, money to buy their own materials for the craft classes. This is a nomadic region of herders. The women told us that if RAIN bought them some starter goats, they would keep a herd to support the program and help them out, too.
A year later, we find that the goats are thriving and multiplying. The women keep the female goats for milk and cheese for their families, and sell the males to generate money to pay for their practical skills materials.
Stories like these show us that with committed and motivated partners, education can be self-supporting! Education is a long-term goal --- we are committed to seeing these girls through school for as long as they can attend.
It costs $2,500 to develop a cooperative enterprise, such as herding, with each group of 20 mentors. That's $125 to give six school girls a leg up and support 20 dedicated mentors. We call that a great return on a great investment! We're so grateful to be sharing these exciting success stories, which wouldn't happen without you.