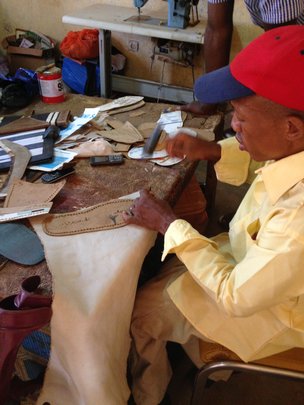 " We need support and resources, financial (micro-credit) and material (improved tools), to help us better express ourselves creatively, improve the finishing of our products and innovate more easily in this competitive market. We hope Tigoung Nonma's new, accessible structure will allow us to better promote our work and facilitate training. Tigoung Nonma's current space is unsuitable. Getting inside is difficult and it is too small. This makes meeting and communicating even more difficult for members. "
Mr. L.O is an impressive human being. His mobility is extremely limited, having contracted Polio at the age of five, but he is among one of the many exceptionally hard working people in Burkina Faso who has confronted stigma and hardship through creation; he and his business partner, Mr. K.S, have been running their leather workshop since 2003 and Léonard is the father of twins. Luckily for these two, they received training through the foundation "LILIALE" which set them on the path to becoming the talented and dedicated craftsman that they are today.
L.O and K.S have been members of Tigoung Nonma since 2007. L.O said this about the co-operative:
"Tigoung Nonma is necessary for us to be able to promote our rights. We are pleased with Tigoung Nonma as it has allowed us to increase sales and business partnerships."
He also said this: "It would be excellent if Tigoung Nonma could have its own headquarters… We all share this dream : to create a workshop and training centre for destitute children, young people and for people with a disability. Then in turn, these people can start to support themselves and train others."
There are currently 79 members of Tigoung Nonma who live in varying degrees of poverty. Receiving a formal education in Burkina Faso as a person with a disability is doubly hard due to accessibility issues, discrimination and the expense of schooling. This is why many people with a physical disability here build careers as craftsmen and women. Accessing suitable, adapted tools and space is a challenge that many of Tigoung Nonma's members face.
The number of disabled people in Burkina Faso is extremely elevated. This group is often discriminated against consciously and unconsciously and often excluded from society, hence Tigoung Nonma's existence. In the fight against extreme poverty, Tigoung Nonma has been engaged in the following activities since the beginning of January:
• Skill sharing: Communication, IT, languages, marketing strategies, fundraising strategies, social work, planning, accounting, project management, designing.
• Contacted estate agency and drawn up 3 hypothetical budgets for purchase and construction of centre to facilitate Tigoung Nonma's independence.
• Complete reorganisation of the shop and creation of up to date inventory.
• Running of catering service.
• Event planning: Design workshop and Open day.
• Networking.
• Marketing and awareness raising online.
• Marketing and awareness raising through theatre and art locally.
• Innovation.
We are all extremely grateful for your support so far. By donating to this project you are lifting people out of poverty directly, over both the short and long term.

Please visit:
TN's website @ www.tigoungnonma.fr –updates coming soon.
Add us on facebook! https://www.facebook.com/pages/Tigoung-Nonma
…and on Twitter! @TigoungNonma